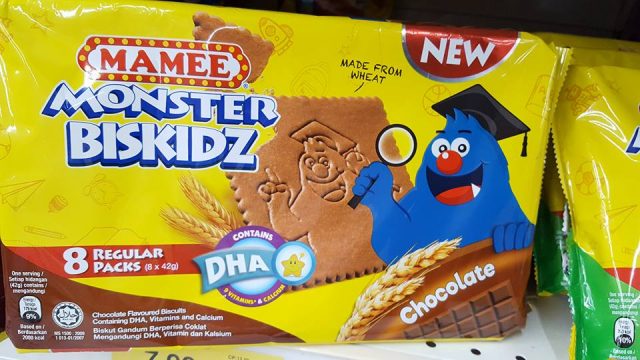 Mamee Double-Decker previously said it would introduce biscuit, which will mark the diversification of the company into a new category. True to its word, the new biscuit has been launched and comes under the kid's friendly Mamee Monster label.
Fortified with DHA
The new Mamee Monster Biskidz is fortified with 9 vitamins, calcium and contains 17mg DHA per 100g serving. The range comes in the choices of milk, chocolate and seaweed.
Mamee Monster appears on the new Biskidz as a well-learned friendly monster donning a square academic cap and holding a magnifying glass highlighting its detailed observations and inquisitive thinking. This is totally in contrast with its usual self as a Mamee Monster who enjoys its noodle snack.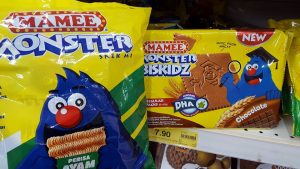 Each regular pack weighs 42 grams. The price for 8x42g is RM 7.90 (USD 1.9).
Comparing with Mondelez Tiger Biskuat
Mondelez Tiger Biskuat is the closest competitor for Mamee Monster Biskidz.
Tiger Biskuat has the upper hand when it comes to vitamin.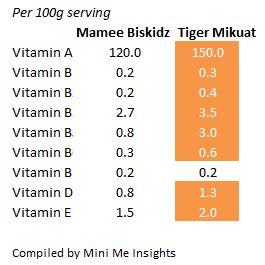 Tiger Biskuat offers more energy per 100g serving but contains a lot more fat and sugar compared with Mamee Monster Biskidz. However, Tiger Biskuat provides more calcium and is fortified with magnesium, iron, zinc, iodine and phosphorus.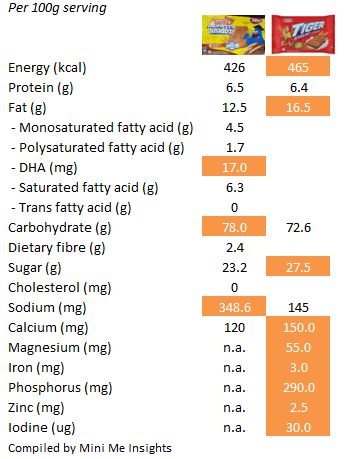 Fun !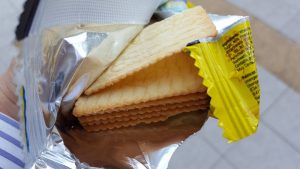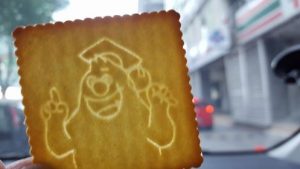 Mamee Monster Biskidz comes in thin slices. But when you place it against the sun, the outline of the Mamee Monster becomes apparent and this adds to the fun of eating the biscuit.
Key takeaways
The key unique selling points for the new Mamee Monster Biskidz are the DHA content and the thin slice. The thin slice not only enables portion control but also allows the outline of the Mamee Monster to magically appear, thus making it interesting to kids.