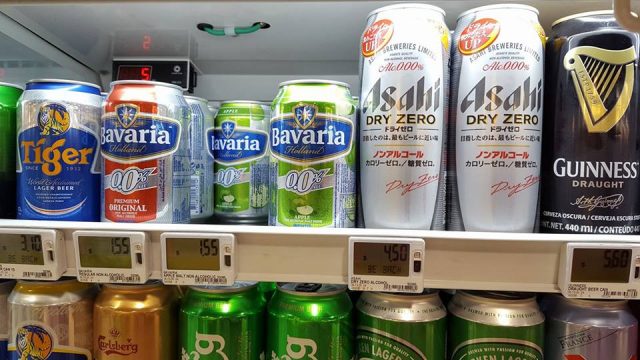 During a visit to Singapore in January 2017, the author had the chance to check out the alcohol-free beer scene. With the alcohol-free, malt-based drink market heating up in Malaysia, it is a good time see how the Singapore's alcohol-free beer market, which has an early start, is performing.
New liquor laws in effect from April 2015
The new liquor laws, which ban the drinking of alcohol in public places from 10.30pm to 7am starting 1 April 2015, is a game changer. It provides a strong reason for market players to focus on alcohol-free beer to contravene the law. The Liquor Control (Supply and Consumption) Act also forbids retailers from selling takeaway alcoholic beverages during the restricted hours.
The official reason for coming up with the new regulations is to minimise public disorder and disamenities arising from drinking in public.
A Straits Times article published on 29 June 2015 gave us a good overview from the product availability perspective. According to the article, 7-Eleven back then was selling Asahi Dry Zero, while Asia Pacific Breweries (APB) Singapore was testing Tiger Maxx 0.0% since late 2014. It is not know if Tiger Maxx is still available in Singapore but is clear that in Malaysia, Tiger Zero is currently available at selected restaurants.
Retailers under the FairPrice banners were also selling the non-alcoholic beers of Bavaria and Krombacher. The Straits Times journalist also cited the less-than-ideal taste of alcohol-free beer as a prime example why non-alcoholic beers were facing sluggish sales.
Raffles City Market Place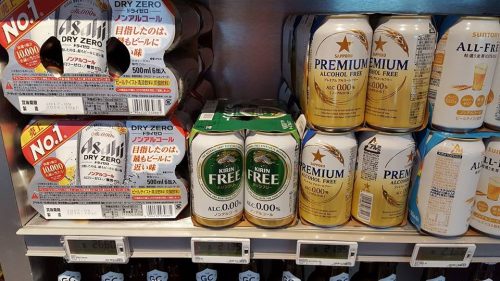 The author visited a few modern retailers in Singapore to find out. Market Place by Jasons at Raffles City was stocking Japanese alcohol-free beer by Sapporo, Asahi, Kirin and Suntory as well as Bavaria from the Netherlands.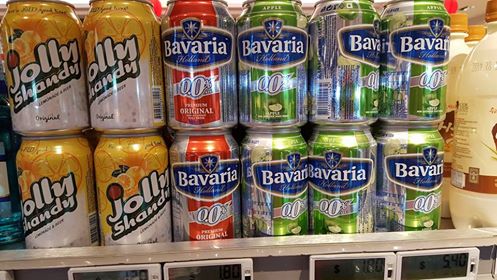 Cold Storage online store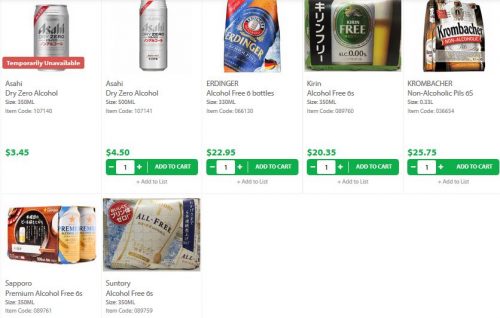 The Cold Storage online store is selling brands from Japan (Kirin, Asahi, Suntory and Sapporo) and from Germany (Krombacher and Erdinger).
Placed next to beer
In Singapore, all the alcohol-free beer is placed next to beer, which shows once again that alcohol-free beer is aimed at beer drinkers who maybe opting for an alcohol-free variant. In Malaysia, such an approach is unimaginable as alcohol-free beer or more correctly malt-based drink is positioned for all consumers including Muslims. Such drinks including Bavaria, 3 Horses and Barbican are placed among soft drinks to provide assurance to Muslim consumers that they are safe to consume. See the post on Barbican.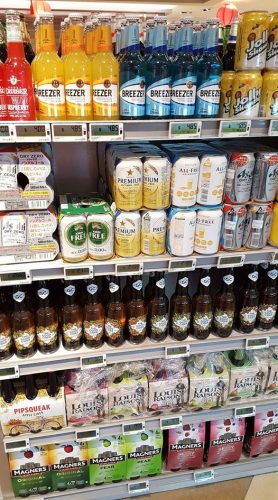 What Mini Me thinks
The dynamics of the market in Singapore are different compared to Malaysia. In Singapore, the alcohol-free beer is aimed at addressing the new liquor laws and targeting existing beer drinks who opt for something more sober. In Malaysia, alcohol-free, malt-based drink is positioned as a soft drink to target a broader consumer base including Muslims.
Looking at the product availability, alcohol-free beer appears to be struggling to compete with the more popular and vibrant cider scene in Singapore.