Strong recovery in revenue and profitability
PT Multi Bintang Indonesia Tbk saw a vast improvement in revenue and profitability in 2016. Revenue jumped 21% to IDR 2.26 trillion, while net profit bounced back and even exceeded the 2014 net profit of IDR 868 billion to reach IDR 1.1 trillion.
The stellar performance in 2016 was attributed to the recovery in consumer sentiment following the prohibition of sales of alcoholic beverages in minimarkets and conveniences stores beginning April 2015, which saw volume sales declined.
Net profit surged, thanks largely to cost cutting and the availability of large dividend income and the absence of other losses.
The Industry Ministry data shows the local production of alcoholic beverages with alcohol content of 5% or less in 2016 did not recover to the 2014 level after a sharp decline in 2015.

Soft drinks grew 50% in 2016
The soft drink segment (non-alcoholic beverages) is the key focus for the company. Soft drink sales jumped by nearly 50% year-on-year in 2016 to IDR 383 billion (USD 29 million), higher than the 24% growth achieved a year ago. Beer also recovered from the 2015 incident to post a 21% growth compared with a 10% decline in 2015.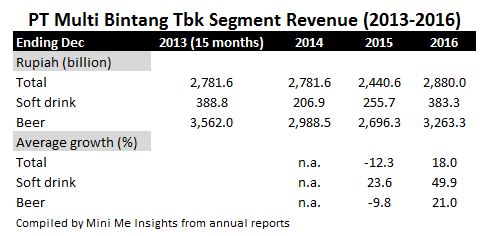 During 2016, the company launched the following soft drinks – Bintang Radler 0.0%, Bintang Maxx 0.0%, Green Sands (Lime & Lychee and Lime & Grape) and Fayrouz. Multi Bintang introduced Strongbow in the cider segment.
Diageo's Guinness Zero is produced by Multi Bintang.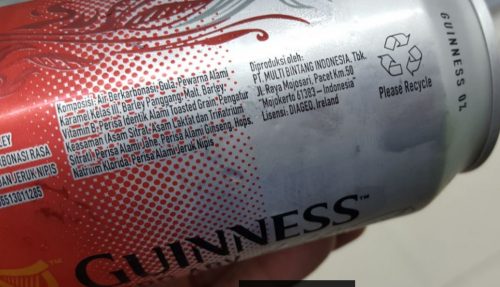 Soft drink becomes significant revenue contributor
Soft drink saw an increase in its revenue contribution from 7.5% in 2014, rising to 10.5% in 2015 and subsequently to 13.3% in 2016.
Multi Bintang is pursuing the strategy of expanding beyond beer into low and non-alcoholic beverages. The eventual goal is to become a multi-beverage company, said Multi Bintang president director Micheal Chin when speaking to Jakarta Post.
Change in consumer habits
Following the alcohol ban in 2015, Michael said the company has seen a shift in purchases to on-trade (HoReCa) from off-trade (retail). Consumers are also buying bigger packaged at supermarket and stock them at home.