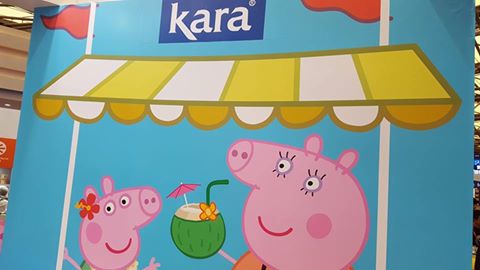 Peppa is a loveable, cheeky little piggy who lives with her little brother George, Mummy Pig and Daddy Pig. One sunny morning, they went to the beach. Peppa was having a good time with her family while sipping fresh coconut water from Indonesia.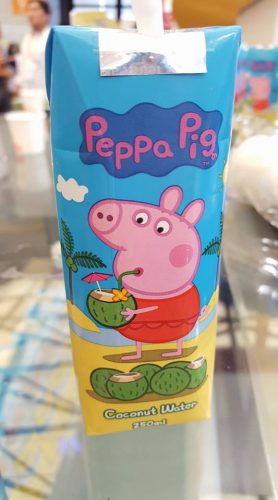 The new Peppa Pig coconut water is made by Indonesia's PT Pulau Sambu (Kara) and was showcased at the recently concluded SIAL China 2017 in May. The 100% fresh coconut was imported by Dongguan Fenya Import and Export Trading (东莞市纷亚进出口贸易).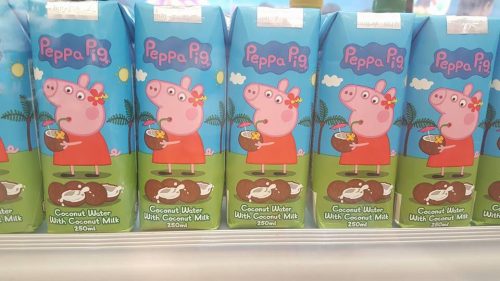 The range included Coconut Water with Coconut Milk.
Dongguan Yizhi Foods (东莞亿智食品有限公司) is the producer of  food featuring Peppa Pig in China.
Peppa Pig is popular in China. According to Entertainment One Ltd, "Peppa Pig has generated more than 24.5 billion views on multiple SVOD platforms since the brand was first launched two years ago" in China.
The FY2017 annual report of Entertainment One describes "Peppa Pig's licensing and merchandising revenue [in China] has increased significantly year-on-year" since its debut in 2016. The country has become the "second largest licensing market globally after the US." "China is expected to grow from 20 licensing agreements in FY17 to 60 by the end of FY18," says the report. Entertainment One's FY2017 financial result ended 31 March 2017.

Kara coconut water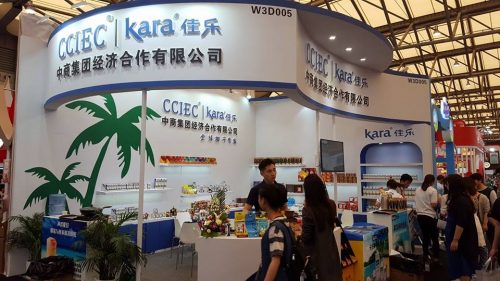 The coconut water under the Kara brand is distributed in China by China Commerce Group for International Economic Cooperation (CCIEC).
*Images for the products and booth were taken by the author