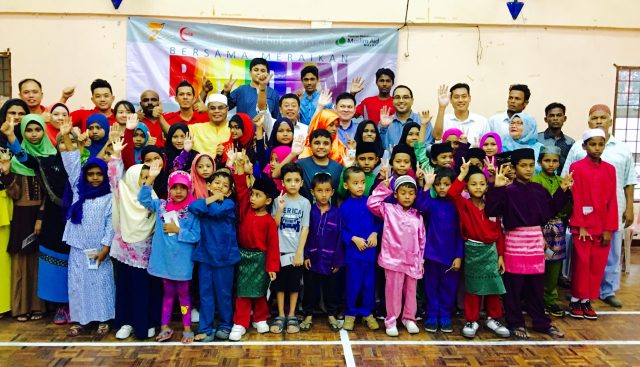 26 May 2017
Yayasan Kemanusian Muslim Aid Malaysia will continue its annual charity Fast2Feed programme this Ramadan, which will bring a nourishing meal, thirst quenching drinks and seasonal cheer to over 4,000 people from deserving communities, with the continued support of Coca-Cola Malaysia.
One of Muslim Aid Malaysia's key activities that is solely dependent on donations and charity by generous individuals and corporations, the programme will see orphans, children from underprivileged families, residents of aged care homes, Orang Asli and refugees receive break fast meals, food baskets, duit Raya and new clothes so that they too can look forward to the fasting month and Hari Raya.
Throughout Ramadan, the Muslim Aid Malaysia team will tirelessly travel across Peninsula Malaysia to give charity to those in need. Within Malaysia, the NGO will touch the lives and bring some happiness to communities in Kuala Lumpur, Selangor, Perak, Penang, Pahang, Kedah, Kelantan, Terengganu, Negeri Sembilan, Melaka and Johor.
As they look forward to the breaking of fast, the children will be entertained with art and craft activities such as colouring and ketupat weaving. Joining them at each location would be Coca-Cola staff from nationwide branches, where they will help serve up the break fast meal and participate in the activities.
A partnership that began in 2010, Coca-Cola continues to support Muslim Aid Malaysia's charitable work for the underprivileged and this year, to bring a touch of local flavour Coca-Cola is also involving its partners such as Mydin, Texas Chicken, AEON Big, CapitaLand Malaysia and PNB Commercial to come in with even more goodies to bring more smiles.
"Malaysians look forward to Ramadan as a time for family reunion, community gatherings and an opportunity to give back to those who are less fortunate. Working with our long time partner, we are able to contribute in a small way through this meaningful annual programme by Muslim Aid Malaysia and this year we are delighted to be able to involve our local partners who have been generous and supportive," said Ahmed Yehia, Country Manager, Malaysia, Singapore and Brunei Region, The Coca-Cola Company.
"The continued participation of Coca-Cola has allowed Muslim Aid Malaysia to extend our reach to more underprivileged communities year after year. We always welcome contributions from the public, be it individuals or companies, to join us to offer some hope, help and care for those in need especially during Ramadan," said Habsah Marjuni, Chairman of Muslim Aid Malaysia's Board of Trustees.
Members of the public can also spread some joy by donating to the Fast2Feed programme. Visit http://muslimaid.org.my/fast2feed/ to find out how your contributions can make a difference this Ramadan.
The Coca-Cola Company in Malaysia
In addition to Coca-Cola, one of the world's most valuable brands, the Coca-Cola system in Malaysia manufactures, markets and distributes over 80 products including sparkling beverages (Fanta, Sprite, A&W, Schweppes), zero-calorie sparkling beverages (Coca-Cola Light, Coca-Cola Zero Sugar, Sprite Zero), juice drinks (Minute Maid Pulpy), teas (Heaven and Earth), isotonic (Aquarius) and water (Dasani).
Coca-Cola has invested RM1 billion in Malaysia since 2010, creating more than 800 jobs and touching over 75,000 customers directly with a total reach of over 200,000 customers across Peninsula Malaysia and East Malaysia. Through its programmes and partnerships Coca-Cola Malaysia aims to make a lasting positive difference in the local community.
From recycling through partnership with the Malaysian Nature Society and Universiti Putra Malaysia (UPM), to working with Raleigh International and Muslim Aid Malaysia to provide access to clean water for more than 22,000 villagers in rural Sabah, and economically empowering women through the Coca-Cola KU entrepreneurship programmes – Coca-Cola is committed to building sustainable communities in Malaysia.
Yayasan Kemanusiaan Muslim Aid Malaysia
Muslim Aid is a non-political and non-sectarian aid and development organisation inspired by Islamic values and works within the parameters of Islam irrespective of religion, colour and creed. Muslim Aid takes special interest in the orphaned, refugees and internally displaced people, communities caught in the cycles of poverty, and survivors of disasters as its beneficiaries.