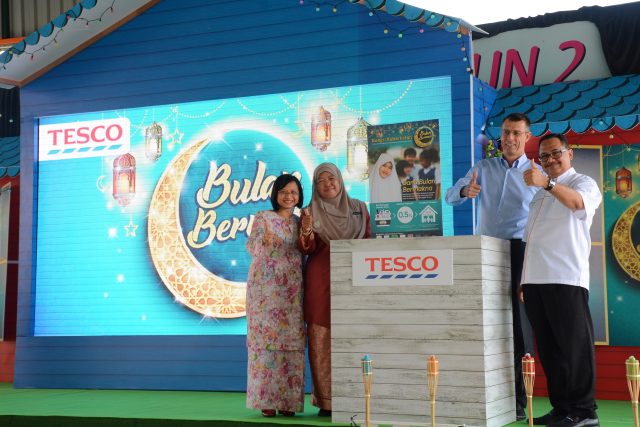 KUALA LUMPUR, 16 MAY 2017 – In light of the upcoming Ramadhan period, Tesco Stores (Malaysia) Sdn. Bhd. (Tesco Malaysia) has launched a campaign to help underserved children in its 59 adopted schools around the country.
The Dana Bulan Bermakna is an extension of Tesco's commitment to help underprivileged children from the schools it has adopted under the PINTAR Foundation School Adoption programme. The campaign, which runs through the holy months of Ramadhan and Syawal, aims to collect much needed funds through the sale of Tesco-branded items at all its stores throughout the country, and will be channeled to help 500 underserved students from the adopted schools.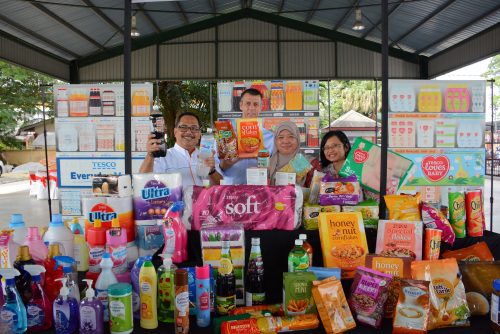 The campaign made more meaningful is that it motivates the public, particularly Tesco customers to play their part in helping these children. For every Tesco-branded item that they purchase, 0.5% of the total sales will go to a fund to help these children.
"In the 15 years since we began our operations, we've worked hard to serve our Malaysian customers as well as the communities wherever we are. From this, we look to the future and find opportunities of how Tesco can more involved and engaged, to make an even more sustainable positive impact in the communities where we operate. Through our insights we know that our customers are looking to realise their aspiration to contribute to those in need during this Ramadhan and Syawal. This year we are making it easier for them to do this, while enjoying Tesco own brand products," said Paul Ritchie, Tesco Malaysia CEO at the launch of the campaign held at Sekolah Kebangsaan Taman Dato' Harun 2 in Petaling Jaya today.
"In the short time that we have adopted the schools, we've learned about the opportunities for Tesco to directly help the children, not just in terms of education but also in ensuring that they have their needs fulfilled, in order to have a productive day at school. We believe the funds we raise through Dana Bulan Bermakna, will go a long way to helping the children and keeping them in school," Ritchie added.
A member of the PINTAR Foundation Board of Trustees, Sabri Abdul Rahman, who was present at the launch, agrees with Ritchie.
"Any family can fall on hard times and find it difficult to make ends meet. But with the right policies in place and empathy from all of us, every child can have the opportunity to do well in life. The Government and the various agencies can only do so much, so it is indeed refreshing to see companies such as Tesco engaging with communities to give hope to underprivileged children in underserved schools," said Sabri.
Dana Bulan Bermakna Tesco will run from 11 May to 12 July 2017, during which 0.5% of the total sales of 3000 types of participating Tesco-branded products – Tesco Everyday Value, Tesco Basics, Tesco Eat Fresh, Tesco Loves Baby, Inspirasi, Lewis Baker and Tesco Finest – will be channeled to help 500 children from Tesco Malaysia's 59 adopted schools under the PINTAR programme.
About Tesco Stores (Malaysia) Sdn Bhd
Tesco Stores (Malaysia) Sdn Bhd is a joint-venture company between Tesco PLC and Sime Darby Berhad. Tesco PLC is one of the world's largest international retailers with operations in 12 countries, employing over 500,000 people and serving millions of customers every week.  Across its operations worldwide, Tesco believes in giving local customers what they want and creating value while earning their lifetime loyalty.
Tesco Malaysia, established in May 2002 with its first hypermarket in Puchong, Selangor, today continues to deliver excellence in areas that matters most to Malaysian customers from service excellence, diverse product range and quality to great prices and store environment.  Tesco Malaysia employs over 7,000 employees and operates 56 stores throughout Peninsula Malaysia. In 2013, Tesco paved the way in online grocery shopping with the launch of its online Grocery Home Shopping service, offering even greater convenience to customers in the Klang Valley, Seremban, Penang and Johor Bharu.  This service offers customers 18,000 lines of fresh and frozen food, groceries and non-food items such as health and beauty, baby needs and basic household items with delivery to their homes. Tesco has also recently joined into a partnership with Lazada and Happyfresh to offer more products online.
About PINTAR Foundation
PINTAR Foundation is a not-for-profit organisation, with a vision to inspire the young generation to become responsible citizens through the three key tenets of Promoting Intelligence, Nurturing Talent and Advocating Responsibility (acronym of PINTAR). PINTAR Foundation was formed in 2008 to spearhead the implementation of the PINTAR Programme, which is a social responsibility initiative mooted by Khazanah Nasional Berhad.
Working in partnership with GLCs, private corporations, partner NGOs and the Government, PINTAR Foundation strives to build human capital by reaching out to Malaysian children in the under- privileged communities through its PINTAR Programme, a school adoption programme, which seeks to improve the educational outcomes of students from under-performing schools.
Since the PINTAR pilot project in late 2006, PINTAR members and partners have implemented no less than 300 PINTAR activities per year at their respective adopted schools with the involvement of students, teachers, parents and the community. To date, there are 522 PINTAR schools nationwide (including the 59 new schools adopted by Tesco Stores (Malaysia) Sdn Bhd) which have been adopted by 50 PINTAR members and partners; and more than 812,000 students and teachers have benefited from these various PINTAR activities throughout the country.
Kindly log on to www.mypintar.com.my to find out more about PINTAR Foundation.