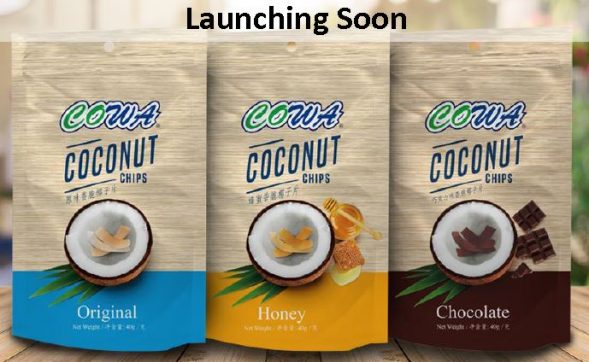 Coconut Water (COWA) Sdn Bhd, the company that introduced the Cowa coconut water, is planning to launch Cowa Treats by September 2017. The company revealed this at the Taste Fully Food & Beverage Expo, which was held at Mid Valley Megamall from 30 May 2017 to 2 June 2017.
New Cowa Treats
Cowa Treats will represent the extension of the Cowa brand from coconut water to virgin coconut oil (VCO) and subsequently into coconut snacks.
According to the information supplied by Cowa, the Treats range  comprises:
Coconut chips (40g) – original, honey and chocolate
Coconut chunks (40g) – original and honey
Coconut cereal bites (70g) – original
Coconut flake rolls (36g) – original
Cowa Coconut Chips are made from well selected mature coconuts and is baked and roasted using the equipment that preserve the original taste, aroma and texture.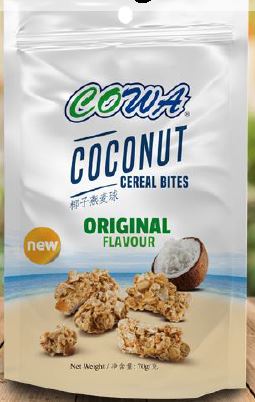 Cowa Coconut Cereal Bites combines the natural goodness of coconut, almonds, cashew nuts and oats.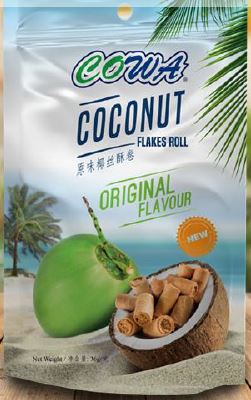 Cowa Coconut Flakes Roll combines the natural goodness of coconut milk, desiccated coconut, rice flour and brown sugar.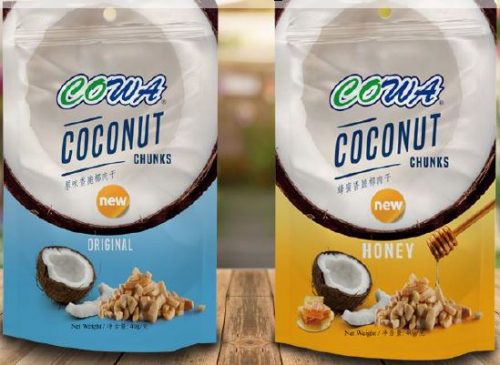 Cowa Coconut Chunks are made from well selected mature coconuts and is baked and roasted.
New packaging for Cowa VCO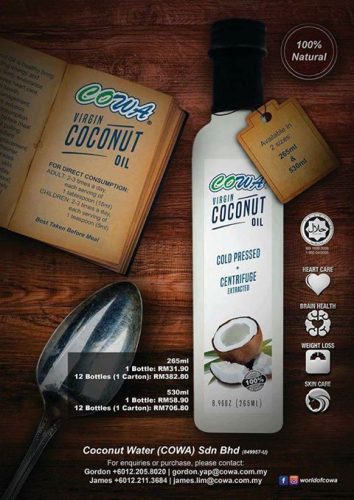 In addition to Cowa Treats, the company's Cowa Virgin Coconut Oil (VCO) was given a new look as early as early 2017. The Cowa VCO was first spotted by the author at the Taste Fully Food & Beverage Expo in November 2016 but with an old packaging. The Cowa VCO is "centrifuge extracted from fresh coconut meat" with a "very mild coconut taste and is packed with anti-oxidants." This production process makes the VCO tastes smoother and preserves all the nutrients. The Cowa VCO is available in 265ml and 530ml.
Flavoured coconut water set for Q4 debut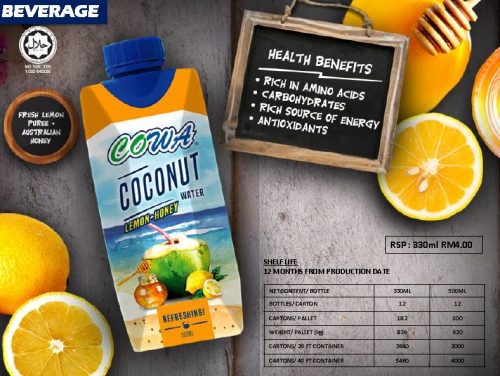 The honey and honey-lemon coconut water variants will be launched in Malaysia in the fourth quarter of 2017. The two new flavours have already been made available by the company along with coconut juice in China in 2017.
The debut of the honey and honey-lemon flavours will mark the expansion of Cowa coconut water into the flavoured category. A similar move to introduce the flavoured variants has already been made by its competitor Karta as early as 2015.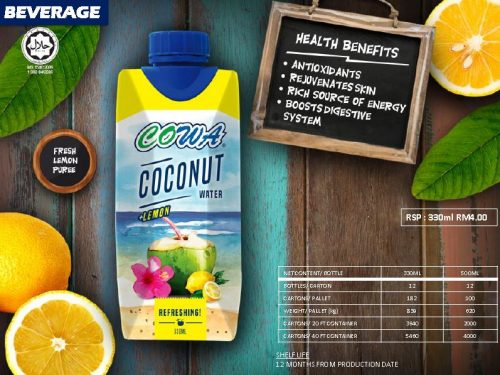 Coconut juice
Also available in Malaysia is the Cowa Coconut Juice in a plain white packaging. Promoting coconut juice will be challenging. Malaysian consumers would automatically associate coconut juice with santan, the liquid that comes from the grated meat of a mature coconut and used in curry.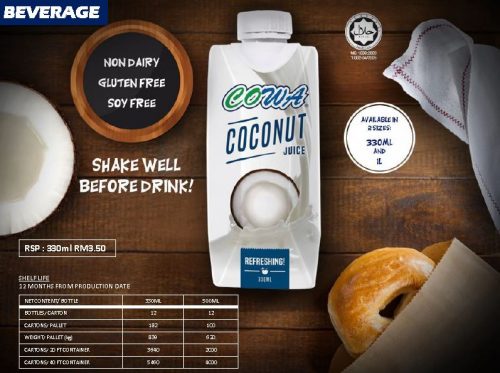 The market is slowly moving towards coconut milk-based beverages, offering consumers with a non-dairy and soy-free option. At the end of 2015, FAL Food & Beverages introduced Coco Joy Natural and Flavored Coconut Milk in Malaysia through 7-Eleven but this product failed to gain traction and was withdrawn from the market.
In January 2017, Thai Coconut Public Company Limited launched the world's first sparkling coconut water as well as Thai Coco snacks (Roasted Coconut Bar and Coconut Chips) and Thai Coco Coconut Milk Beverages in Malaysia. These products are distributed locally by Euro-Atlantic Sdn Bhd.
The Milky Coco Coconut Milk Drink by Cocomax is available in Malaysia at selected channels including at Cold Storage. Cocomax is manufactured by Thailand's Asiatic Agro Industry Co., Ltd. and distributed locally by Max Food Enterprise (M) Sdn Bhd.
What Mini Me thinks
The availability of more coconut-based products in Malaysia including coconut snacks, flavoured coconut water and coconut milk-based drinks shows the growing maturity of the category. It does take time to cultivate the market for coconut-based products, given the strong attachment of Malaysian consumers to the taste of natural coconut water consumed straight from the nut.
In terms of marketing, companies are pitting packaged coconut water as the healthier alternative to isotonic drink with marketing campaigns targeting sporting events. Virgin coconut oil (VCO) is positioned as a nutritional supplement and is fetching a premium price. The marketing of coconut milk-based beverages in Malaysia may be hampered by the taste factor as coconut milk-based beverage does share a strong taste profile as the coconut milk (santan) used in cooking.
In my opinion, the coconut juice and treats are aimed largely at China.
*All the images come from Cowa.