Ajethai, the producer of Big Cola in Thailand, has unveiled Volt (โวลต์) energy drink in a smaller PET bottle. The new 215ml energy drink complements the existing Big Volt (บิ๊กโวลต์) energy drink in a larger 300ml PET bottle, which was introduced in early 2017. Volt contains vitamin B3, B5 and B6. The variants comprises zinc, ginseng and goji berry.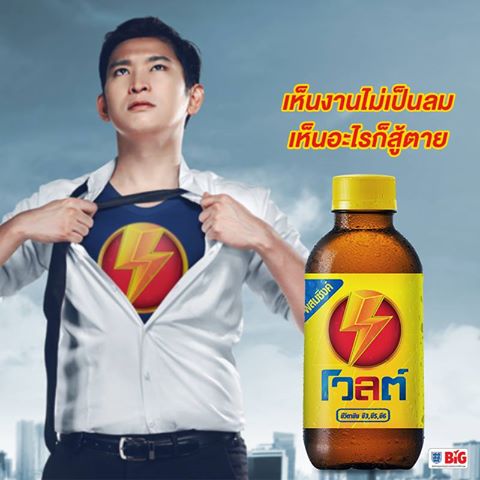 Students, white collar (ie office worker) and blue collar (ie taxi drive) are the key target segment. The key message of Volt is the energy drink helps to provide consumers with the mental alertness to become successful in their career and life.
รู้แล้วจะหนาว!! ผลกระทบที่จะตามมาเมื่อคุณรู้สึก ล้า ง่วง เพลีย ลองโวลท์สูตรผสมซิงค์ได้แล้ววันนี้ที่ 7-อีเลฟเว่น #โวลต์ #เครื่องดื่มชูกำลังเทรนด์ใหม่ #ปลุกชีวิตให้เต็มตื่น #ท้าให้ลอง

Posted by Big Cola on 17hb Ogos 2017
The retail selling price of Volt is THB 10, which is equivalent with other energy drinks in glass bottles in Thailand.
What Mini Me thinks
It is not sure if Volt will cannabilise the sale of Big Volt in PET bottle. It does show Ajethai is going mainstream with a smaller packaging so that it has a product sitting next to leading players like M-150, Krating Deang and Carabao in glass bottles.