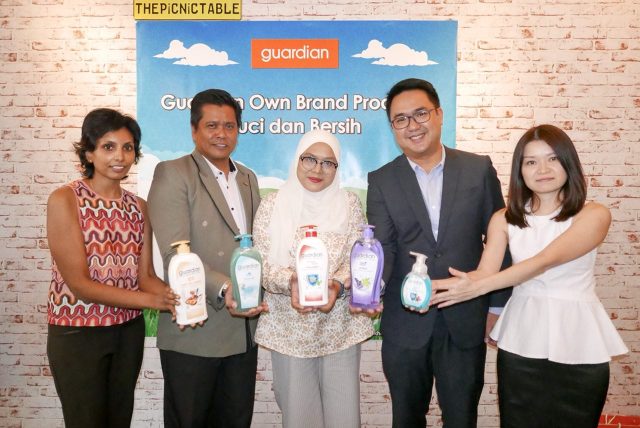 Enforcing Standards at Every Stage of Manufacturing and Handling for Cleaner, Purer, More Trusted Products 
Kuala Lumpur, October 12, 2017 – Guardian, the leading pharmacy, health and beauty retail chain in Malaysia with over 420 stores, has won the trust and confidence of Malaysians consumers due to the quality of the products it offers.
 Its in-house brand, the Guardian Own Brand label is manufactured to the highest standards of quality, with relevant products being dermatologically tested and proven, and an increasing percentage of these relevant products complying with JAKIM halal guidelines.
 Guardian Own Brand is proud to announce that the majority of its applicable house brand products in categories such as cosmetics, personal care and food, are now certified Halal by Jabatan Kemajuan Islam Malaysia (JAKIM), with the remaining applicable products in various stages of receiving the same certification.
 The brand is in the process of rolling out new packaging with the JAKIM Halal logo prominently displayed on Guardian Own Brand products and the ranges that have already been certified Halal by JAKIM with new packaging are the Bath Range, Baby Bath Range, Baby Lotion, Feminine Care, mineral water and Vitamin gummies for children.
The above products have the new packaging and are available in stores.
As with natural and organic, Halal standards have a set of permitted and prohibited ingredients, processes and methodologies[1],2. These guidelines are designed to ensure consumers' peace-of-mind and confidence in the cleanliness and purity of the products.
 The JAKIM Halal certification ensures that stringent standards are met at all stages of raw material sourcing and purchasing, manufacturing, filling, warehousing, and logistics at manufacturing sites to assure product cleanliness and purity, in compliance with Islamic law. The certification also promotes traceability at every step of the process for greater accountability.
JAKIM is considered a pioneer in Halal certification, with among the most stringent requirements, globally. JAKIM's Halal certification is recognised and trusted internationally.
The global Halal personal care market is expected to reach USD 52.02 billion by 2025 according to a report by Research and Markets[2] due to the awareness levels of the Muslim populace regarding the ingredients used in cosmetic and personal care formulations, as well as the preference and acceptance of non-Muslims towards Halal certified products[3].
 Globally, Muslim and non-Muslim consumers are willing to pay a premium for Halal products due to the assurance of cleanliness and purity. Malaysia and Indonesia together accounted for nearly 60% of the Asia Pacific revenue in 2015, with skincare and makeup being the dominant products consumed[4]
 According to Guardian Health and Beauty Sdn Bhd, Corporate Brand Director of Health & Beauty, Alfonso Roderos, Guardian Own Brand products have always been made to exacting standards of quality, with the certification from JAKIM for our selected ranges adding another level of assurance to consumers.
"Guardian Own brand products certified Halal by JAKIM are well-received by Muslims and non-Muslims alike as they have confidence in the quality assurance. For Guardian Own Brand's extensive range of applicable products, the Halal certification from JAKIM adds another layer of assurance to the confidence and trust consumers have in our products. It lets Muslim consumers access a much wider range of products, that have been dermatologically trusted and proven, at prices that they will love," Mr Roderos said.
 Associate Professor Dr. Mohd Nor Mamat, Academy of Contemporary Islamic Studies, Universiti Teknologi Mara a national preacher, researcher and promoter of Halal awareness said, "It is heartening that a major retailer such as Guardian has undertaken a large-scale exercise to have their in-house selected products certified Halal by JAKIM. This compliance with Halal requirements at all stages of their manufacturing processes will give Muslims and non-Muslims alike the assurance that this is a brand that respects its consumers' beliefs and is committed to providing them with traceability every step of the way for cleaner, purer products."
 For a list of Halal certified products, consumers can visit www.halal.gov.my.
 Guardian Health and Beauty Sdn Bhd, Assistant Manager for Public and Government Relations, Farahani binti Failul Rahman explained, "Non-Muslim consumers are beginning to request halal-certified products, as the products can be traced through the manufacturing processes. Guardian Own Brand will continue to expand our portfolio of halal certified products furthering our brand promise of Trust, Passion and Inspiration to benefit all our consumers."
 She added that young people are driving demand for halal personal care products that fit their lifestyles and beliefs. "Consumers are buying into labels such as ethical, no animal cruelty; and halal encompasses many of these principles and values," said Farahani, adding that with Guardian Own Brand there is also the inducement of applicable quality products that have been dermatologically tested and proven, at prices consumers love.
Dr. Mohd Nor added: "The JAKIM Halal certification is recognized globally as among the most stringent.Guardian Own Brand personal care and food products that have received this certification will be readily accepted in other countries that have large Muslim populations. This step will open up a wider market for the brand, and will provide Muslim consumers with more choices."
 Pricing and Availability
Rest assured in the compliance, quality and safety of your personal care, cosmetic and food products from Guardian Own Brand label. The full range of products are available exclusively at Guardian outlets nationwide, and at the e-store at https://online.guardian.com.my.
 [1] https://www.researchgate.net/publication/276854999_Building_holistic_brands_an_exploratory_study_of_Halal_cosmetics
Halal Cosmetics Market Analysis By Product (Skin Care, Hair Care, Makeup) By Region (North America, Europe, Asia Pacific, Central & South America, Middle East & Africa), Competitive Landscape, and Segment Forecast, 2014 – 2025.
 About Guardian Malaysia
From a 200-sqft pharmaceutical retail outlet catering to the expatriate community to emerging as the leading Pharmacy, Health and Beauty retail chain in Malaysia, Guardian now operates a chain of over 420 stores, providing unrivalled variety of Pharmaceutical, Health and Beauty products to more than 3 million Malaysian customers a month, across the country.
 Guardian's commitment to its customers' needs is also reflected in a dedicated team of pharmacists, who impart professional advice and consultation to customers. Committed to strong corporate governance, which upholds responsible and ethical dispensing at all times.
 Guardian is also an advocate of corporate philanthropy and believes in giving back to the community. Guardian celebrates four decades of success by making a pledge to contribute to worthy causes by getting involved in the efforts that help to provide and promote the care, development and well-being of the local communities and supporting programs that are dedicated towards those in need namely, women and children.
 About Dairy Farm
Dairy Farm is a leading pan-Asian retailer. At 30th June 2016, the Group and its associates and joint ventures operated over 6,500 outlets and employed over 180,000 people. It had total annual sales in 2015 exceeding US$17 billion.
The Group aims to meet the changing needs of Asian consumers by offering the leading brands, a pleasant retail experience and great value, all provided through responsible operations supported by reliable and trusted supply chains.
The Group operates under a number of well-known brands across four divisions. The principle brands are:
Food:
·       Supermarkets – Welcome in Hong Kong, Taiwan and the Philippines, Yonghui in mainland China, Cold Storage in Singapore and Malaysia, Giant in Malaysia, Indonesia and Singapore, Hero in Indonesia;
·       Hypermarkets – Giant in Malaysia, Indonesia, Singapore, Brunei and Vietnam, Yonghui in mainland China;
·       Convenience stores – 7-Eleven in Hong Kong, Singapore, Southern China and Macau;
Health and Beauty
·       Mannings in Greater China, Guardian in the rest of Asia and Rose Pharmacy in the Philippines;
Home Furnishings
·       IKEA in Hong Kong, Taiwan and Indonesia; and
Restaurants
·       Maxim's in Hong Kong, mainland China and Vietnam.
Dairy Farm International Holdings Limited is incorporated in Bermuda and has a standard listing on the London Stock Exchange as its primary listing, with secondary listings in Bermuda and Singapore. The Group's businesses are managed from Hong Kong by Dairy Farm Management Services Limited through its regional offices. Dairy Farm is a member of the Jardine Matheson Group.