15 January 2018
The Coca-Cola Charity Golf Day, which raised RM100,000 for Pertubuhan Baitul Mahabbah has resulted in a refreshed, Dulux paint job for its home in Rasa, Negeri Sembilan where the non-profit organisation provides a safe haven for financially disadvantaged children and orphans.
Volunteers from Coca-Cola Malaysia and partner for the event – Akzo Nobel Paints Malaysia which makes and sponsored the Dulux paint – repainted the walls and thematic murals in the children's rooms as well as the fencing wall outside the girls' and boys' hostels.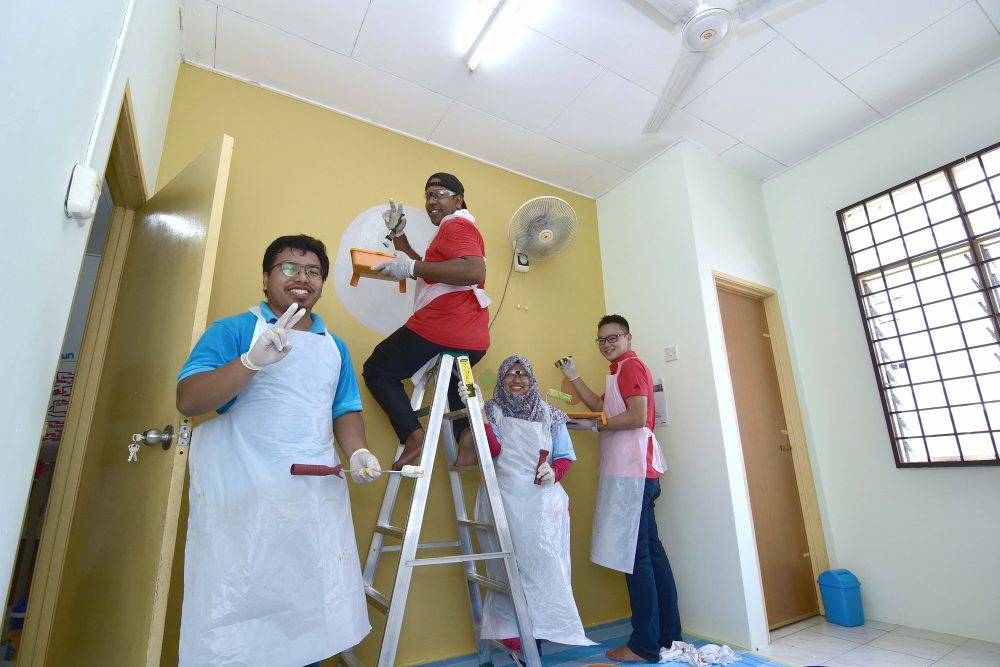 They also cleaned up the external area of the hostels, put up fresh curtains, installed new cabinets and study tables, and did repair work.
While the home was being refurbished the 35 resident children, ranging from the age of 6-12 years, together with the four caretakers were taken for a fun filled outing to Petrosains and the National Bird Park in Kuala Lumpur.
"It is such a lovely gesture for the children and they really enjoyed their day out. To then come home to see the new furniture, painted walls and everything looking fresh brought even more joy to them," said Noraini bt Yaakob and Siti Hajar bt Ismail from Pertubuhan Baitul Mahabbah.
Upon their return, the children were greeted by the Chief Executive Officer of Coca-Cola's Bottling Investment Group Malaysia-Singapore-Brunei, Gareth McGeown, and Akzo Nobel Paints Malaysia's Head of Marketing, Shinta Iswandani along with the volunteers who had been working furiously throughout the day to surprise the children.
"Being able to bring a positive impact and improve the lives of the children at Pertubuhan Baitul Mahabbah is something that we are happy to do, especially with the wonderful support from our partners, customers and suppliers who helped us raise the funds during the golf tournament and today with Akzo Nobel, which has generously sponsored its paints and resources to make this community project a success," said McGeown.
Speaking on behalf of the Dutch paintmaker, General Manager of Akzo Nobel Paints Malaysia, Indra Laban said, "In line with Akzo Nobel's commitment in making people's lives more livable and inspiring, we are happy to partner with Coca-Cola in making this community program a successful one. Children are our hope for tomorrow, which is why we want to support them to unleash their potential and inspire these children to be more creative, positive and cheerful through colours."
The Coca-Cola Company in Malaysia
In addition to Coca-Cola, one of the world's most valuable brands, the Coca-Cola system in Malaysia manufactures, markets and distributes over 80 products including sparkling beverages (Fanta, Sprite, A&W, Schweppes), zero-calorie sparkling beverages (Coca-Cola Light, Coca-Cola Zero Sugar, Sprite Zero), juice drinks (Minute Maid Pulpy), teas (Heaven and Earth), isotonic (Aquarius) and water (Dasani).
Coca-Cola has invested RM1 billion in Malaysia since 2010, creating more than 800 jobs and touching over 75,000 customers directly with a total reach of over 200,000 customers across Peninsula Malaysia and East Malaysia. Through its programmes and partnerships Coca-Cola Malaysia aims to make a lasting positive difference in the local community.
From recycling through partnership with the Malaysian Nature Society and Universiti Putra Malaysia (UPM), to working with Raleigh International and Muslim Aid Malaysia to provide access to clean water for more than 22,000 villagers in rural Sabah, and economically empowering women through the Coca-Cola KU entrepreneurship programmes – Coca-Cola is committed to building sustainable communities in Malaysia.