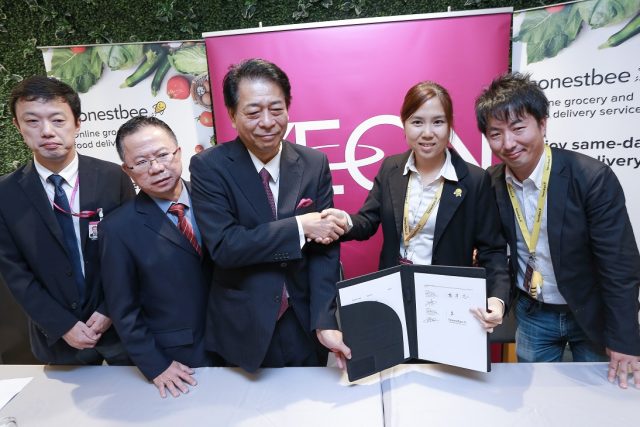 Kuala Lumpur, 24 January 2018 – AEON CO. (M) BHD. and honestbee have signed a Memorandum of Understanding (MoU) to form a business alliance.  This alliance will enable both parties to develop and formulate new services that better match the rapidly changing customer demand, by establishing a framework of cooperation to merge their unique strengths. The collaboration stems from the growing trend of online purchase pattern and a desire to innovate its offering to enhance value for Malaysians.
Shinobu Washizawa, Managing Director of AEON CO. (M) BHD. said: "Owing to decades of support from our customers, we have established a nationwide presence.  We believe our strength lies not only in the wide-range of products and services, but also in the customers' trust in our reputable brand.  In order to enhance the value for our customers by moving towards an omni-channel retailer, we want to combine our strengths with honestbee's expertise to digitalise our customer's shopping experience.
Adding Value to An Established Grocer
Honestbee is an online concierge and delivery service with presence in eight countries.  According to Marianne Chuo, Country General Manager of honestbee Malaysia, the way Malaysians consume shopping today differ greatly from how it was a decade ago. "One of the key drivers for the success of the online retail sector is convenience. As a trusted online concierge, we are always evolving with time to offer our customers a whole new level of committed reliability. We curate our logistics in a way in the most efficient and effective way when delivering products, ranging from fresh produce to dry goods. We look forward to a successful collaboration with AEON CO. (M) BHD."
As the pilot project of this alliance, AEON Mid Valley store will initiate honestbee's personal shopper service.  Customer who live within 17 km radius from the store will enjoy a minimum 1-hour delivery service for the purchase of listed grocery products (subject to availability of the timeslot).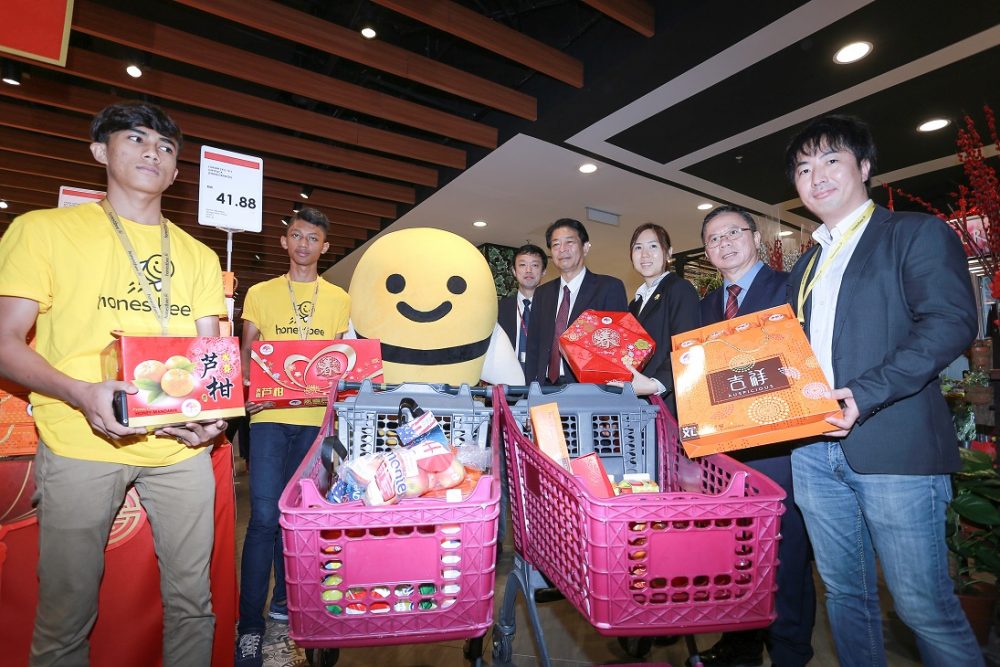 Washizawa added: "We are proud to launch this new service at our flagship store, AEON Mid Valley.  We will closely monitor the feedback and demands from our customers, and consider to expand this service both in terms of regional and in merchandise offering. I am delighted to share that AEON CO. (M) BHD. will have more of such innovations in the pipeline."
"At honestbee, our expertise lies in ensuring that our customers receive their purchases almost as soon as they have put in their order. As such, we are extremely proud to be appointed as AEON CO. (M) BHD.'s partner in their endeavour to venture into on-demand delivery service," Chuo added.
As an introductory offer, every new customer will get to enjoy a RM50 discount with a minimum spend of RM120. To enjoy this benefit, new customers need to key in the promotional code of "AEON50HB" to redeem any time before 1 March 2018.
About AEON CO. (M) BHD
AEON CO. (M) BHD. is a leading General Merchandise Stores (GMS) cum supermarket chain in Malaysia, with 26 AEON Malls, 33 AEON Outlets 2 MaxValu and 2 Maxvalu Prime Supermarkets across the country. In the spirit of the name AEON, which means eternity in Latin, AEON's goal is to work together endlessly with its customers, suppliers, business partners, shareholders and the community to create a future of limitless promises. Incorporated in 1984 in response to the Malaysian Government's invitation to help modernize the country's retailing industry, AEON's chain of stores strive to satisfy the ever changing needs and desires of consumers. Guided by its "Customer First" philosophy, the company's acute understanding of the target market needs, aided by optimal product-mix, AEON surpasses consumer expectations and enhances their experience every time they shop. All this is encapsulated in the tagline "AEON Enriching Your Lifestyle".
AEON also strongly supports environmental sustainability by championing various recycling, energy conservation and tree planting causes, by engaging and encouraging various parties, including staff, customers, NGOs, government agencies and the community at large to participate.
In 2015, AEON introduced the 'Do Mall' initiative as part of its rebranding exercise to rebrand AEON Shopping Centres to AEON Mall. The initiative marks a next step in product innovation whilst maintaining customers' favourites, year-long activities to enhance shopping experience and a new refreshed AEON Mall with more offerings from food and entertainment to fashion and community events.
AEON has been awarded the Gold in Retail category by Putra Brand Award for 7 consecutive years since 2011. AEON was also awarded Green Leadership by Asia Pacific Entrepreneurship Awards in 2010 and 2011. In recognition's of AEON's CSR initiative, the Federation of Asia-Pacific Retailers Associations (FAPRA) awarded AEON the Regional Award for "Best Efforts in Social Responsibility" in 2017.
For more information, please visit: www.aeonretail.com.my or www.facebook/aeonretail.com