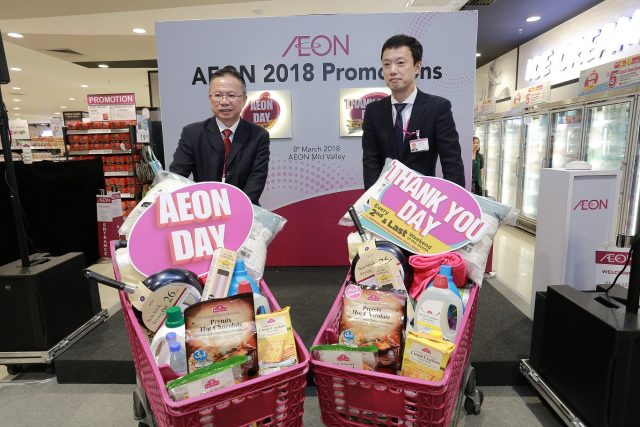 Introduction of 2018 Promotions gives customers better incentives to shop at AEON
 KUALA LUMPUR, 8 March 2018 – A faithful and satisfied customer is the best business strategy of all, and AEON CO. (M) BHD. has hit the right note with the recent launch of AEON 2018 Promotions, which takes place on selected dates in a month.
Poh Ying Loo, Executive Director of AEON CO. (M) BHD. said: "The launch of our AEON 2018 Promotions will benefit more than 1 million AEON members who have played a pivotal role in spurring our growth. It is also our way of rewarding them for continuing to choose us as their shopping destination. We endeavour to stay on top of our game by offering innovative shopping experiences for everyone, so that they see the benefits of shopping at AEON throughout Malaysia."
With Loyalty Comes Greater Rewards
AEON introduced two important days to be remembered: AEON Day and Thank You Day. AEON Day falls on 8th and 28th of every month and is extended to all AEON Supermarkets, AEON Wellness, MaxValu and MaxValu Prime outlets. AEON Members can enjoy cash vouchers of RM5 for every RM100 spent (excluding GST) at AEON Supermarkets and AEON Wellness. Meanwhile, all customers will receive RM3 cash vouchers for every RM60 spent (excluding GST) at MaxValu and MaxValu Prime outlets. All AEON Day cash vouchers will be printed on the customer's purchase receipt.
As a reward to members and other customers, AEON has procured more than 1,000 items with great savings for AEON Day.
On the other hand, Thank You Day is to encourage weekend shopping on selected dates* in a month at all AEON General Merchandise Store. AEON Members will get RM5 cash vouchers for every RM80 spent, RM10 for every RM150 spent and RM30 for every RM300 spent, all excluding GST. Thank You Day cash vouchers can be redeemed at redemption counters in all AEON outlets.
*Every second Saturday and Sunday and last weekend (Friday, Saturday and Sunday) of the month. For Kota Baru, the promotions apply on every second Friday and Saturday and last weekend (Thursday, Friday and Saturday) of the month.
The cash vouchers for both AEON Day and Thank You Day are valid for two weeks from the date of purchase.
With rising cost of living and inflation on the uptrend, many consumers are looking for more ways to stretch their Ringgit, especially when grocery shopping.
"The cash vouchers can go a long way in helping our customers get greater savings in the long run. Everyone loves a good bargain, and no one will say no to more savings. As one of Malaysia's established retailer, AEON has set the bar for an immersive shopping experience for consumers. With that comes a host of other offerings, especially extensive benefits for members over the years. We want to empower more consumers to join the AEON family and be the first to receive updates and members-only rewards," concluded Poh.
AEON is known for its range of top-quality products sourced locally and abroad, including the freshest of produce, and have been delighting many Malaysian neighbourhoods with their extensive offerings.
Overview of AEON 2018 Promotions
2018 Promotions
Dates
Cash Voucher Value
Eligibility
Location

AEON Day

Every 8th and 28th of the month

RM 5 for every RM100 spent

AEON Members only

At all AEON Supermarket

&

AEON Wellness

RM 3 for every RM60 spent
All customers
At MaxValu & MaxValu Prime Outlets
Thank You Day
Every second (Saturday & Sunday)

Kota Bharu (Friday & Saturday)

and last weekend (Friday, Saturday & Sunday) of the month

RM 5 for every RM80 spent

RM 10 for every RM150 spent

RM 30 for every RM300 spent

AEON Members only
At all AEON General Merchandise Store (GMS)
About AEON CO. (M) BHD
AEON CO. (M) BHD. is a leading General Merchandise Stores (GMS) cum supermarket chain in Malaysia, with 26 AEON Malls, 33 AEON Outlets, 3 MaxValu and 3 Maxvalu Prime Supermarkets across the country. In the spirit of the name AEON, which means eternity in Latin, AEON's goal is to work together endlessly with its customers, suppliers, business partners, shareholders and the community to create a future of limitless promises. Incorporated in 1984 in response to the Malaysian Government's invitation to help modernize the country's retailing industry, AEON's chain of stores strive to satisfy the ever changing needs and desires of consumers. Guided by its "Customer First" philosophy, the company's acute understanding of the target market needs, aided by optimal product-mix, AEON surpasses consumer expectations and enhances their experience every time they shop. All this is encapsulated in the tagline "AEON Enriching Your Lifestyle".
AEON also strongly supports environmental sustainability by championing various recycling, energy conservation and tree planting causes, by engaging and encouraging various parties, including staff, customers, NGOs, government agencies and the community at large to participate.
In 2015, AEON introduced the 'Do Mall' initiative as part of its rebranding exercise to rebrand AEON Shopping Centres to AEON Mall. The initiative marks a next step in product innovation whilst maintaining customers' favourites, year-long activities to enhance shopping experience and a new refreshed AEON Mall with more offerings from food and entertainment to fashion and community events.
AEON has been awarded the Gold in Retail category by Putra Brand Award for 7 consecutive years since 2011. AEON was also awarded Green Leadership by Asia Pacific Entrepreneurship Awards in 2010 and 2011. In recognition's of AEON's CSR initiative, the Federation of Asia-Pacific Retailers Associations (FAPRA) awarded AEON the Regional Award for "Best Efforts in Social Responsibility" in 2017.
For more information, please visit: www.aeonretail.com.my or www.facebook/aeonretail.com