The Anlene's "We Are More" launched in the Philippines and Malaysia in November 2017 is working to shift the brand perception of being a milk for elderly people to something more universal and young. In Thailand, this means focusing Anlene on consumers in their 20s to 80s, across all age groups. BBDO Singapore is being tasked to handle the relaunching of Anlene across Southeast Asia.
Anlene for men
One of the most interesting move by Anlene is to bring the brand closer to young male consumers. In Malaysia, Anlene has found four male personalities to convey the brand's new "We are More" positioning. The first is Noh Salleh, the lead singer in the rock band Hujan. He is not just a singer but also a bike rider and a marathon runner.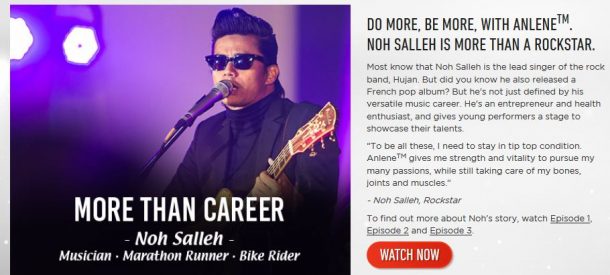 The other local personality is Aidid Marcello, founder & creative director at MindQuest Productions, who is a regular feature in Anlene marketing campaigns. He was previously the brand ambassador together with other TV personality Phoebe Yap in 2013 to promote Anlene for bone health. Now in "We Are More" campaign, Aidid is described as more than a father who is active in gym and known as a producer.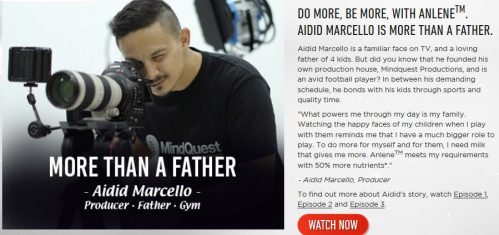 For the Chinese audience, we have Thomas and Jack who together form the Mandarin pop band Dong Yu Zhe (东于哲). They are artists, entrepreneurs and racers.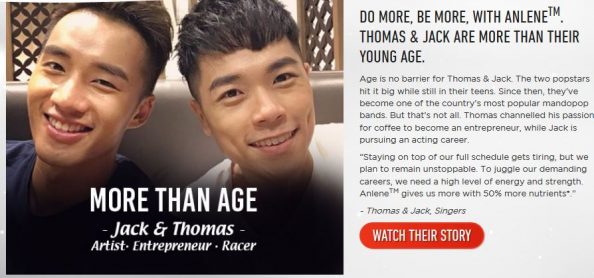 The other three female celebrities are:
Stacy Anam – Dancing queen, mother and entrepreneur
Chui Ling – TV host, mother and entrepreneur
Shalma Aini – TV host, entrepreneur, futsal
Compared with Malaysia, we only have one male personality in the "We Are More" TVC in the Philippines represented by an elderly male extreme bicycle rider. In addition, the TVC in Thailand focuses exclusively on young females.
See the Anlene Philippines We Are More TVC here and the TVC for Thailand here.
The outcome of the "We Are More" campaign will likely resonate more with men in Malaysia than in the other two countries – Thailand and the Philippines as the message is less relevant to male consumers. The different approaches for the three countries reflect how receptive male consumers are towards Anlene's products. Men in Malaysia are likely to have a higher awareness about Anlene than the other two countries.