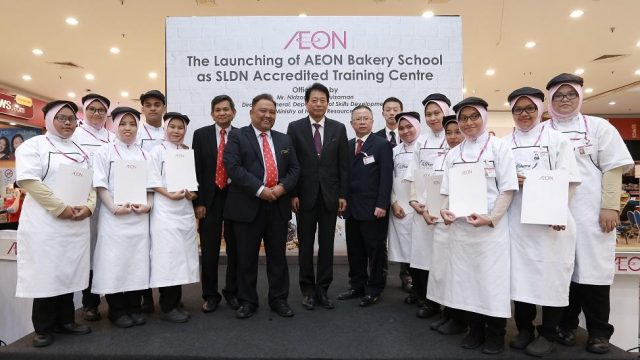 Government-supported AEON programme offers job opportunities for Malaysians who are interested in a career in the baking industry
KUALA LUMPUR, 27 March 2018 – AEON CO. (M) BHD. becomes one of the leading retailers in Malaysia to introduce the AEON Bakery School programme, an initiative that grooms and trains individuals to become certified bakers. Students who successfully complete the programme will be offered employment opportunities by AEON at their outlets nationwide.
The AEON Bakery School aims to further AEON's efforts to continue grooming the young talents from various family backgrounds, as well as provide an opportunity for Malaysians with a knack for baking or for those who want to acquire a new skill. This is in line with AEON Basic Philosophy, which always emphasizes on Peace, People and Community.
Managing Director of AEON CO. (M) BHD., Shinobu Washizawa said: "This initiative to provide guaranteed employment in AEON is our endeavour to support a niche division of the food segment in the country. With breads and other baked goods fast becoming a staple in our diet, we want to equip the industry with qualified bakers who are able to meet this demand. We believe that this programme can provide individuals, especially those who have high passion in bakery or desire to develop new skills the necessary training and support to secure a future in the industry."
Endorsed and supported by the Department of Skills Development under the Ministry of Human Resource, the programme will be conducted by qualified professionals with over 22 years of working experience under AEON's Merchandising Bakery team and AEON Food Processing Centre. These divisions are responsible for providing trainings to new bakers, creating new recipes as well as managing the production, preparation, handling and transportation of raw materials and ingredients to each outlet respectively.
To ensure that this programme is in line with Malaysian education standards, the format used for AEON Bakery School is similar to the skill training centre programme, in which it places a 20 percent emphasis on baking theories and 80 percent on industrial training.  For a period of eight months, students begin their two-and-a-half-month theory class at AEON's very own bakery school in AEON MALL Metro Prima, before continuing a five-and-a-half month industrial training at one of the five registered AEON outlets located at Bandar Utama, Metro Prima, Mid Valley, Taman Maluri and Wangsa Maju.
The programme currently offers 2 intakes yearly, with up to 25 students per intake. Students are given a monthly allowance throughout the duration of the course, and will receive insurance coverage. Transportation and accommodation are also provided during the programme. Upon graduation, they will be awarded with the Malaysian Skills Certificate (Level 2) from the Department of Skills Development, and thereon absorbed as permanent employee of AEON as an in-house baker at any selected AEON Bakery.
Applications to the AEON Bakery School programme is open to all Malaysian citizens and selected AEON employees aged between 18 to 27 years old. Applicants must have either the academic qualification Penilaian Menengah Rendah (PMR) or Sijil Pelajaran Malaysia (SPM). AEON employees who have been in full-time service in any department for more than six months are also eligible to apply.
"Through this pilot project, we hope for AEON to lead the way in cultivating talents in the baking industry and produce bakers with international standards. One day, we also hope for these talents to go out and make us proud by winning accolades from renowned establishments after having learnt the very basics from AEON Bakery School," concluded Washizawa.
The event was officiated by Mr Nidzam Kamarulzaman, Director-General Department of Skills Development, Ministry of Human Resources in the presence of Washizawa. Following that was the unveiling of AEON Bakery School logo and a tour around the school.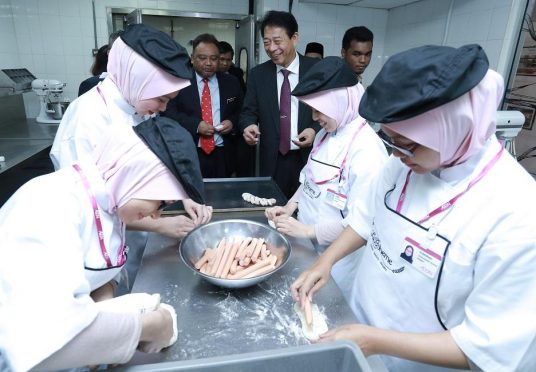 After the opening speech by Mr Shinobu Washizawa, the first batch of AEON Bakery School students were presented with their offer letters from AEON CO. (M) BHD. Washizawa also received the Training Centre and Company Accreditation Certificate and the Induction Course Certificate on behalf of the school from Mr Nidzam Kamarulzaman.
Interested applicants who wish to enrol for this programme can obtain the registration forms from the Customer Service counter at any AEON outlets nationwide, or contact 012-771 3405 for further information.
About AEON CO. (M) BHD
AEON CO. (M) BHD. is a leading General Merchandise Stores (GMS) cum supermarket chain in Malaysia, with 26 AEON Malls, 34 AEON Outlets, 2 MaxValu and 3 MaxValu Prime Supermarkets across the country. In the spirit of the name AEON, which means eternity in Latin, AEON's goal is to work together endlessly with its customers, suppliers, business partners, shareholders and the community to create a future of limitless promises. Incorporated in 1984 in response to the Malaysian Government's invitation to help modernize the country's retailing industry, AEON's chain of stores strive to satisfy the ever changing needs and desires of consumers. Guided by its "Customer First" philosophy, the company's acute understanding of the target market needs, aided by optimal product-mix, AEON surpasses consumer expectations and enhances their experience every time they shop. All this is encapsulated in the tagline "AEON Enriching Your Lifestyle".
AEON also strongly supports environmental sustainability by championing various recycling, energy conservation and tree planting causes, by engaging and encouraging various parties, including staff, customers, NGOs, government agencies and the community at large to participate.
In 2015, AEON introduced the 'Do Mall' initiative as part of its rebranding exercise to rebrand AEON Shopping Centres to AEON Mall. The initiative marks a next step in product innovation whilst maintaining customers' favourites, year-long activities to enhance shopping experience and a new refreshed AEON Mall with more offerings from food and entertainment to fashion and community events.
AEON has been awarded the Gold in Retail category by Putra Brand Award for 7 consecutive years since 2011. AEON was also awarded Green Leadership by Asia Pacific Entrepreneurship Awards in 2010 and 2011. In recognition's of AEON's CSR initiative, the Federation of Asia-Pacific Retailers Associations (FAPRA) awarded AEON the Regional Award for "Best Efforts in Social Responsibility" in 2017. To date, AEON has planted more than 500,000 trees within Malaysia and the Malaysian AEON Foundation (MAF) has donated more than RM9 million to charity causes.