Nestle has introduced Milo Kaw in ready-to-drink (RTD) format in April 2018, offering more chocolatey taste with every sip. Kaw in Hokkien meaning 'thick' and this word is widely used by Malaysians when ordering their drink such as Kopi O Kaw or Kopi O thick with 'O' means without milk.
Milo Kaw was first launched as a limited-edition product in powder form in 2017 in the run up to 2017 Southeast Asian Games where Malaysia was the host.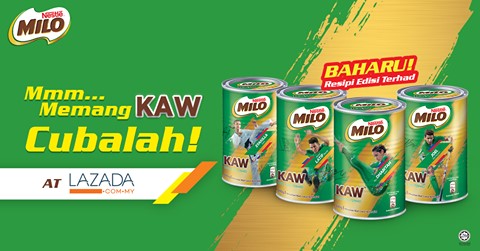 Now, the RTD version is available at Petronas for an introductory price of RM 2. The 240ml drink contains 6.8 gram of total sugar per 100ml serving, comprising 3g of sucrose, 2.6g of lactose and 1.2g of maltose. The Milo Kaw taste is thicker than the usual Milo.
What Mini Me thinks
Petrol mart has become a favourite place for beverage manufacturers to launch limited-edition or new products. We have seen Nestle doing this for its limited-edition Nescafe, Dutch Lady with chocolate caramel and Goodday with its latest Goodday Charge, which offers a daily dose of the goodness of milk and a form of an energy booster combine.
In markets with high e-commerce penetration like China, e-commerce is the preferred choice for new product launch. The choice of petrol mart in Malaysia reflects the growing importance of the increasing network of petrol mart and the driving, on-the-go culture of Malaysian consumers.