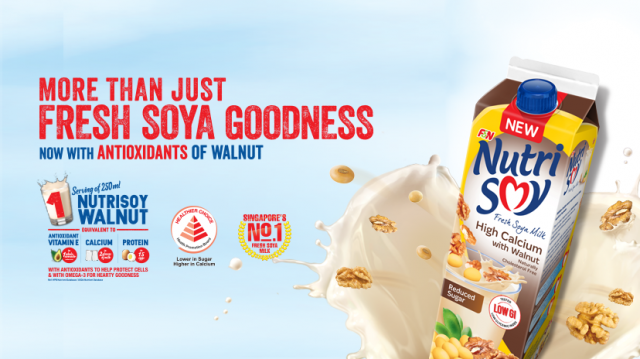 The new F&N NutriSoy Fresh Soya Milk High Calcium with Walnut in Singapore is an interesting product. This chilled soy milk builds upon soy milk as the foundation but with added walnut, a popular plant-based ingredient, which is often in stand-alone drink. The new NutriSoy Walnut thus incorporates the best of the two most popular plant-based ingredients – soy and walnut.
NutriSoy Walnut is described as "a great source of those all-important omega-3 fatty acids, antioxidants, magnesium and phosphorus. Great brain booster to start the morning right!"
A single serving (250ml) of NutriSoy Walnut is equivalent to the antioxidant and vitamin E found in 1 whole avocado (medium-sized), calcium in 2 glasses of milk and protein in 1.5 eggs.
NutriSoy Walnut is low in sugar and is tested as a low GI food. Also available in NutriSoy Almond.