Etika, the bottler of PepsiCo beverages in Malaysia and Singapore, has rolled out Tropicana Essentials as a functional mixed fruit drink that "complements your day" or "pelengkap hari anda."
The packaging design clearly states the functional benefit and this serves as a useful guide for consumers to pick up what's needed by them whether it is calcium, iron or vitamins.
The approach of marketing a juice based on the functional benefits, instead of fruit types, gives consumers a clear reason why they need to purchase the juice instead of competing products.
In Thailand, Vitaday is a similar beverage that adopts the same functional approach of letting consumers choose which nutrients that want to supplement – iron, vitamin C or vitamin A. For example, vitamin A helps to nourish the eyes.

The Tropicana Essentials range comprises:
Banana Blend – source of calcium (81g of calcium per 100ml)
Mango Blend – source of iron (1.6g of iron/100ml)
Orange Blend – source of multi-vitamins A, B3, B6, C and E
The benefits of calcium, iron and vitamins are explained on the back of the packaging. Tropicana Essentials is retailed at 7-Eleven at a price of RM 5.60 (USD 1.36) for a 330ml pack.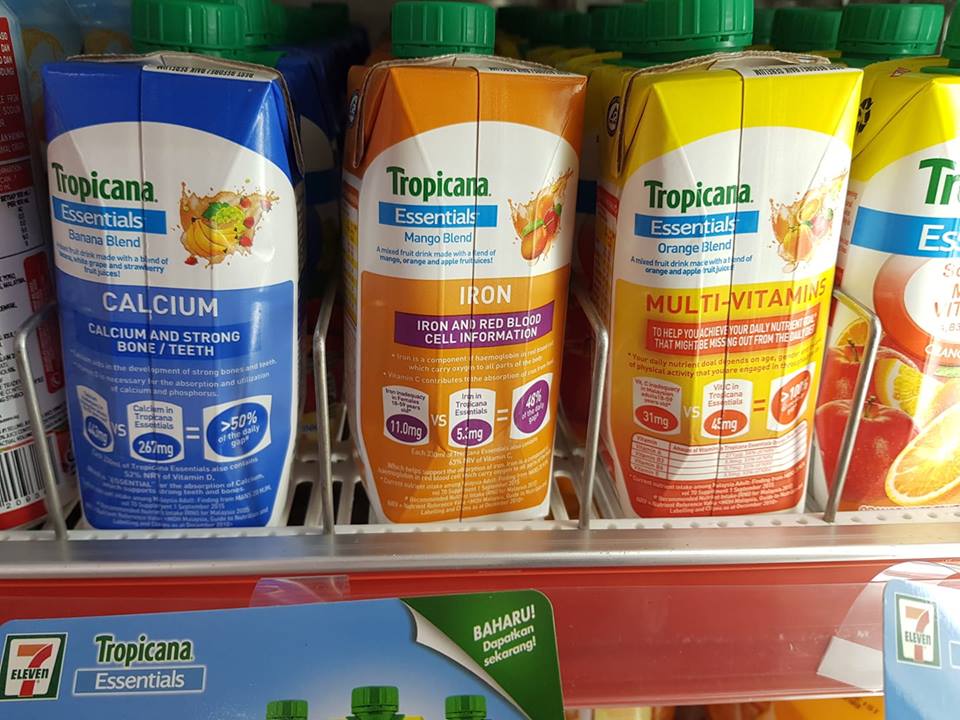 The choice of Tetra Prisma Aseptic 330 Square with DreamCap is designed to make the 330ml mixed fruit drink more prominent on shelf.
In Japan, Tropicana Essentials has been a successful story when it first appeared in 2015. The reclosable cap made the drink ideal for on-the-go consumption throughout the day.