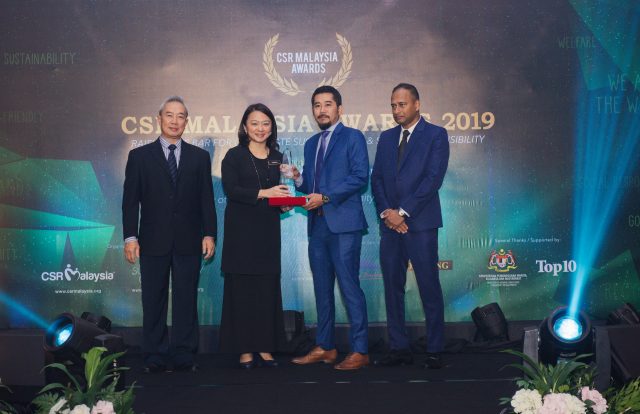 Kuala Lumpur, 18 July 2019 – For the third year running, the nation's leading standalone convenience store chain, 7-Eleven Malaysia was awarded 'Company of The Year' in the Retail Category at the recently held 2019 CSR Malaysia Awards.
The annual CSR Malaysia Awards is jointly organized by Corporate Sustainability and Responsibility Malaysia Welfare Society (CSR Malaysia) and World Sustainable Community, with the support of the Women, Family and Community Development Ministry, where outstanding corporations in Malaysia that have excelled in the role of change agents in the socio-economic transformation of Malaysia and endeavour to promote sustainable economies and serve the needy are honoured. The recipients of these awards have been selected by a panel of high calibre judges representing corporate and social bodies. Present at the awards was Yang Berhormat Hannah Yeoh, Deputy Minister of Women, Family and Community Development, who also officiated the event.
"We are honoured and proud that 7-Eleven Malaysia has been recognized for its community outreach initiatives and environmental efforts under the 7-Eleven Community Care, a non-profit initiative set up to implement 7-Eleven Malaysia's CSR programmes. Over the years, 7-Eleven has touched the lives of many from our community, including the elderly, children and the less-fortunate as well as encouraging sustainability efforts to conserve the environment for the well-being of our future generations. This recognition also fuels the team's passion and enthusiasm to carry out more innovative CSR initiatives as well as create a longer-lasting positive impact in the community through annual donation drives such as Semurni Kasih and #BuatBaikTogether as 7-Eleven Malaysia is Always There For You," said Ronan Lee, 7-Eleven Malaysia General Manager of Marketing, who was present to receive the award.
"We strongly believe that all CSR initiatives, no matter how big or small, is about bringing hope and uplift the lives of those who need support whilst providing some respite to those in need as well as educating the public and hopefully inspire change within each member of public to be an agent of change in the betterment of their lives and the community they are in, from developing a sense of self-philanthropy to fostering empathy and responsibility towards the world that we live in," concluded Lee.
Lee also presented a mock cheque to one of 7-Eleven Malaysia's NGO beneficiaries, Science of Life Studies 247 or otherwise known as SOLS 24/7, which received a contribution of RM552, 000 for them to provide free education and carry out social empowerment programs to underprivileged communities in Malaysia.
7-Eleven Malaysia is the pioneer and the largest standalone 24-hours convenience store operator in the country with over 2,340 outlets nationwide. For more information, please log on to www.7eleven.com.my or follow 7ElevenMalaysia on Facebook, Instagram and Twitter.