We have been wondering when snack brands will embrace the tiga rasa or "three flavours" trend in Malaysia. Well, Tasto from BJC Foods has answered that with Ikan Masak Tiga Rasa (3 Flavours Fish) potato chip.
Tiga Rasa delivers the spicy, sour and sweet taste and is normally used to cook ikan siakap or barramundi (Lates calcarifer) or Asian sea bass. The fish is deep fried and topped with the tiga rasa sauce. The 3 flavour recipe is actually from Thailand.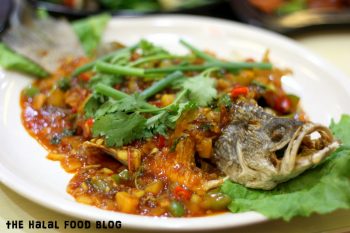 In Malaysia, some of the sauce manufacturers like Lee Kum Kee and Adeq Sue have introduced the 3 flavoured sauces. The Lee Kum Kee Sos 3 Rasa (Spicy, Sweet and Sour) is sold under the Mahsuri brand.
The other two Tasto potato chips are Curry Crab (Kari Ketam) and Seaweed with Korean Sauce (Rumpai Laut dengan Sos Korea). Both flavours are available in Thailand as well.