Consumers can enjoy some of the best prices in Malaysia and FREE Delivery* for a large, growing variety of grocery and consumer essentials
MyGroser adds iOS and Android app support in addition to e-commerce website
New VOUCHER section offers quick, easy access to free delivery*, discounts
New delivery areas cover most of Klang Valley with dedicated teams and vehicles
MYGROSER offers consumers a quick, convenient and safe way to have the freshest groceries that they love – delivered. Avoid traffic jams, bad weather, out of stock issues, long waits at the payment counter, and parking issues. All purchases also earn Rewards – which means more savings! It's also cheaper than driving to the store (or getting there using a ride hailing app). Now available online, on iOS, and Android devices!
KUALA LUMPUR, 17 October 2019: MYGROSER, Malaysia's online grocery store, today announced new iOS and Android apps to help consumers save time, money, and avoid the stress of having to go to the store when buying their groceries and fresh produce. New Voucher support, Free Delivery* options, wider delivery areas, and bigger product lists were also revealed for users at www.mygroser.com.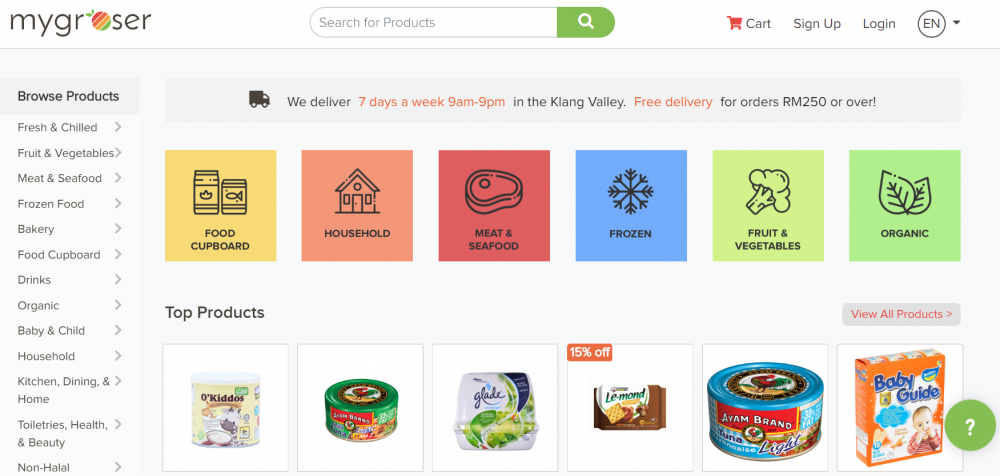 Consumers can now enjoy using the Voucher section under their Account tab that offers them clear and easy access to available discount and saving vouchers that they are eligible for. This helps them avoid the effort of remembering voucher codes to save money.
"MyGroser offers consumers some of the best value for their Ringgit in Malaysia, the convenience of online shopping, and the ability to earn Rewards – all in one quick, simple and secure grocery shopping experience. We focus on ensuring the freshness of the groceries we offer through our own cloud stores, delivery through trained and dedicated teams, and a customer care team that will speak to you if you need help. Working with Malaysia's favourite brands, we offer everyone a way to save money and time, avoid traffic, get away from the stress of crowded grocery stores, enjoy fresher groceries, and best of all – earn Rewards for their grocery purchases that saves them even more money," said Stephen Francis, Founder and Chief Executive Officer, MyGroser.
Launched a month ago, MyGroser has been allowing early sign-up for its unique grocery experience at www.mygroser.com with encouraging results to date. Now consumers have full access to the web experience, or they can use iOS and Android mobile apps to quickly, conveniently and safely purchase and have delivered fresh meat, seafood, vegetables, fruit and dairy, frozen food, dry food, groceries, premium products and daily essentials.
This allows consumers to save money on transport and parking, save time by avoiding busy stores, avoid multiple trips for products that are out of stock, while enjoying fresher products, all the time. Consumers also earn rewards for all their purchases on MyGroser, that are then converted into savings for their next purchase. Free Delivery options* are now also available to consumers through Vouchers, Rewards points and special promotions.
New items are being added weekly as the platform continues to bring new suppliers from Malaysia's favourite brands on board its cloud stores. These stores, that include cold rooms and temperature controlled environments, keep products fresh and ensure they are always available to consumers. By working directly with suppliers from global and local brands to offer Malaysians the same products that they have come to expect from their local supermarkets and hypermarkets, customers get the things they love – easily.
Customers can currently choose to have their groceries delivered anytime between 9.00 am and 9.00 pm, seven (7) days a week across most of the Klang Valley. This includes Petaling Jaya, Kuala Lumpur, Subang Jaya, USJ, Putra Heights, Shah Alam, Batu Caves, Cheras, Ampang, Puchong, Bangsar, Mont Kiara, Damansara, Damansara Heights, Hartamas, Kepong, Sunway, Tropicana, Klang, Bandar Utama, and communities along the Kesas, Elite, LDP, and parts of the New Klang Valley Expressway (NKVE) highways. Consumers can check if their areas are covered through their personal profile on MyGroser.
Currently being featured on MyGroser are a selection of special collections including Products on Sale, Weekly Essentials, Made in Malaysia, and Malaysian Favourites. These are just some of the ways that MyGroser is helping Malaysians discover the best groceries and freshest produce they can find easily online.
MyGroser is currently open to sign-ups for its accounts. Consumers and businesses who sign up now will receive FREE credits AND FREE delivery vouchers for their use, and stand the chance to earn referral credits as well as other benefits.
To find out more, visit www.mygroser.com today, or download our mobile apps on the Apple App Store or Android Play Store today by looking for "MYGROSER"!
* Terms and conditions apply
About MyGroser
MyGroser is Malaysia's only independent, online grocery that offers consumers and businesses delivery services and access to a full range of over 9,000 items in fresh produce (meats, seafood, vegetables), fruit and dairy, frozen food, dry food, groceries, premium products and daily essentials catalogues. Freshness of our products is ensured through the use of temperature controlled Cloud Stores. We also operate dedicated handling and delivery teams, working with the best brands in the world that you're already familiar with from your corner supermarket, to bring products you love to you conveniently through our secured online web experience. Our cutting edge technology allows you to schedule your grocery deliveries in advance and to enjoy free delivery for orders that qualify. You also earn Rewards for every Ringgit you spend on the site – which means more savings for you!