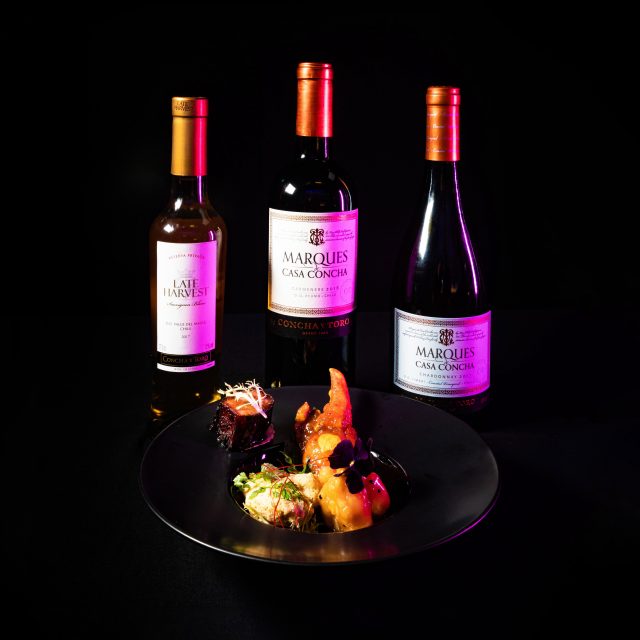 Indulge in a night of splendour with modern Cantonese cuisine and Chilean wines
Singapore, 24 October 2019 –Modern Cantonese restaurant, Mitzo Restaurant & Bar will be presenting a five-course set menu in collaboration with Marques de Casa Concha on Friday, 15 November 2019, from 7pm onwards.
Known for his refined skills in elevating Cantonese cuisine with modern techniques, Mitzo's Executive Chef Nicky Ng has prepared a menu that perfectly complements three different wine labels from the leading South American winery.
Under the largest Chile-based wine producer, Concha y Toro, Marques de Casa Concha showcases the diversity of Chilean terroir and the best expression of Chilean wine varieties. Consistently 92 points, the award-winning wines are renowned for their quality, charismatic character and tradition, embodying Concha y Toro's culture and heritage in the art of winemaking. Known for their consistency, Marques de Casa Concha uses a variety of small oak barrels to achieve some of the most elegant and harmonious styles of wine.
This exclusive dinner will begin with a glass of Casillero del Diablo Devils Brut, before moving on to the delectable Appetizer Platter which consists of signature Mitzo Special Barbecued Pork, Tea-Smoked "Si Chuan" Duck and Spicy Seaweed Foie Gras. This appetiser is paired with the Marques de Casa Concha Carmenere 2016, a dark red wine which further enhances the various umami aspects of the dish with its intense notes of ripe plums, blackcurrants and dark chocolate.
Dine on the rich Double-Boiled Chicken and Conch Consommé, followed by the indulgent Baked Creamy Sesame King Prawn paired with the Marques de Casa Concha Chardonnay 2017. Combining complexity with vibrancy, the crisp white wine pairs elegantly with seafood, enhancing its silky texture and layers of pear and ripe fig.
Encapsulating Executive Chef Nicky's flair for exquisite Cantonese fare, the Japanese Plum Noodle with Oyster in Carrot Broth is sumptuous and a flavourful end to the meal. To draw the meal to a close, feast on the decadent Fruity Milkshake with Ice-Cream served with Cheese Tart, paired with the Concha Y Toro Late Harvest Sauvignon Blanc.
This five-course pairing dinner is priced at S$98++ per person, and guests who book before Wednesday, 13 November will receive an Early Bird promotion with a 10% discount on the menu upon payment. For reservations and pre-payment enquires, email [email protected]
Mitzo x Marques de Casa Concha Pairing Dinner
Day/date: Friday,15 November 2019
Time: 7pm onwards
Price: S$98++ per person
Reservations: email [email protected]
Alternatively, guests can indulge in two exquisite dishes that Chef Nicky has prepared to go along with Marques de Casa Concha that is currently available until the end of October.
Aptly titled The Perfect Pairing, guests can choose either Mitzo's Braised Vermicelli with Seafood paired with Marques de Casa Concha Chardonnay 2017. While the Mitzo's XO Fried Rice with Lobster Meat, Vegetables and Mushroom will be paired with Marques de Casa Concha Carmenere 2016.
Ideal for two, the pairing is priced at S$95++ (U.P. S$128++). Guests can call +65 6603 8855 or email [email protected] for reservations and enquiries.
Mitzo Presents The Perfect Pairing
Dates: 1 September until 31 October 2019
Time: 12pm – 2.30pm and 6.30pm – 10.30pm
Price: S$95++ per pairing (U.P. S$128++)
Reservations: +65 6603 8855 / [email protected]