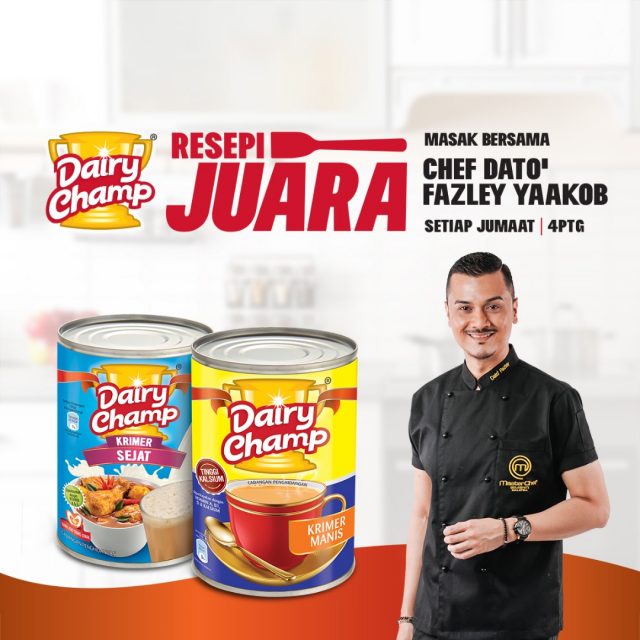 This Raya, let Dairy Champ show you how to create some iconic Raya dishes with a twist, all from the comfort of your own home.
Kuala Lumpur, 22 May, 2020 – Unlike the Hari Raya celebrations that we are used to, full of open houses and balik kampung plans, this year will see a more subdued version of the regular celebrations. But don't let that get your spirits down! Celebrate Raya 2020 with celebrity Chef Dato' Fazley Yaakob as Dairy Champ, one of Malaysia's favourite condensed and evaporated creamer brands, brings him right to your kitchen. Join Dato' Fazley on Dairy Champ's Resepi Juara cooking show on the brand's Facebook page every Friday at 4pm, right until 29th May 2020 and learn how you can add a special twist to your Raya recipes.
"In Malaysia, Hari Raya is synonymous to an array of special dishes such as rendang, ketupat, satay, tart nanas and several other delicious Raya treats. With low scale celebrations this year, we wanted Malaysians to still have great celebrations at home and what better way than by creating dishes with a unique twist and adding more excitement to the dinner table! Cooking together is such an integral part of our Malaysian culture. We hope that with Dairy Champ's Resepi Juara cooking show we are able to unite families over their love for food and celebrations," said Santharuban T. Sundaram, Senior Vice President of Marketing and Alternate Business from Etika.
Joining Dairy Champ's Resepi Juara cooking show is celebrity chef Dato' Fazley, winner of the renowned cooking competition MasterChef Selebrity Malaysia, 2012. The multitalented Dato' Fazley has been enticing Malaysian audiences ever since with his skilled cooking techniques. Known for his creativity of combining local flavours with European classics, Dato' Fazley in Dairy Champ's Resepi Juara will share some of his favourite Raya flavours presented with a modern twist.
Dairy Champ's Resepi Juara first kicked-off on 8th May 2020 where netizens learnt how to make a mesmerising Rose Bandung No-bake Cheesecake as a special treat for Mother's Day. The episode received a huge response from netizens, garnering 660k video views and 923 shares in less than a week. The cheesecake recipe was followed by that of a mouth-watering Sardine Curry Pulled Bread in the next episode, once again receiving a huge nod from cooking enthusiasts and fans alike.
"Taking the love Malaysians have for food and considering that Raya is just around the corner, Resepi Juara is our way of rewarding our consumers with new creative recipes and giving them something new to look forward to as they stay home," added Santharuban.
With every new episode, promising to add something new to your Raya dinner table this year, don't miss out on Dairy Champ's Resepi Juara cooking series. Get cooking now with Dairy Champ and Dato' Fazley Yaakob!
For more info on Dairy Champ, visit https://www.facebook.com/DairyChampMalaysia/.