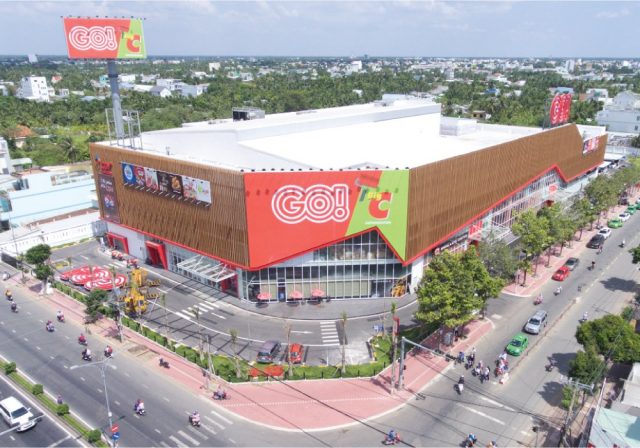 Bangkok–10 Jul 2020 –FleishmanHillard
With the vision to contribute to the country's prosperity while improving Vietnamese people's quality of life, Central Retail Corporation Public Company Limited (CRC) has entered Vietnam and successfully transformed and modernized the retail sector. Today, CRC is the largest multinational retail company in Vietnam, with a customer base of 12 million.
HIGH MARKET POTENTIAL DRIVES BUSINESS GROWTH
Vietnam is a strong economic contender in the ASEAN region with a GDP that is one of the fastest growth rates. In 2019, the country witnessed a growth of seven per cent amid the world economy's recession. And despite the great impact of COVID-19 pandemic, the world is currently facing, Vietnam remains resilient with a reported GDP growth rate of 3.82 per cent in the first quarter of 2020.
Vietnam's rapid economic growth is thanks to its 50 out of 95 million population who are in the workforce and the government's agendas in supporting and promoting foreign direct investment (FDI). The country recently concluded a free trade agreement with the European Union, further empowering Vietnam's growth potential and global competitiveness.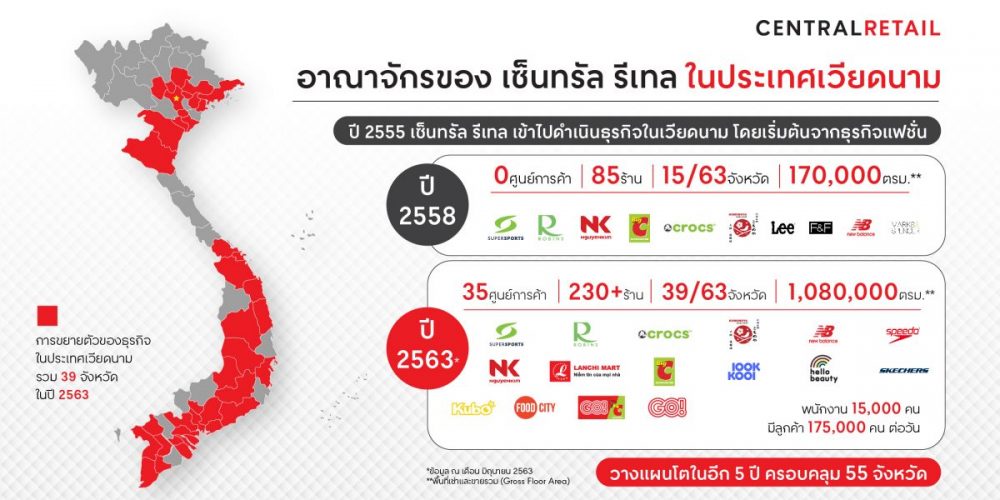 Since 2012, with the foresight in business expansion potential, Central Retail started its operations in Vietnam. The company entered the market as a fashion merchandiser until 2015 then joined hands with electrical appliance chain Nguyen Kim and Lanchi Mart supermarket. At the time, Central Retail Vietnam operated 85 stores in 15 provinces with a net sales area of 170,000 sqm and continuous expansion. As of June 2020, Central Retail Vietnam operates a total of 35 malls, 230 stores across 39 out of 63 provinces nationwide in an area of 1,080,000 sqm.
The company focuses on growing food business in three segments to attract customers from both primary and secondary cities
1. Hypermarkets (Hyper GO!) 32 locations across Vietnam's major cities
2. Main city supermarkets (Super GO!) seven locations in Hanoi and Ho Chi Minh city
3. Provincial supermarkets (Lanchi Mart) 25 locations.
Whereas non-food businesses are in more than 170 locations, with specialty stores such as electronic appliance chain Nguyen Kim and property business that manages GO! which rebranded from Big C, in 35 locations.
DIVERSIFIED BUSINESS, STRONG PARTNERS, ENHANCED BY TECHNOLOGY: THE CRITICAL SUCCESS FACTORS OF CENTRAL RETAIL\
Yol Phokasub, Chief Executive, Central Retail Corporation Public Company Limited, revealed that the company's strategies are to focus on growing a resilient portfolio across various segments, partnership collaboration, and technological provision, which allows Central Retail to expand its robust operations quickly.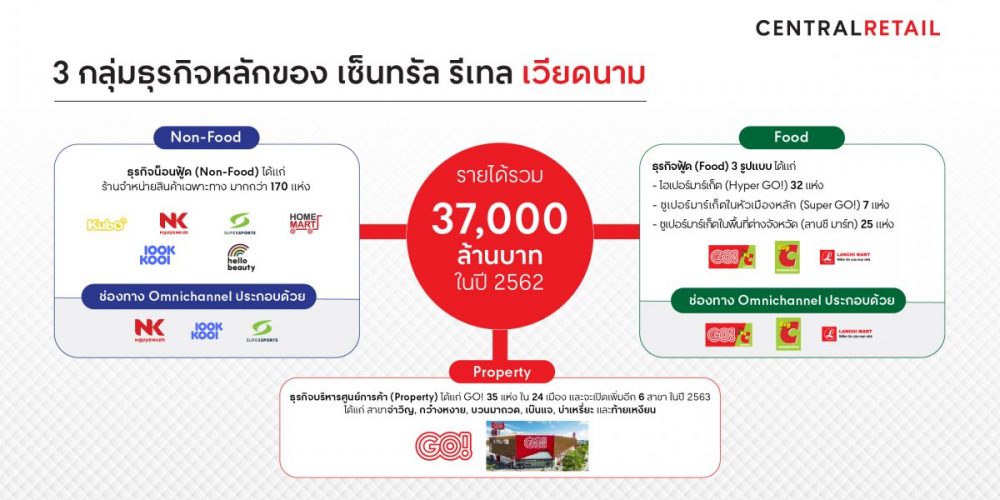 From a business that generated around THB 300 million in 2014, at present, Central Retail Vietnam reported revenue of THB 37 billion in 2019. During the recent COVID-19 pandemic, the company continues to operate and generate revenue through its omnichannel platforms both retail and online stores with a solid customer base of over 12 million people. This serves as a testament to how resilient and sturdy Central Retail Vietnam is operating to serve its customers.
"The success of Central Retail in Vietnam is a result of our commitment to our Central DNA. We are constantly seeking expansion and will continue to invest in Vietnam because we foresee how much potential this country has. By staying true to our vision, we will contribute to the country's prosperity simultaneously with improving the quality of life of Vietnamese people. We want to thank our Vietnamese customers for their continuous support to Central Retail," Yol said.
FURTHER EXPANSION OF THE RETAIL BUSINESS IN VIETNAM
Philippe Jean Broianigo, Chief Executive Officer, Central Retail Vietnam, revealed that the company's business operations that emphasize on contributing to the country's prosperity and enhancing the quality of life for Vietnamese people have led to great support from the public sector. For the past eight years, the business has gradually gained love and trust from the Vietnamese resulting in the average footfall of 175,000 customers daily.
"In 2020, Central Retail continues to grow businesses through outlet expansion. We plan to open six branches of GO! in Tra Vinh, Quang Ngai, Buon Ma Thuot, Ben Tre, Ba Ria, and Thai Nguyen; and rebranding Big C to GO! adding four more branches. The plan includes omnichannel platform developments and business synergy with leading partners such as Grab on GrabMart feature to facilitate and provide a speedy service for customers. Central Retail will have a full multi-format platform that can seamlessly reach customers via offline and online channels. Our goal is to provide a better retail experience for our customers," Broianigo said.DRIVING GROWTH THROUGH SOCIAL AND ECONOMIC SUSTAINABILITYCentral Retail's game plan is to expand its businesses covering 55 provinces nationwide within five years to provide comprehensive services, provide jobs and stable income for Vietnamese people.
From its first day of operation, Central Retail Thailand's successful business endeavors has been extended to Vietnam. This includes the opening of Supersports, the development of GO! from a Thai version Robinson Lifestyle Center, and remodeling of specialty stores to fit the lifestyle of Vietnamese people such as Food City, Kubo, Hello Beauty, as well as importing and exporting of goods for being sold in the business networks of the two countries Vietnam and Thailand.
Central Retail also places high importance on sustainable development of the economy, community, and society through both Creating Shared Value and Corporate Social Responsibility activities such as Local Sourcing, SME support program, Livelihood for Community, and Weekend Farmers' Market where retail spaces in Big C outlets are provided for local enterprises – a business model that was built on the success of Jing Jai Market in Thailand.
"The core value of Central Retail Vietnam's business operations is the collaboration from all stakeholders. By combining the best of Central Retail in Thailand which is the expertise, the experiences in retail industry and the best of Vietnam which is the local talents and local business environment, we strongly believe that we could grow along with the country and become the Central of Life for all Vietnamese consumers. With service platforms and resilient portfolio in foreign countries, they will enable Central Retail to expand significantly and continuously grow in the long run" Yol concluded.