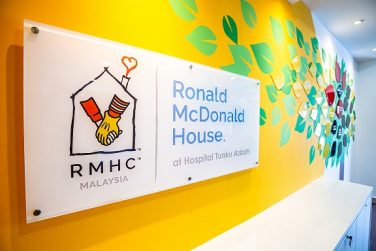 This temporary 'home away from home' ensures families of pediatric patients remain close together
KUALA LUMPUR, 28 May 2021 – The third Ronald McDonald House  in the country is officially opened and now welcomes families of pediatric patients seeking treatment at Hospital Tunku Azizah, formerly known as Hospital Wanita dan Kanak-Kanak Kuala Lumpur.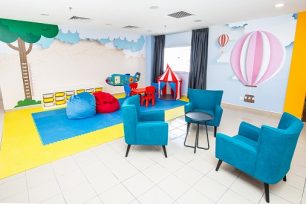 The Ronald McDonald House is a "home away from home", which aims to fulfil the needs of families of pediatric patients from outside Kuala Lumpur, while helping to alleviate families' financial burdens by providing affordable lodging at only RM15 per night in the city. Located on the 10th floor of the hospital parking complex, the house is equipped with 20 family rooms, which can accomodate up to 80 occupants, a dining area, lounge area, kitchen, laundry room, prayer room, and playroom, and other facilities. The home is also strategically located in the heart of KL, offering beautiful night views of the city.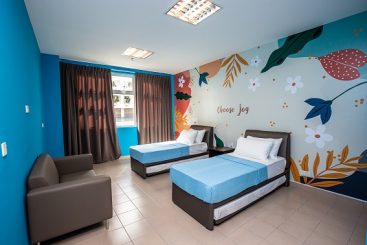 Most importantly, the home offers a conducive and comfortable environment for patients to recuperate in, and is located within the hospital grounds, which makes it convenient for patients to go for their treatment and still remain close with their family.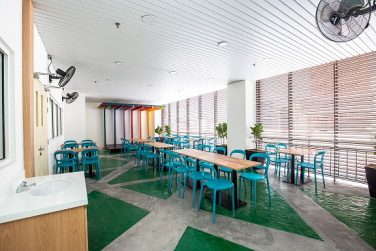 Families who are interested in staying at the Ronald McDonald House at Hospital Tunku Azizah may call 03-2692000 for further information.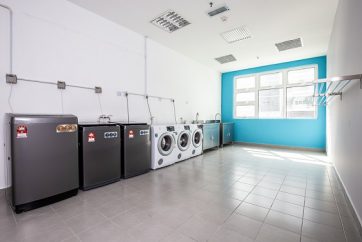 Aside from the Ronald McDonald House in Hospital Tunku Azizah, the two other Ronald McDonald Houses are located at Hospital Canselor Tuanku Muhriz Universiti Kebangsaan Malaysia (HCTM-UKM) in Kuala Lumpur, which has been operating for more than 20 years, as well as at Universiti Sains Malaysia Hospital (Hospital USM) in Kubang Kerian, Kelantan, which opened its doors in 2019. Currently, there are more than 370 Ronald McDonald Houses across the globe, providing a place to stay for families with hospitalised children.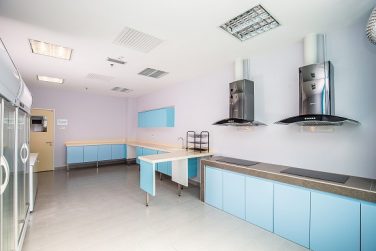 "We at RMHC Malaysia would like to thank all parties who have made the construction and development of our Ronald McDonald Houses. All houses were funded via donations from McDonald's customers who contributed through the RMHC coin box located at more than 300 McDonald's restaurants nationwide as well as contributions from McDonald's employees, business partners, and franchisees. Thank you for your generosity towards our mission to change the lives of Malaysian children. RMHC Malaysia will continue to champion the needs of Malaysian children through the funds we receive from generous Malaysians," said Azmir Jaafar, President of Ronald McDonald House Charities Malaysia as well as Managing Director and Local Operating Partner of McDonald's Malaysia.
"Tunku Azizah Hospital serves as a national referral hospital and is a centre of excellence for specialised services, including pediatrics. Patients referred to us come from all regions, including East Malaysia. The Ronald McDonald House within the premise of the hospital will certainly provide peace of mind to more than 20,000 families that visit the hospital yearly, especially those from the B40 group. The house alleviates the financial stress of families travelling from outside Kuala Lumpur for accommodation and transportation while accompanying their children at the hospital," said Dr Shamsul Anuar, Director of Hospital Tunku Azizah.
"RMHC Malaysia is also committed in providing facilities that benefit the community. We hope that through continued collaborations with Ministry of Health, especially with high traffic hospitals, we will continue to maintain our promise of 'Keeping Families Close' through the Ronald McDonald House initiative," Azmir added.
RMHC Malaysia conducts 4 main programmes to help Malaysian children, which are the Ronald McDonald House, Ronald McDonald Sensory Room, Gift of Smile, and Back-to-School packs. These programmes encompass the 3 core pillars of RMHC Malaysia which are Health, Education, and Welfare.
In addition to the RMHC Malaysia coin box, customers can also make donations via the Self-Ordering Kiosks at McDonald's restaurants as well as via funds transfer to RMHC Malaysia account with Maybank, PayPal payment gateway, e-commerce channel Shopee or e-wallet platform Boost and Touch 'N Go.
Contact the Ronald McDonald House Charities Malaysia at 03-7843 3388 if you are interested to donate or to collaborate with RMHC Malaysia to help Malaysian children and their families.  Volunteers are also welcomed to volunteer at Ronald McDonald House at Hospital Tunku Azizah or Ronald McDonald House near their area.