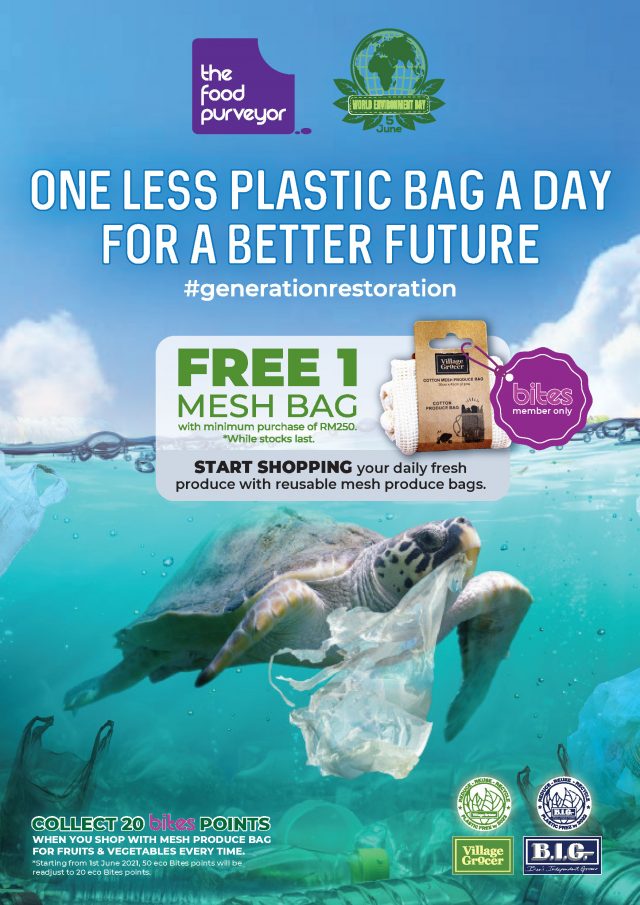 The campaign aims to drive shoppers to use reusable produce bags for fruits and vegetables to foster a more sustainable way of shopping and further reduce single-use plastics
KLANG VALLEY: Village Grocer and Ben's Independent Grocer (B.I.G) have launched a new campaign to combat single-use plastic pollution, in conjunction with the World Environment Day celebration. The campaign involves introducing the usage of reusable mesh produce bags to replace the plastic produce rolls that shoppers frequently use for weighed products.
Over 44,000 reusable produce bags will be distributed in June to drive shoppers to use the bags for their fruits and vegetables. Shoppers who spend more than RM250 at the supermarkets can redeem a reusable produce bag made of cotton using the BITES loyalty application.
"Through this campaign, we hope to see a significant reduction of plastic produce bag consumption in our stores. We encourage our shoppers to take part in this campaign and use the produce bags to carry their fresh produce items and we will be rewarding them with 20 Bites points (equivalent to 20 cents) each time they do so.
It is not an easy task to change this habit as plastic bags have been incorporated into almost every aspect of our lives, making us more comfortable. But we need play our part in reducing the amount of single-use plastic usage, contributing to the circular economy, and educating our shoppers to foster sustainable lifestyle for the betterment of our environment" said Geoff King, Chief Executive Officer of The Food Purveyor (TFP) – operator of Village Grocer and B.I.G.
Malaysia has been ranked 8th among the top ten countries with mismanaged plastic waste in the world. A study estimated that Malaysia had produced 0.94 million tons of mismanaged plastic wastes, of which 0.14 to 0.37 million tonnes may have been washed into the oceans1.
He added combating single-use plastic pollution is just not the Government's responsibility, however, it is also the duty of all sectors alongside the Government. TFP is firm on its commitment to convert customers away from single-use plastic packaging and to adopt sustainable bag solutions for fresh produce. This initiative is a part of the company flagship environmental sustainability goal "Plastic-Free by 2023" which aims to eliminate all single-use plastic from its business operation before the end of 2023.
Since early last year, TFP has stopped implementing 20 cents plastic bag charge, eliminated single-use plastic carrier bag usage in Village Grocer and B.I.G. and managed to eliminate the need for 6 million plastic carrier bags a year. Joining this initiative is BSC Fine Foods which recently switch-off the offering of single-use plastic bags at checkout counters since 1st June 2021.
This initiative also contributes directly and indirectly to the United Nations Sustainable Development Goals (UN SDGs) particularly SDG14 – Life Below Water.
Source:
https://www.kasa.gov.my/resources/pelan-halatuju-plastik.pdf