Collect daily Free Shipping vouchers and find even more hidden 'RM0' Free Shipping with no minimum spend by asking our friend CLEO

Search 'Durian Runtuh' password for the secret Buy 1 Free 1 Musang King offer

Don't miss the Chup Dulu pre-sale, Lazada Bonus deals, and Crazy Brand Mega Offers on LazMall with discounts of over 50% off  
KUALA LUMPUR, 25 June 2021 – Starting today, Malaysians can expect the unexpected on Lazada, as the leading eCommerce platform reveals seven smart shopping secrets to uncover hidden rewards and great savings for its upcoming Unexpected Mid-Year Sale on 5 to 7 July.
Consumers just need to follow these seven simple shopping tips to get their hands on the coveted platform-wide 'RM 0' Free Shipping voucher with no minimum spend, 'Durian Runtuh' Buy 1 Free 1 Musang King vouchers, Chup Dulu pre-booking deals, Lazada Bonus discounts, RM0.77 Crazy Flash Sale prices, and LazMall's Crazy Brand Mega Offers of more than 50% off*.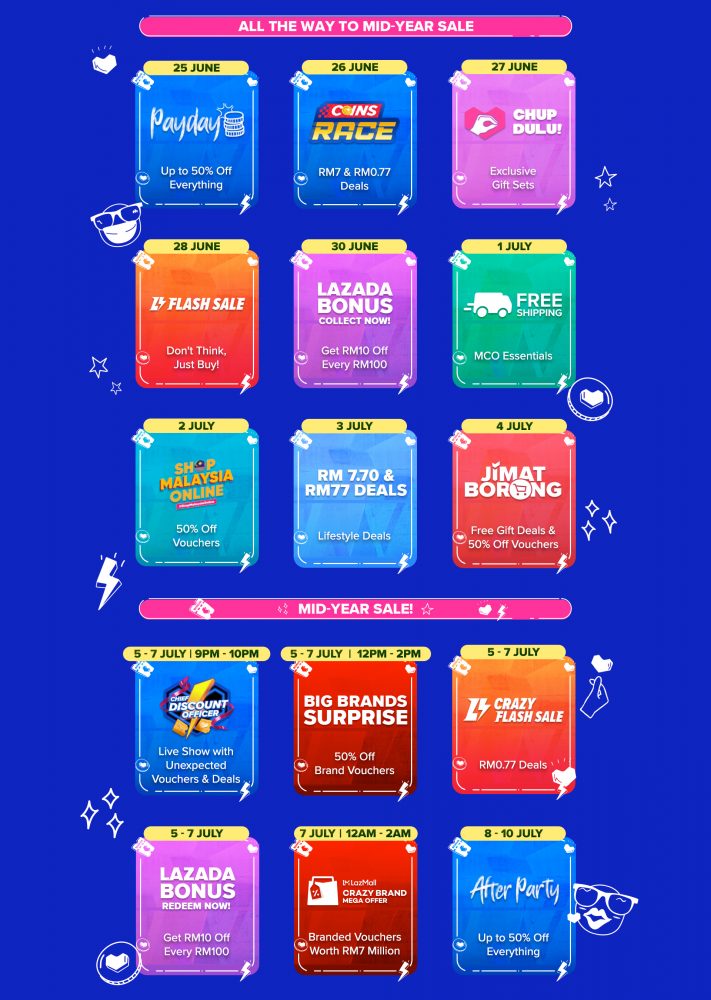 1. 'RM 0' Free Shipping: Good Things Come to Those Who Ask
Most online shopping veterans are familiar with the joys of collecting daily Free Shipping vouchers on Lazada's Free Shipping channel here (http://lzd.co/LazadaMYFreeShipping), where multiple vouchers can be collected every day to be redeemed during the Unexpected Mid-Year Sale.
This time around, as an additional special surprise during the sale, Lazada has also hidden an 'RM0' Free Shipping voucher on its app for only the most keen-eyed users. The voucher is applicable platform-wide and has an RM0 minimum spend requirement. It will likely reduce your shipping fees to zero too, as it has a maximum cap value of RM10, which is way above the average shipping fee on the platform.
The secret to getting the special 'RM0' Free Shipping voucher is simply by asking for it from CLEO, Lazada's virtual customer service agent that's powered by artificial intelligence. Following the unexpected theme of the sale, this humble functionary is promoted to become Lazada users' personal virtual assistant to get the 'RM0' Free Shipping voucher. Just follow these simple steps on the app:
Tap the 'Account' button on the bottom right corner;

Tap the 'Chat with Customer Care' button at the bottom of the page to enter CLEO;

 

Lastly, ask CLEO, "Hey Lazada, can I please have the RM0 Free Shipping?
2. 'Durian Runtuh' Password Search: Two is Better Than One
The phrase 'Durian Runtuh' is a local proverb that means unexpected rewards, which Malaysians will get when they insert the 'Durian Runtuh' password within the search function on the Lazada app from now until 7 July.
Those who search for 'Durian Runtuh' on Lazada will stand the chance to be the lucky few to receive the exclusive Buy 1 Free 1 voucher to redeem an authentic 4KG Musang King durian with 900G of pulp that's worth over RM300 from Dooran·Dooran, a premium local durian merchant. Not only are durians hailed as the king of fruits, but this particular Musang King from Dooran·Dooran is also freshly handpicked from a 30-year-old durian orchard in Negeri Sembilan.
Durian lovers best set their alarm clocks because every day from now until 7 July, there will only be a small handful of the 'Durian Runtuh' Buy 1 Free 1 vouchers released at 12AM midnight, to be collected on a first-come-first-served basis. The voucher can be redeemed on 5 to 7 July during the Mid-Year Sale, where the Musang King durian will also be on sale with over 50% discount.
3. Chup Dulu: Early Birds Get the Free Gifts
Even with all the crazy discounts and low prices already offered during the Unexpected Mid-Year Sale, smart shoppers can still stretch their ringgit even more through Chup Dulu, a pre-booking feature on the Lazada app.
By placing a non-refundable 10% deposit from now until 6 July, customers can call dibs on highly sought-after products ahead of time from renowned LazMall brands, including Estee Lauder, Innisfree, LANEIGE, Lancôme, L'OCCITANE, Vans, Adidas, and more. On 7 July, shoppers that had Chup Dulu will be able to checkout with ease without having to race with other people.
4. LazMall's Crazy Brand Mega Offer: Authenticity guaranteed
While we're on the topic of LazMall, brand fans can be assured of both product quality and significant savings when shopping on the LazMall channel. LazMall's 100% authenticity promise enables online shoppers to shop confidently, knowing that products are offered directly from Lazada's official brand partners or brand retailers.
Online shoppers can look forward to LazMall's Crazy Brand Mega Offers on 7 July from 12AM to 2AM. Discounts of more than 50% and up to 80%, along with additional vouchers, will be offered from Malaysians' favourite brands, including Pandora, Fossil, Acer, Lenovo, Logitech, and more.
5. Lazada Bonus: RM10 Off for Every Purchase of RM100
As the name suggests, Lazada Bonus is an additional cash discount provided especially for mega sales, which can be stacked on top of other discount vouchers and deals.
Starting from 30 June until 7 July, be sure to collect Lazada Bonus daily on the app. The more Lazada Bonus collected, the more discounts shoppers can redeem during the Unexpected Mid-Year Sale on 5 until 7 July to get RM10 off for every RM100 spent on products with the Lazada Bonus tag.
6. RM0.77 Crazy Flash Sale: Don't Think, Just Buy
These limited-time-only offers are one the most anticipated deals during the Unexpected Mid-Year Sale. Across 5 to 7 July, Malaysians will flock to snatch up the RM0.77 Crazy Flash Sale offers. Remember to top up the Lazada Wallet before the sale, as those who checkout with the Lazada Wallet are more likely to win the race against time during that crucial time when the whole nation is vying for the same item.
7. LazLive: Chief Discount Officer Show
The Chief Discount Officer (CDO) show returns with daily episodes throughout the Unexpected Mid-Year Sale on LazLive at 9PM to 10PM across 5 to 7 July. Many vouchers and exclusive deals will be offered during the show, so don't miss it. 
With this handy shopping guide as Malaysians' go-to reference for everything related to Lazada's Unexpected Mid-Year Sale, everyone can expect the unexpected. Enjoy shopping and shop smart!
For more information on our upcoming Unexpected Mid-Year Sale, visit: https://lzd.co/MegaSale
For easy reference on all the important dates in one page, visit: https://lzd.co/MegaSaleCalendar