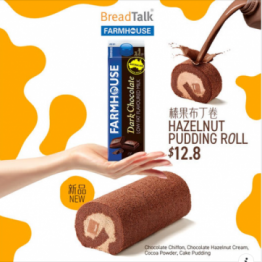 BreadTalk Singapore is bringing the much sought after F&N's Farmhouse Dark Chocolate Low Fat Fresh Milk back in the form of a delectable dark dessert called Hazelnut Pudding Roll.
The Hazelnut Pudding Roll is made from Chocolate Chiffon, Chocolate Hazelnut Cream, Chocolate Cake Pudding, Cocoa Powder, Farmhouse Dark Chocolate Low Fat Milk, Egg, Unsalted Butter. The price is SGD 12.80.
From now till 31 August 2021 you can get this delectable dark dessert in stores or through BreadTalk's delivery partners.
The collaboration between the flavoured milk brand and bakery provider points to the possibility for future cross-category cooperation between flavoured milk and bakery.