If you are looking for non-chinese menus for a change after all the CNY delicacies, look no further than Aether House, located at 35 Robinson Road!
Jam to French music and immerse yourself in the Parisian atmosphere with a curated selection of wine and enjoy the feast of French cuisine (bon appétit!) in a chic pastel coloured all-day dining restaurant and wine bar.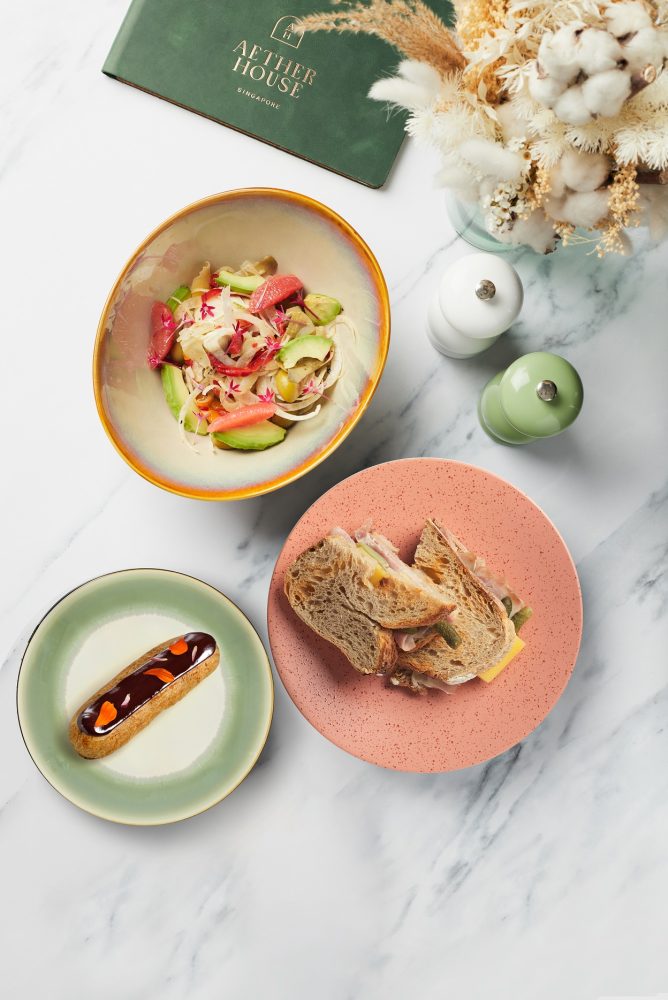 Join us on a "tour de France" and savour the taste of France with the following dishes.
If you are a seafood lover, Aether House's L'Octopus De Méditteranée is a must! This dish serves thinly sliced octopus, accompanied with aioli, the traditional french dip, grapefruit and lemon oil that give the dish that extra zest. You've not really been to France unless you've had L'escargot and Le Poulet. Cooked with garlic and herb butter, L'escargot is one of the classic and much celebrated delicacies from France! From something more filling, try the Le Poulet – enjoy the tender chicken ballotine that is served along with the creamy potato gratin and truffle sauce!
Want to feel a tad bit special? Go for the Petits Plats, the Chef's Tasting Menu. Enjoy your bougie moment at Aether House with a personalised assortment of French dishes, ranging from three to five dishes. While you are at it, go all out by ordering a glass of wine to go with your plats français.
Now that you have your tummies satisfied, it's time to do some shopping!
Aether House is proud to present Christine Ferber Jams, one of the best jams in the world! With the most extensive collection in Singapore, have a fancy breakfast or tea break when you spread these fruity and premium quality jams on your preferred bread or crackers. Have a taste, and you will know why we absolutely adore these jams! These jams are freshly produced in Ferber's small kitchen in the village of Niedermorschwihr, nestled in the heart of the vineyards in Alsace. Not only are these freshly made, but the availability of these jams also varies season by season.
Secure a table via https://www.aetherhouse.sg/ to enjoy quality French fare, at an affordable pricing, at Aether House.