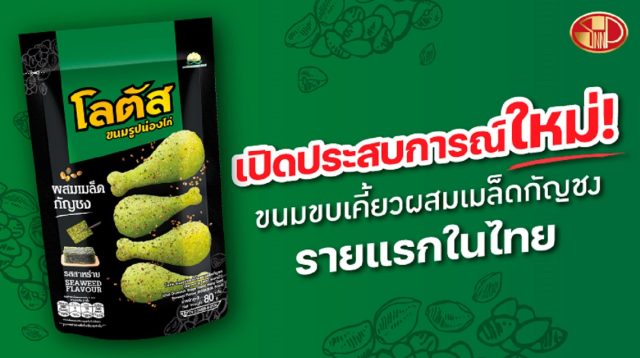 Thailand's Srinanaporn Marketing Public Company Limited (SNNP), the maker of Jele, Lotus and Bento, has launched Lotus Drumstick with Hemp Seed Flour
Seaweed Flavor. The new product is said to be the first snack in Thailand to come with hemp seeds. Lotus Drumstick with Hemp Seed Flour Seaweed Flavour is available at 7-Eleven for a price of THB 30.
This is the second hemp-based snacs by SNNP under the Lotus Drumstick brand. The first Lotus Drumstick Shape with Cannabis Leave Flour Barbecue Flavor was towards the end of 2021.
According to SNNP's presentation data dated 15 Nov 2021, the company plans to introduce more cannabis-based products including Jele Party mixed with Cannabis Water (30g), which will deliver alertness and a refreshing taste. Jele Party will come in three flavours – Green Tea, Sakura Tea and Lemon Tea.
Also in the product pipeline are Jele Vitamin with CBD (Relax) with vitamin B3, B6, B12 and L-theanine as well as Bento Seafood Snack mixed with Cannabis Leaves.