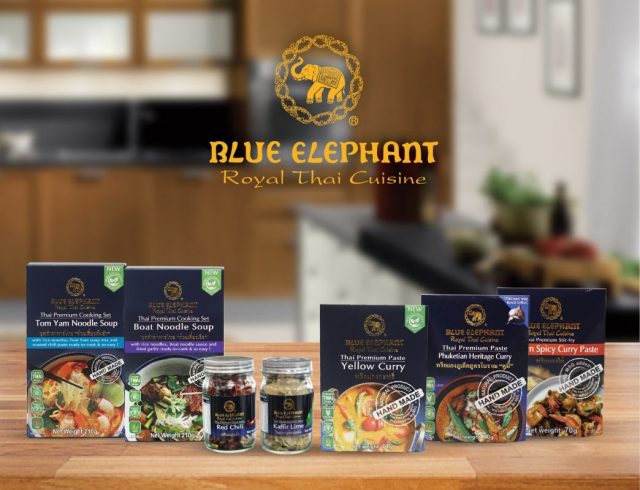 Tuesday 31 May 2022 – Blue Spice Co., Ltd., manufacturing arm of the Blue Elephant International Group, is highlighting Blue Elephant's latest product line comprising Southern inspired curry pastes, ready-to-cook noodles sets and newly bottled Thai premium dried spices all of which are rich with fresh Thai herbs, flavourful spices and superfoods with multi-faceted health benefits.  All products manufactured at the Blue Spice factory are original recipes of Chef Nooror Somany Steppe, founder of the Blue Elephant Group and keeper of Thai traditional cuisine and culture for over 40 years.
"The COVID-19 pandemic has significantly changed consumer behaviour and lifestyle.  More and more people are opting to cook and eat at home which has given rise to a substantial sales growth for our products, both locally and internationally," said Chef Nooror. "This year the focus is on research and development to craft new products, further improve and modernize production process without compromising quality and authenticity; continue to utilise premium raw materials and ingredients from the Royal Project as well as products sourced from communities in various provinces throughout Thailand.  We are increasing capacity in our existing factory for the time being; and expansion will follow in the near future.  New international markets recently clinched comprise Taiwan, Japan, Australia and Portugal.  Here, our products are also available in leading Thai supermarkets and we are always striving to better cater for the expectations of our local market."
"For decades, Blue Elephant has been thriving to revive forgotten recipes of the Kingdom which has truly become our gastronomic signature. The customers and patrons of our restaurants in Bangkok and Phuket, are truly seeking for this heirloom experience"  added Chef Nooror. "We are proud to contribute to preserving this culinary heritage and to be able to accompany Thai people in their ancestors' footsteps.
In addition to our OEM (original equipment manufacturer) capabilities, the Blue Spice is happy to also present at THAIFEX – Anuga Asia 2022 the new highlights of their Blue Elephant Thai Premium range : the emblematic Premium Curry Pastes of our beloved Thai southern cuisine;  Thai Premium Noodle Soups read-to-cook sets and newly bottled Thai premium dried spices and herbs filled with health benefits," added Chef Nooror.
Blue Elephant Thai Premium Curry Pastes, all original recipes of Chef Nooror, to be highlighted at THAIFEX-Anuga Asia 2022 include the new Southern Spicy Curry Paste (70 grams/serves 4)  for a tasty and versatile emblematic Southern stir-fry, the Panaeng Curry Paste (70 grams/serves 4) rich and creamy, aromatic and spicy indulging curry, the Massaman Curry Paste (70 grams/serves 4) Chef Nooror's ultimate signature dish, and last but not least the Phuketian Heritage "Tumee" Curry Paste (70 grams/serves 4):  Healthy and full of goodness, the Thai ingredients blended in this paste also include 3 superfoods:  Garcinia, fenugreek seeds and Thai Black Garlic with its many health benefits for a wide variety of ailments.  "Tumee curry" dish is one of the most popular choices at Blue Elephant restaurants in Bangkok and Phuket.
The ready-to-cook Thai Premium Noodle Soups selection comprises the extremly popular "Boat Noodle Soup" (serves 2) with its bewitching aromas of Chinese spices and fresh Thai herbs; "Chiang Mai Noodle Soup" (serves 2) also known as "Kao Soi" with its coconut milk rich and a fragrant curry-based broth very popular in northern Thailand; and the most emblematic soup in Thailand the sour and spicy "Tom Yam Noodle Soup"(serves 2) and the ultimate comfort food.
Last but not least Thai Premium Dried Spices are now bottled for sustainability and user convenience:  Dried Lemongrass; Dried Galangal; Dried Chili; Dried Kaffir Lime and Dried Sweet Basil – everything you need to cook authentic Thai Cuisine at home.
The first Blue Elephant Restaurant, under the close guidance of Chef Nooror, opened in 1980 in Brussels, Belgium, followed by numerous branhes opening in various countries in Europe .  Chef Nooror finally returned to Thailand to open the Blue Elephant Cooking School & Restaurant Bangkok in 2002.  Blue Spice, its manufacturing arm opened in 2006 and commenced crafting Thai premium spices, curry pastes, sauces and seasonings under the brand Blue Elephant.  Today, Blue Elephant products are exported to almost 45 countries worldwide and distributed to both professional caterers in food service format and international retailers as a premium grocery range.
New Generation Management Team of Blue Spice Co., Ltd. Bangkok
Working closely with Ines Chardonnet, Managing Director of Blue Spice Co., Ltd who is now based in Europe, is the new generation of the Somany-Steppe founders's family: Kevin Somany, Vice Managing Director,  who will be driving their top level executives in Thailand with the support of Blue Spice new General Manager, Andrea Picello – a seasoned Food & Beverage Executive established in Thailand since 10 years.
Born and raised in Belgium of Thai parents, Kevin embodies both the European and Thai mindset and culture.  He studied business engineering and was about to start his career in banking when he was invited back to Thailand to continue the family's legacy and be part of the new generation of managers to contribute to bringing Blue Elephant to the 21st century.
For further information, please call tel. 02 996 9401-3 (Blue Spice Co., Ltd.) or check out www.blueelephant.com; Facebook: @BlueElephantBangkok; LINE ID: @blueelephantbkk;  IG: @blueelephant.