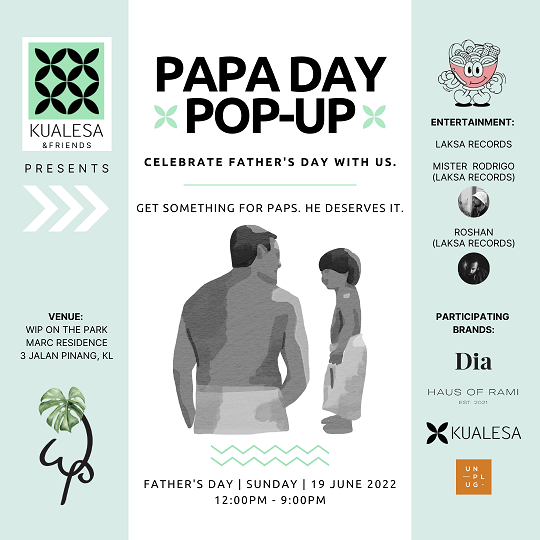 WIP On The Park is welcoming families to celebrate Father's Day browsing the wares of local vendors this Sunday, June 19. From 12pm to 9pm, a line-up of homegrown brands will be featuring their sustainability focused products at a very special Papa Day Pop-Up sale at Marc Residence.
Participating brands include Dia, which curates artisanal handmade gifts and fashion products, Unplug, the ultimate online eco shop in Malaysia, Kualesa's sustainable bamboo lyocell apparel, and Haus of Rami, the sustainable 100% hemp shirtmaker.
The first 100 visitors to make vendor purchases will enjoy a 10% discount on à la carte orders at WIP On The Park. Patrons to WIP On The Park will also enjoy discounts and promotions by pop-up vendors. Finally, Mister Rodrigo and Roshan from Laksa Records will be serving up fresh beats throughout the event.
To stay up to date on this and other exciting events, visit WIP On The Park's Facebook page at: https://www.facebook.com/wiponthepark 
ABOUT WIP
From its beginnings as a Work In Progress to a landmark lifestyle destination, WIP is now Whipped Into Place, and has firmly established itself as a polished diamond glittering in the dining landscape of Kuala Lumpur. Located at the prominent BSC and Marc Residence, the urban tropic garden is THE place to hang out and unwind.
Cosmopolitan cuisine is the direction of WIP's menu. With inspiration from different continents, the food is prepared with the best and most fresh of ingredients. It is an innovative and creative menu that will surely cater to a wide variety of tastebuds and please any palate. Lovers of innovative beverages will surely rub their hands in glee with resident mixologists creating liquid perfection before your very eyes at the uniquely shaped Clam Bar. A delectable selection of signature cocktails like Mojitos and Martinis, are available to quench your thirst, as are fine whiskies, boutique liquors, premium beers, champagnes, and wine. 
WIP On The Park
Marc Residence, 
No. 3, Jalan Pinang, 50450 Kuala Lumpur
t : 012 210 3055 
w : www.wip.com.my