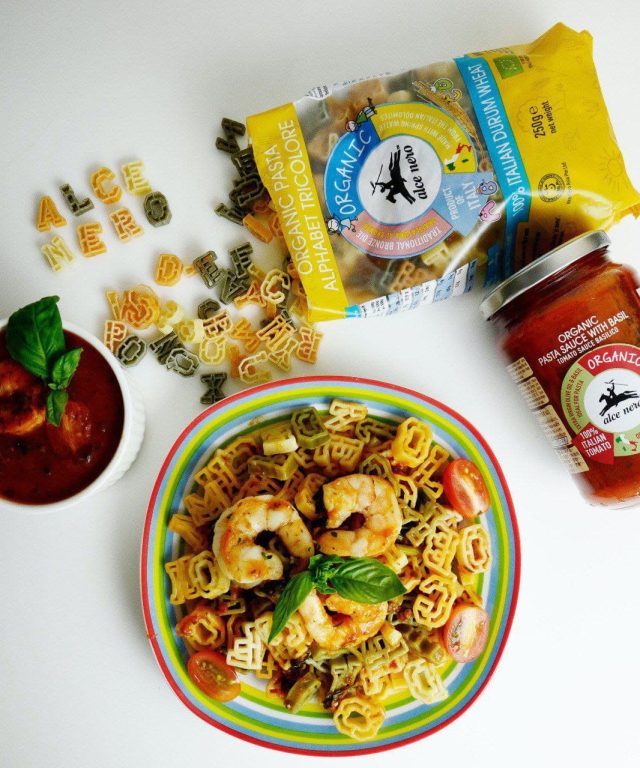 Kuala Lumpur, June 20, 2022 – Malaysia has entered the endemicity phase of COVID-19, and most of us are back to working at offices but the family still needs dinner after your long day at work. There's always takeout but food prices are rising globally. What can you do? Break out those amazing cooking skills you hones during the WFH-era, choosing meals that are quick, easy and that can please the entire family's tastebuds.
Where can you start? With pasta of course!
Pasta is a favorite among urban Malaysians because it looks and tastes like local noodles, blends well with many cuisines, can be modified to suit every skill level and palate, and is nutritious and healthy. For busy parents, pasta meals can be prepared quickly and easily, with fewer pots and pans to wash up after. Cooked pasta refrigerates and reheats very well making it ideal for pre-prepped meals, and as leftovers for lunch boxes.
Alce Nero, a leader in organic food including, pasta, pasta sauces, honey, jams, olive oil and apple cider vinegar and much more, presents four simple pasta recipes that you can adapt or use as is, with hacks to save you time to get dinner to the table, and to enjoy leftovers for lunch. The recipes were developed by Retna Vijayan, a business owner and mother-of-three, who cooks dinner for five every weeknight.
Alce Nero organic pastas are delicious and pair perfectly with Alce Nero organic pasta sauces for quick and tasty meals. The pastas comes natural, or as Tricolore, a mix of naturally coloured and flavoured pasta using tomato and spinach for the added goodness of vegetables and fibre. Kids love Tricolore pasta meals as the fun colours elevate the experience. Alce Nero Organic Pastas are bronze drawn for a rougher and more porous pasta, ideal for sauce absorption. They are made using organically grown durum wheat, contain no preservatives or artificial substances such as sugars. These pastas are made in Italy to be low in fat and sodium, high in protein and are a good source of dietary fibre.
Alce Nero also has a new range of Kid's Pastas, the Tricolore Alce Nero Kid Pasta Sports Shape that received a 5 Star Rating, the highest rating possible, on Motherhood Malaysia[1].
The pasta sauce recipes include creamy tomato, basil pesto, carbonara and herbed tomato. All recipes can be tweaked to suit vegetarians by omitting the meat or seafood. For speedy preparation, frozen seafood and prepared meat is used. The sauces contain lots of herbs to increase the fibre content but you can reduce or increase to taste.
Creamy Tomato Clam Spaghetti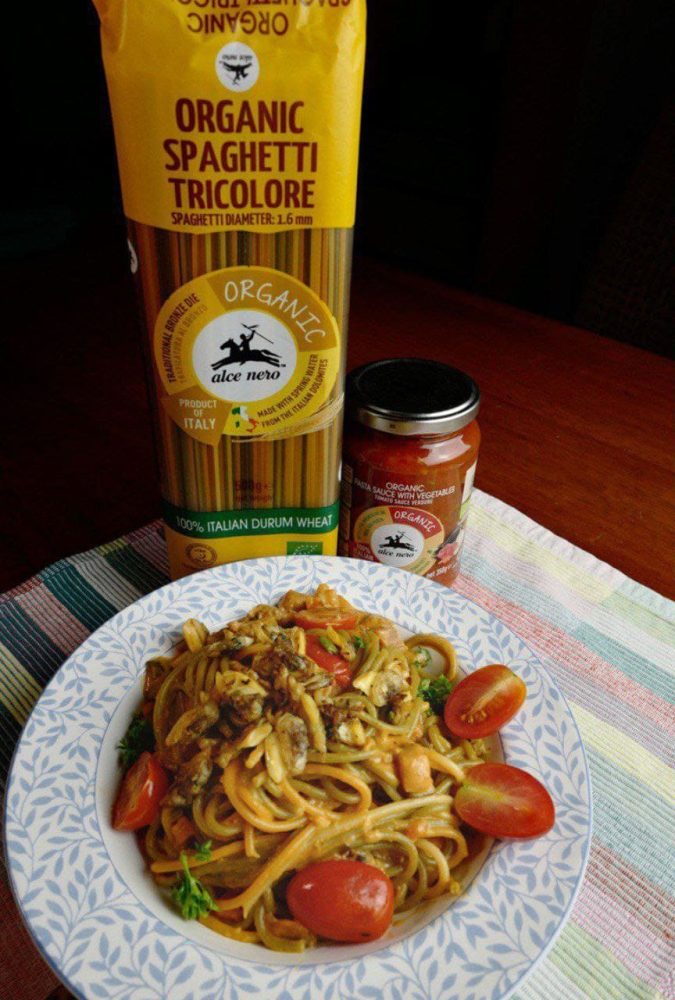 Absolute comfort food that combines the piquancy of Alce Nero Organic Pasta Sauce with Vegetables with the richness of cream, the salty chewiness of clams, and the freshness of parsley over al dente Alce Nero Organic Spaghetti Tricolore. So good especially on a rainy day.
Add Alce Nero Organic Spaghetti Tricolore to a pot of well salted boiling water. Cover and cook for 6 minutes or al dente. At the same time, pan fry the garlic, chopped parsley and clams until the clams are browned.  Reserve some browned clams for garnishing. Using cooking tongs add the al dente pasta to the clams, stir in the cherry tomato halves and the Alce Nero Organic Pasta Sauce with Vegetables allowing to heat through. There are lots of juicy vegetables in the sauce for a well-balanced one pot meal. Stream in the cooking cream while stirring. If you prefer more sauce, add half a cup of the salted pasta water, and stir in until well-incorporated.
Plate up, garnish with some parsley and the reserved clams. Grate some cheese over the pasta if you like it cheesier.
Prep time: 10 minutes, cook time 10 minutes, serves 5 pax
Fusilli with Basil Pesto (Suitable for Vegetarians)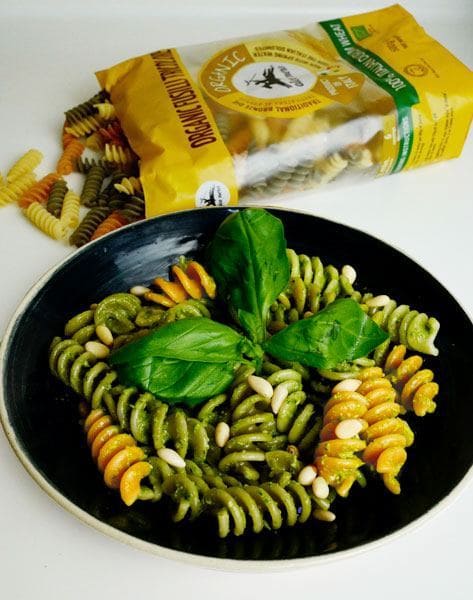 If you are a weekend food prepper, blend or pound pesto on weekends, store in a mason jar with a thin layer of olive oil on top to keep the pesto green and fresh. This vegetarian fusilli pesto recipe can come together in less than 15 minutes for a light, refreshing meal that is high in fiber and full of flavor. For me, pesto works best with short pastas like fusilli that have more surface area for the pesto paste to cling on to. Using a bronze drawn pasta such as Alce Nero Organic Tricolore Fusilli helps the sauce adhere better for a juicier, more flavourful meal. 
In a pan over medium heat, add the drained pasta and two tablespoons of pesto for each 100gm of pasta. Stir well. Pour in a quarter cup of pasta water to loosen the pesto and coat each spiral of fusilli. Add more pasta water for a saucier pesto.
Plate up, garnish with basil leaves and roasted nuts. Dot with more pesto.
Variations: For pasta pesto salad add one cup each seeded and diced tomatoes, celery, garden peas and cucumber to the pesto pasta. Add more pesto for creaminess.
For pesto salad with chicken, top the pesto pasta with shredded roast or boiled chicken.
Prep time: 10 minutes, cook time 12 minutes, serves 5 pax
Creamy Beef Spaghetti Carbonara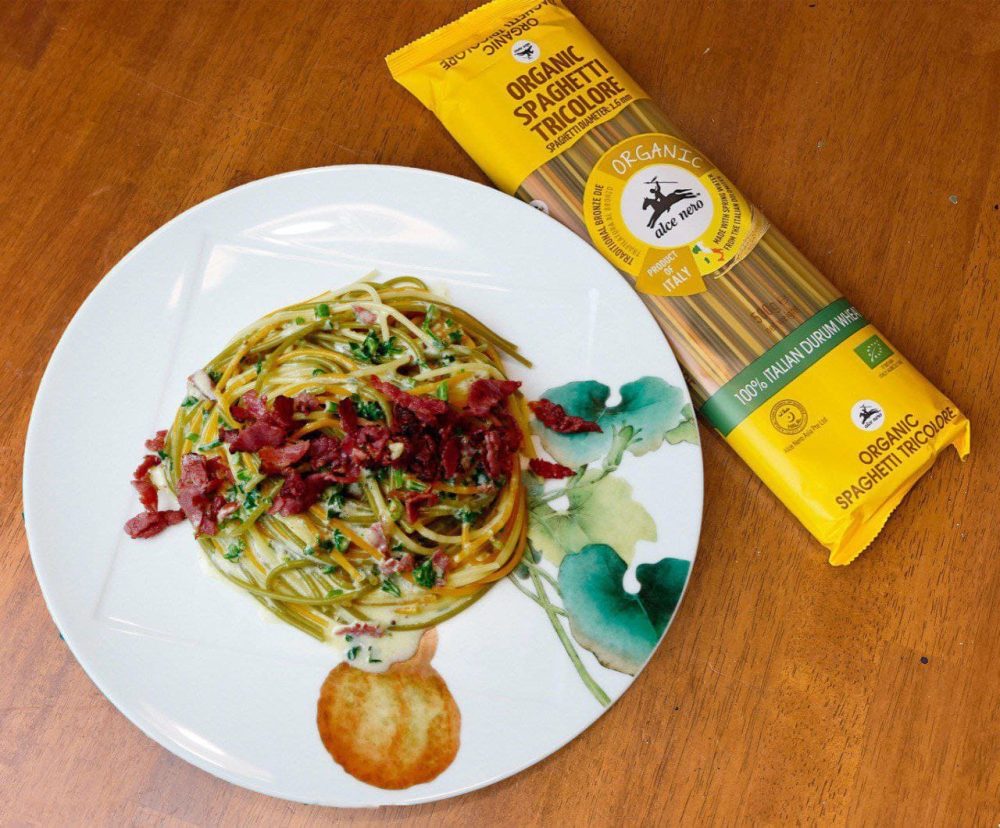 Carbonara works best with beef bacon, but you can use thinly sliced or minced beef. OG Italian carbonara uses only eggs for the sauce but this is a less eggy, more creamy variation. Choose a long pasta for carbonara for a satisfying slurp-iness as the creamy sauce coats the pasta fully. Alce Nero's bronze drawn Organic Spaghetti Tricolore is a perfect pairing for carbonara as it holds the sauce well, and the pretty green and orange pasta strands contain spinach and tomato for more fiber.
Heat the olive oil and butter, add the garlic for about a minute, then add the beef, parsley and half the black pepper. At the same time, lightly beat the eggs, cheese and cream. Remove the fried beef from the pan. Reduce heat to low, add some pasta water to deglaze the pan for a delicious sauce. Quickly add in the al dente spaghetti and stir to coat with the sauce. Stream in the egg mixture and stir vigorously. Add a quarter cup of pasta water for a silkier sauce. Toss the fried beef into the steamy, creamy spaghetti carbonara. Mix well.
Serve immediately, garnishing with some reserved fried beef and fresh parsley, a sprinkle of fresh ground pepper and a drizzle of carbonara sauce.
The eggs and beef provide sufficient protein for a balanced meal. Add a garden salad as a side.
Prep time: 10 minutes, cook time 12 minutes, serves 5 pax
Shrimp in Basil Tomato Sauce Alphabet Pasta
This shrimp in basil tomato sauce is simple to prepare and pairs well with any pasta but is super cute with the Alce Nero Kids' Pasta Alphabet Shapes! Here's how:
Prepare 500gms of Alce Nero Organic Kids' Pasta Alphabet Shapes according to the pack. Drain and reserve.
In a large flat-bottomed pan or skillet, melt butter with olive oil. Add garlic and sauté for about a minute. Next add chicken stock, red pepper flakes, black pepper and bring to a simmer for 2 minutes or until the liquid is reduced by half. Add the shrimp and sauté until lightly pink. Stir in the basil and pour in a bottle of Alce Nero Organic Pasta Sauce with Basil. Heat through.
To serve: On a large platter mound the pasta. Pour over the shrimp in tomato sauce. Garnish with more basil.
Prep time: 10 minutes, cook time 10 minutes, serves 5 pax 
The brand's farm-to-table concept is made possible by working with its network of organic farmers, making the produce much healthier. The brand's extensive line of authentic Italian organic produce is 100% organic certified by European Union law and by JAS organic agriculture in Japan.
Malaysians can use Alce Nero products with confidence as it is certified Halal by official certification bodies recognized by JAKIM.
Alce Nero products are available at AEON, Ben's, Cold Storage, Giant, Jaya Grocer, Village Grocer, TF Value and via the Ayam Brand Shopee Official Store & Ayam Brand Lazada Official Store.
For more wholesome, unique and organic recipes that you and your little ones can enjoy together, please visit https://alcenero.asia/recipes.html and Facebook page https://www.facebook.com/AlceNeroMalaysia/.