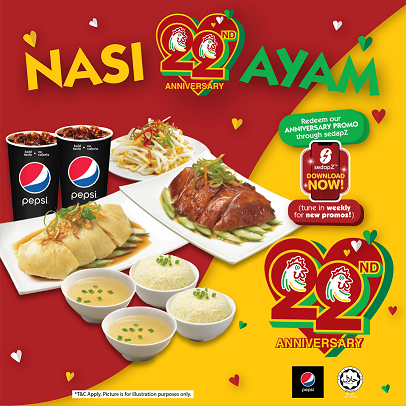 The Chicken Rice Shop is offering enticing promotionl deals and rewards to mark 22 years
of the perfect union between 'Nasi' and 'Ayam'
KUALA LUMPUR, 22 JUNE 2022 – The perfect combination of chicken and rice is truly a match made in heaven as it never fails to warm the hearts and stomachs of Malaysians. As one of Malaysia's favourite homegrown Halal family restaurants, The Chicken Rice Shop (TCRS) is inviting everyone to savour the perfect union of Malaysia's favourite chicken and rice, valued at 'RM 22 for 2' along with other exciting deals in conjunction with its 22nd Anniversary.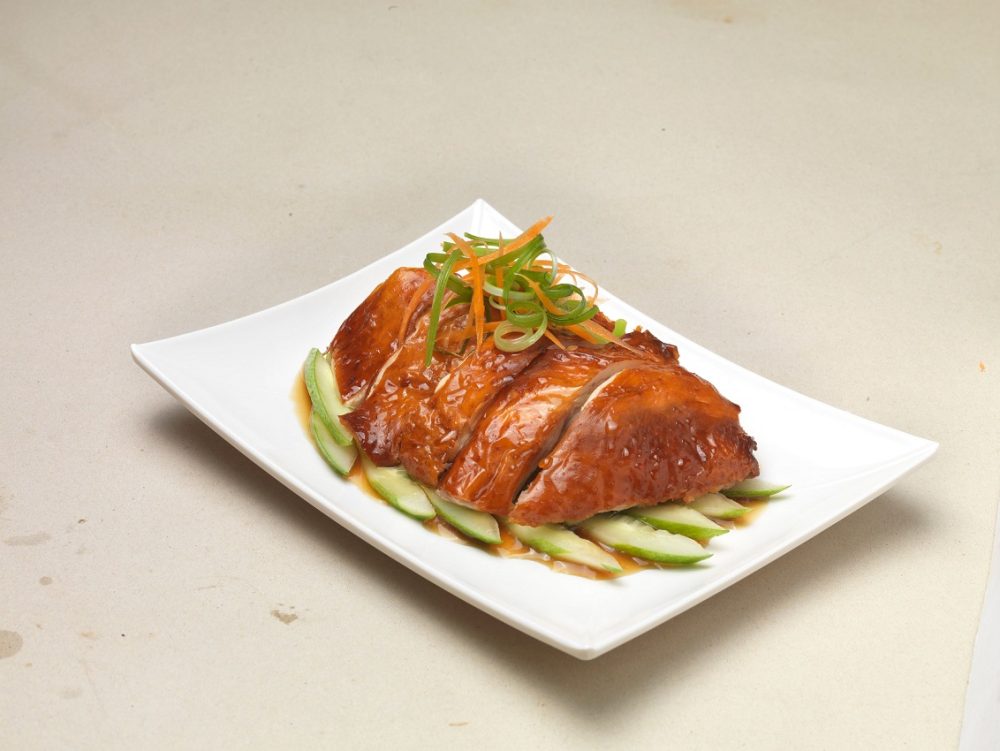 To reminisce 22 years of serving the perfect combination of 'Nasi' and 'Ayam', TCRS is offering a meal for 2 at RM22, together with weekly best-for-value promos claimable exclusively from today till 7 August 2022 via sedapZ app, a loyalty and rewards programme available on both Apple App Store and Google Play Store. Apart from the variety of exciting value meals and deals offered weekly on sedapZ, customers will also stand a chance to win 22x iPhone SE upon minimum spending of RM22 at any TCRS outlets.
Wong Kah Yong, Chief Executive Officer of TCRS Restaurants Sdn Bhd shared that with over two decades of serving delicious and affordable Halal dishes, TCRS is always on the mission to serve Malaysians of all races with the most authentic taste of local favourites.
"Initiatives such as this, is our way of showing how appreciative we are of our loyal fans. We would not have made it to where we are today without our beloved customers. As such, we strived to continuously serve the best to our customers,"
Famous for their slogan 'Chicken Rice… and More,' TCRS also offers a selection of delectable local dishes. Staying true to their belief of serving the best for all, TCRS continuously strive to serve innovative dishes that will tantalise every local taste buds.
"We take pride in being truly made in Malaysia and hope to be able to give back to the community by introducing more delightful local dishes with great promotions and value-for-money meals, while ensuring that our customers experience memorable dining moments at TCRS for many years to come," concluded Mr Wong.
For more information on The Chicken Rice Shop's 22nd Anniversary promotion or the outlets, visit www.thechickenriceshop.com or its Facebook page https://www.facebook.com/thechickenriceshop/.
About TCRS Restaurants Sdn Bhd  
TCRS Restaurants Sdn Bhd (TCRS) is a dynamic home-grown company with more than 100 The Chicken Rice Shop outlets in operation throughout Malaysia. With all its brands Halal-certified, TCRS also owns and operates Sepiring, an all-day dining café which serves unforgettable durian pancake and Nyonya Nasi Ulam with Ayam Percik, among others and DubuYo, which offers the very best of Korean cuisine in a comfortable and trendy environment.