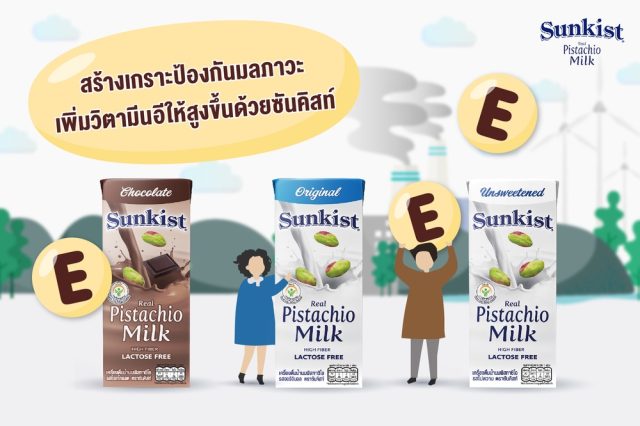 Monday 27 June 2022 – In everyday busy schedule, our body is inevitably exposed to air pollution either it is from traffic or from industrial areas. This air pollution has both short and long term effects to human body, the easiest way we are educated to follow is to protect ourselves by wearing masks and washing our hands regularly.
Apart from these behaviors, we should not forget to maintain healthy habit for the protection of our inner parts as well. Sufficient vitamins and nutrients consumption is to be referred.
Vitamin A from vegetables helps decrease inflammatory areas in our body. Vitamin C from fruit improves eye health and adds collagen to our skin. Vitamin D from fish oil and grains help maintain the level of calcium and phosphorus in our blood. Moreover, vitamin E helps slow down the breakdown of blood cells, prevents blood clots and antioxidants.
Sunkist Pistachio milk is rich in vitamin E, Protein, and Calcium. Pistachios help promote heart health, decrease cholesterol level, antioxidants and great for digestion system from high fibers. Sunkist Pistachio milk is free from lactose, gluten, soy and dairy products.
Sunkist Pistachio milk is available in 5 flavors including Unsweetened, Original, Chocolate, Thai Tea, and Banana Puree in 180ml size (3 cartons/pack) at 68 baht and 946 ml size at 109 baht at leading stores nationwide. For online shopping, please visit our LINE Official: @Heritagethailand, Shopee: Heritage Official, Lazada and JD Central: Heritage. For more information please call 02-813-0954-5 or follow Sunkist's activities at www.facebook.com/SunkistTH, IG: sunkistThailand and our website www.heritagethailand.com.