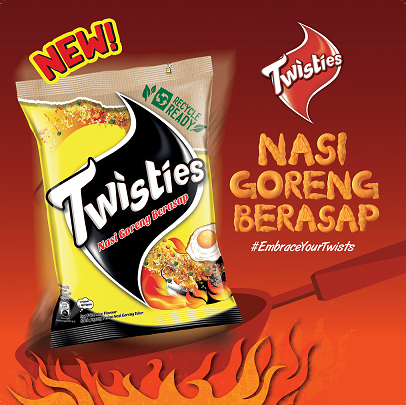 Beloved snack brand celebrates Malaysians' ability to goreng their way out of sticky situations with its #EmbraceYourGoreng campaign.
KUALA LUMPUR, 1 Feb 2023 – Regardless of our ethnicity, every Malaysian enjoys the distinct well-loved flavours of the Malaysian Nasi Goreng Berasap! Twisties brand new flavour rides on these unmistakable flavours from one of Malaysia's favourite street foods paired with the legendary Twisties crunch! The release of Twisties Nasi Goreng Berasap nationwide is accompanied by a campaign that invites Malaysians to "Embrace Your Goreng"
Each Twisties chip bursts with the all-too-familiar smokey and savoury taste and aroma of Nasi Goreng Berasap and is packed with caramelised and savoury undertones from flavours of a telur mata (or sunny-side-up egg). Snacking on your favourite dish has never been easier – simply tear open a pack of Twisties Nasi Goreng Berasap and enjoy its taste without any hassle – best of all, you don't need to have a full meal to get a taste of it!
The #EmbraceYourGoreng campaign takes inspiration from the original Twisties 'Embrace Your Twists' tagline by calling all Malaysians to stand out with their uniqueness. It celebrates the unique ability of Malaysians to be able to get themselves out of sticky situations in funny, creative and unusual ways!
"Twisties is committed to our brand purpose of introducing fresh twists to our beloved product line-up. With the introduction of Twisties Nasi Goreng Berasap flavour, Malaysians can now enjoy the authentic and delicious flavours of their favourite meal instantly and even on the go! The campaign message in #EmbraceYourGoreng is synonymous with our brand message of being able to celebrate the uniqueness in your own way. It invites Malaysians to 'goreng' yourselves out of everyday sticky situations driven by each individual's personality and creativity," said Zaid Areff, Senior Marketing Manager, Mondelēz Malaysia & Singapore.
This new flavour joins Twisties existing mouth-watering range including BBQ Curry, Cheddar Cheese, Chicken and Cherry Tomato. With over 50 years of presence in Malaysia as one of the country's favourite snacks, Twisties has become a popular household name enjoyed by millions in Malaysia. It is one of the many brands under Mondelēz International, a leading snacking powerhouse. In addition to Mondelēz offering consumers the right snack, for the right moment, made the right way, Twisties is a brand known for its effort to promote a positive snacking attitude through its 'Embrace Your Twists' slogan.
The Twisties Nasi Goreng Berasap is now available at the Mondelez official Shopee and Lazada store, as well as major retailers, convenience, and grocers at RM2.13 in Peninsular Malaysia and RM2.34 in East Malaysia. Stay tuned for more #EmbraceYourGoreng content on Twisties' social media; Instagram @twisties.malaysia, Twisties Malaysia Facebook page and TikTok @twisties.malaysia for the video!