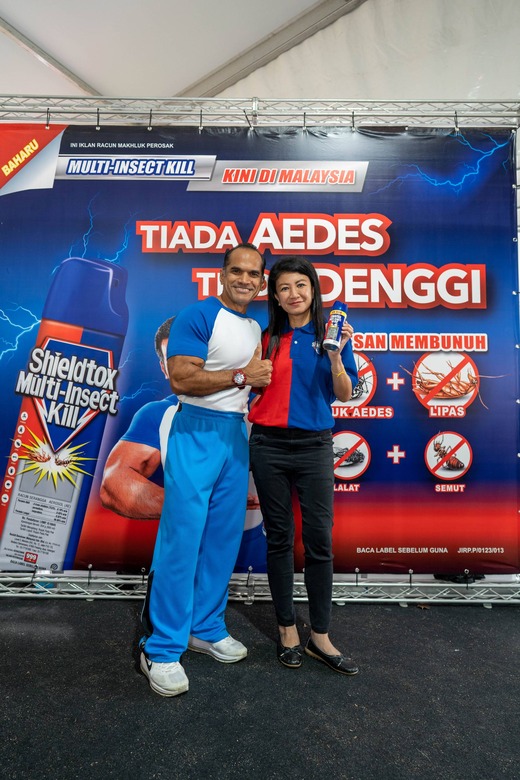 Kuala Lumpur, 10 July 2023 – Shieldtox, the leading aerosol pesticide brand in Malaysia, teamed-up with the Communication for Behavioural Impact (COMBI) Volunteer Group to support a One Hour Malaysia Clean Up and Gotong-Royong Mega Perangi Aedes 1.0 event to enhance public awareness about dengue, providing Malaysians with the education needed to prevent its spread. This collaborative effort aims to combat the prevalent threat of dengue fever by equipping communities with the right tools and pest-control solutions to promote environments free from pest-borne diseases, in line with Shieldtox's views and mission.
Dengue fever has proven a significant health concern, with the Aedes mosquito being the primary vector for its transmission. To date, Malaysia has witnessed a staggering 139% increase in dengue cases alone. Attributed to rising temperatures, flood disasters and the reopening of all sectors which fosters a conducive environment for Aedes mosquito breeding, this phenomenon will see a major increase in dengue cases in 2023 as a result and is expected to continue their upward trend, peaking in the next two years in Malaysia.
In response, Shieldtox has taken proactive measures to curb this rapid spread by focusing on education and community outreach. The One Hour Malaysia Clean Up and Gotong-Royong Mega Perangi Aedes 1.0, with its strong emphasis on community engagement, aligns perfectly with Shieldtox's commitment to promoting pest-free environments that do not devastate lives with pest-borne diseases.
The primary objectives of the collaboration between Shieldtox and the COMBI Volunteer Group are to reduce incidences of dengue-related illnesses and strengthen community participation in environmental cleanliness activities. To kick-start the partnership, a One Hour Malaysia Clean Up and Gotong-Royong Mega Perangi Aedes 1.0 Peringkat Kebangsaan 2023event was held on July 9th at Dewan Rakyat Batu Caves, providing an interactive and educational platform to disseminate crucial information about staying protected against dengue. Through this strategic alliance, the event aims to leverage Shieldtox's wide reach, influence, and shared goals to impart essential knowledge about dengue prevention to communities in need.
"We believe that by joining forces with the COMBI Volunteer Group, we can make a significant impact in raising awareness about dengue prevention and promoting a pest-free environment," stated Tiffany Tang, Marketing Director for Health & Hygiene Malaysia, Singapore and Vietnam for Reckitt Malaysia. "We are committed to providing the public with the necessary knowledge and tools to protect themselves from dengue, while also strengthening our brand's commitment to public health and safety."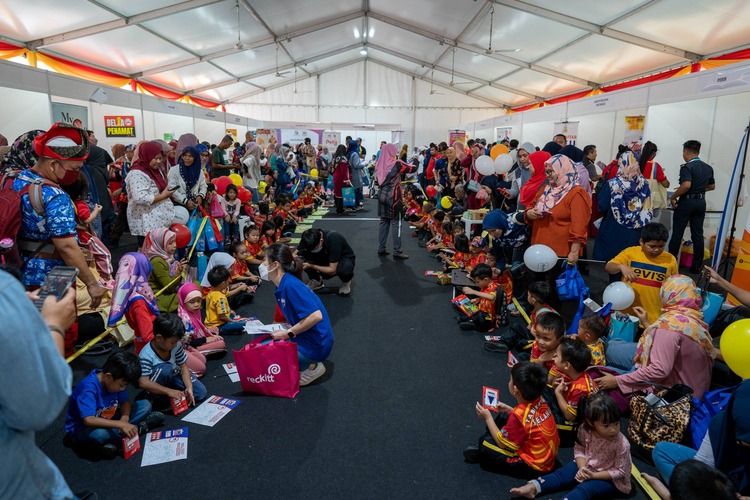 With its longstanding presence in the market, Shieldtox will play a vital role in educating the public about the importance of using effective pest-repellent solutions to maintain a clean and livable environment. Shieldtox has been at the forefront of dengue education and prevention in Malaysia, consistently displaying their commitment to raising public awareness about dengue prevention measures and the significance of maintaining a clean, pest-free environment.
In 2018, Shieldtox organised community cleaning in 15 dengue-prone areas throughout Malaysia. Additionally, as part of ASEAN Dengue Day, Shieldtox's Fight Dengue Campaign furthered educational efforts, featuring a health lecture and exclusive roadshow events highlighting the importance of combatting dengue fever. With the emergence of the Movement Control Order in 2020/21, Shieldtox shifted communications of their message 'No Aedes, No Dengue,' through a partnership with TV3.
The fight against dengue continues with The Multi Insect Kill, Shieldtox's freshly launched aerosol-based insect repellent. This all-in-one pesticide is a first of its kind in Malaysia, revolutionising pest-control with its capability to kill both flying and crawling insects, freeing households from Aedes mosquitos, flies, cockroaches, and ants. With its superior formulation, consumers can now rely on just one aerosol-based insect repellent to make pest-control a breeze.
Shieldtox aims to maintain its reputation as a leader in dengue education through its partnership with the COMBI Volunteer Group, while furthering its commitment to alleviating the impact of environmentally related diseases and fostering community well-being on a national scale.
The One Hour Malaysia Clean Up and Gotong-Royong Mega Perangi Aedes 1.0 event integrated Shieldtox's expertise and educational resources into its community outreach activities which featured a dedicated Shieldtox booth providing interactive quizzes and encouraging the proactive 'Search and Destroy' method of prevention whilst urging individuals to engage in proactive pest-control to mitigate the threat of dengue.
In addition to Shieldtox's efforts, renowned brands Dettol and Harpic have also joined forces in the fight against dengue fever. Dettol, known for its expertise in hygiene and disinfection, brought its extensive knowledge and products to educate the public about proper sanitation practices and maintaining a germ-free environment. Harpic, a trusted name in toilet hygiene, contributed its expertise in ensuring clean and sanitized toilet facilities, which play a crucial role in preventing the breeding of disease-carrying mosquitoes. Together, these brands are dedicated to raising awareness, providing education, and promoting hygienic practices to combat dengue in a relentless pursuit of a cleaner, healthier world.
Through this collaborative One Hour Malaysia Clean Up and Gotong-Royong Mega Perangi Aedes 1.0 initiative, the COMBI Volunteer Group and Shieldtox are confident that their efforts will empower communities, increase public knowledge about dengue prevention, and foster a cleaner, healthier, and safer environment for all Malaysians.