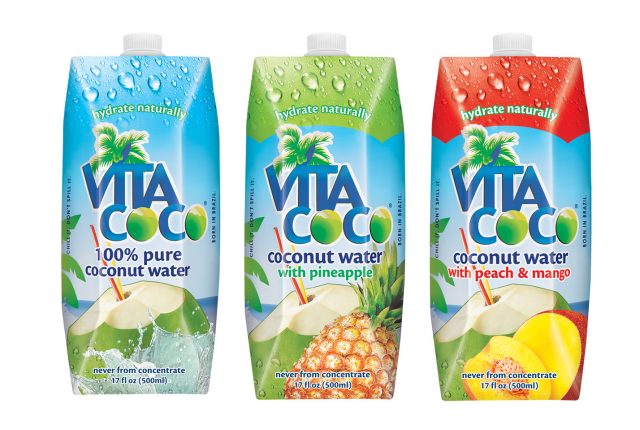 A news that caught my eye today was about All Market Inc, the maker of Vita Coco, selling a 25% stake to Thailand's Reignwood Group, the parent company of Red Bull China. The deal will give Vita Coco access to the China market through Red Bull's distribution channel. Red Bull is the number one energy drink in China.
You might be wondering why would Reignwood want to buy a stake in All Market and introducing Vita Coco to China? Would Chinese consumers drink coconut juice?
Well, there is already a sizable coconut juice market in China. The top player in the market is Yeshu Group or Coconut Palm Group based in the subtropical Hainan island. Its Yeshu coconut juice range or plant protein drink enjoys strong distribution, which means its products can be found all over the country. The other company is known as Hainan Yedao (Group).
The white colour products are sold by Yedao Group. As you can see, most of the coconut juice in China is in a slim can, followed by carton. PET bottle is the least common packaging format for coconut juice.
The Yedao and Yeshu coconut drinks have been in the market for a very long time and consumers have gotten used to their milky taste. The Vita Coco drink can be an alternative to consumers looking for a more watery coconut taste, a drink that can be consumed rather like a sports drink to replenish the energy levels. This everyday ion replenish positioning can make Vita Coca rather similar to Danone's Mizone, which is the number one isotonic brand in China.
The Yeshu and Yedao packaging also seems rather old fashion and dull. What about their advertisements. Well, Yeshu's advertisement highlights its natural credential. It claims not to use artificial essence, preservatives and colouring. As a protein drink, it helps to create a soft white skin and makes you voluptuous. Obviously, such advertisements targets women who want to have a better body shape. As the goodness of protein is the key message, this drink has to have the thick protein taste. Coconut drink is classified not as a juice drink in China but as a protein drink, competing with other protein-based drinks such as walnut and peanut beverages.
In contrast with Yeshu, Vita Coco advertisement focuses on the natural hydrating message. Vita Coco does not claim to help to augment the breast size. Rather it is positioned as a hydrating drink with 100% coconut juice. This is something Vita Coco can really excel in China with its 'natural' halo. Vita Coco coconut juice can be positioned as a 'natural' choice for consumers who does not want carbonated soft drinks, the really sweet ready-to-drink tea and juices and artificially flavoured isotonic drinks. As Vita Coco will slowing make its way into the country, let's see which product positioning the brand will take in China.