It has been a while since this blog talks about Alfamart's operation in the Philippines.
As for the end of June 2016, there were 146 Alfamart outlets in second most populous nation in Southeast Asia. Almost all the stores are located in Luzon. The company plans to bring Alfamart 'across the country very soon', including to the Visayas-Mindanao area, said SM senior vice president for investor relations Corazon Guidote.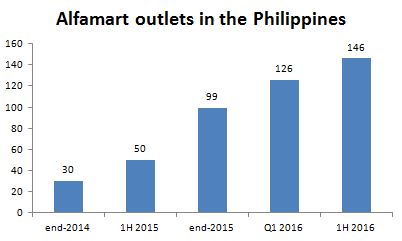 Alfamart occupies 4th spot in overall store count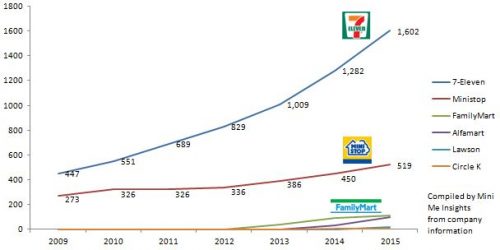 In the convenience store segment, 7-Eleven is still the market leader with a total of 1,602 outlets at the end of 2015. Trailing behind on a wide margin is Ministop with 519 stores. Alfamart (although technically is a minimarket) is 4th with 99 outlets.
Lowest average sales per store but catching up fast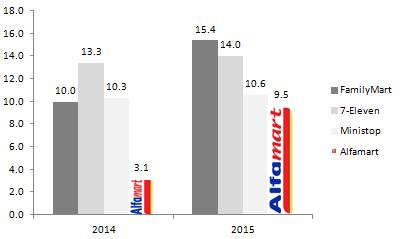 Data above was compiled by Mini Me Insights. Revenue comprises merchandise sales in PHP million per store.
Among the four chains (excluding Circle K), the average sales per store for Alfamart is the lowest at PHP 9.6 million (USD 0.2 million) in 2015. The low average sales per store is explained by the large number of stores that were opened less than one year and the fact that minimarket sells products at prices comparable to supermarket but lower than convenience store. Another notable difference is Alfamart sells frozen ready to cook meat, a category absent in the convenience store chains.
Alfamart net sales up by 9x times in 2015

Of the four chains. Alfamart posted the highest increase in revenue, up 9x times, in 2015 compared with a year ago. The strong growth is attributed the net increase of 44 outlets in 2015 and a very small base in 2014. The first Alfamart outlet opened in June 2014.
Profitability wise, both Alfamart and its competitor FamilyMart are still loss making as they have not achieved economies of scale.
Expenses
Here are a few ratios to benchmark Alfmart's cost structure with its convenience store peers. As the minimart chain commenced operation in 2014, it took a while before operation stabilised. Newcomers are more likely to experience higher rent and personnel cost as a share of revenue from merchandise sales. Strangely, utilities cost (communications, light and water) for Alfamart is very low at PHP 8.9 million in 2015 up from PHP 4.9 million a year ago.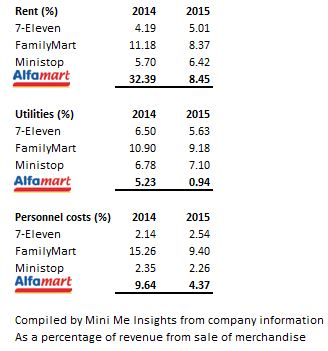 Opening 100 outlets in 2016
Alfamart plans to open 100 outlets in 2016, said Alfamart CEO Hans Prawira when speaking to the Indonesian news agency Antara on 16 September 2016. With 146 stores in operation by the end of June 2016, this will leave another 53 stores to open to reach the 2016 full year target of 100 new stores.