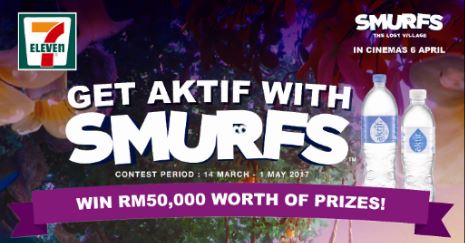 Tuesday, 14th March 2017 – Time to Get Aktif with Smurfs! Loyal customers are in for a treat as 7-Eleven Malaysia's latest initiative involves an online photo contest featuring prizes worth a total of RM50, 000 is up for grabs! Get Aktif with Smurfs contest is open to all 7-Eleven customers and the submission period begins now till 1 May 2017.
Participation is simple! Customers are required to purchase a minimum of RM5 in a single receipt on 7-Eleven's range of Aktif brand labelled water products, be it mineral or drinking water, collage the receipt with a creative photo of anything blue, and post it publicly on their personal Facebook or Instagram with the hashtags #AktifSmurfs and #7ElevenMY. Participants could increase their chances of winning by posting more entries!
The most creative entry winner will be rewarded an exciting 7 days 6 nights' trip for two to Belgium and Amsterdam including a visit to Smurfs Museum of Brussels worth up to RM20,000; while the next best 100 entries will each receive a Limited Edition Scooter from Smurfs: The Lost Village worth RM300 each!
"Our loyal customers are a priority and the reason we live up to our tagline, Always There For You," said Ronan Lee, General Marketing Manager of 7-Eleven Malaysia. "As an appreciation for their wholehearted support, we aspire to continue offering exciting promotions and campaigns to further enrich the shopping experience of our devoted customers."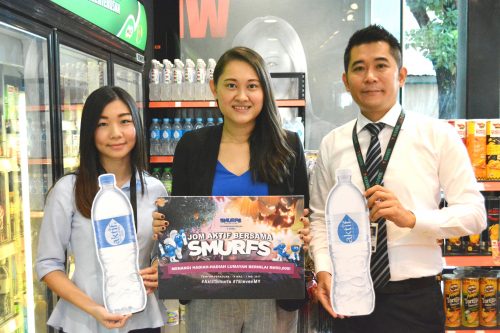 On the subject of Get Aktif with Smurfs contest he commented, "It has always been interesting to view our fans' extent of creativity, especially in photo contests. We look forward to plenty of entries for Get Aktif with Smurfs as our customers would be in the running to win great prizes whilst drinking more water, which is always a great habit to maintain."
Sony Pictures Malaysia Marketing Manager, Catherine Chai commented, "We are delighted with our partnership with the No.1 convenience store chain in the country to celebrate Smurfs: The Lost Village which will be releasing in cinemas nationwide on the 6th of April 2017 and the association of our Smurfs with an Aktif lifestyle is spot on as Smurfs are all about being happy and healthy!."
For more information and contest terms & conditions, please visit www.7eleven.com.my or Facebook at 7ElevenMalaysia.
About 7-Eleven Malaysia
7-Eleven Malaysia Holdings Berhad through its subsidiary 7-Eleven Malaysia Sdn. Bhd. is the owner and operator of 7-Eleven stores in Malaysia. Incorporated on 4 June 1984, 7-Eleven Malaysia has made its mark in the retailing scene and have been a prominent icon for over 32 years. 7-Eleven Malaysia is the pioneer and largest 24-hours standalone convenience store operator in Malaysia with over 2,100 outlets nationwide and serves more than 900,000 customers daily. 7-Eleven stores can be found across bustling commercial districts to serene suburban residential compounds throughout Malaysia, from petrol stations and LRT stations to shopping malls and medical institutions. 7-Eleven is Always There For You.