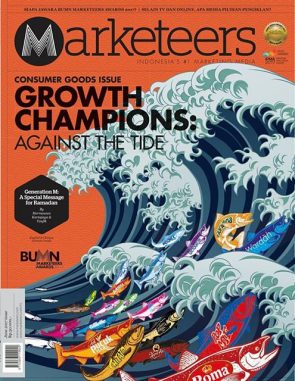 Who were the growth champions in Indonesia in 2016? The answers were revealed by the June 2017 edition of the Marketeers Magazine, Indonesia's top marketing media.
These high fliers were identified by Nielsen based on the tracking of the brand's performance in 2016 against 2015. On the list includes three instant noodle brands and two bottled water brands.
The following are the "Growth Champions" of 2016, according to Nielsen.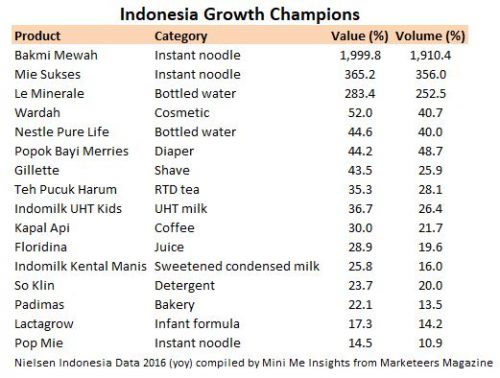 I would like to highlight Mayora Group and Wings Food, the two FMCG behemoths in Indonesia.
Mayora Group has three brands on list

Mayora Group has the honour of having three of its brands on the list. They comprise Bakmi Mewah instant noodle, Le Minerale bottled water and Teh Pucuk Harum RTD Tea. Bakmi Mewah revolutionised the instant noodle scene by introducing instant noodle that comes with real meat pieces during the second half of 2015. The brand's nearly 2,000% gain in volume and value in 2016 can be explained largely from the low base effect and the popularity generated by the novel concept.
Mayora Group launched Bakmi Mewah and Le Minerale in 2015. Both the instant noodle and bottled water businesses are new to Mayora and represented the company's daring move to take on the goliaths in instant noodle (Indomie) and bottled water (Danone Aqua).
Wings Food's winning brands Mie Sukses's & Floridina

Wings Food has two products on the list – Mie Sukses's and Floridina. Mie Sukses was introduced in 2015 as an affordable instant noodle with two pieces of noodles in each pack. This is not something new as market leader Indomie has something similar through Sarimi Isi 2.

Mie Sukses's managed to carve a niche for itself by crafting its marketing message to middle to lower income consumers. This was achieved through associating with dangdut, which is the working class music of choice featuring sexy female singers. The roadshow in 2016 saw the brand inviting artists from Dangdut Academy to take part in the Hajatan Suksess event in 10 cities in the country.

The complete magazine is available on SCOOP.
What Mini Me thinks
I am sure there are brands that achieved strong growth in 2016 but did not get a mention. The key takeaway is the winning product has a unique preposition and is backed by marketing activities developed specially for their target audience.