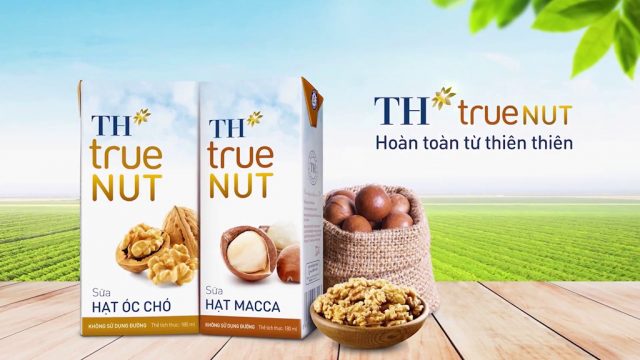 H Milk Food Joint Stock Company has officially launched TH True Nut, a new range of milk-based nut beverages, on 16 March 2018. The premium dairy product comprises macadamia nut milk and walnut milk, sweetened with date extract. According to the press release, the nut milk is considered a low GI product and good for the prevention of non-communicable diseases such as obesity, stroke, diabetes and overweight. The oats help in digestion as they contain β-glucan soluble fiber.
The macadamia is imported from Australia, the oats and walnuts are from the US, the dates are from west Asia and the milk comes from TH's own farms in Vietnam.
From nature
TH True Nut's brand message is from nature (hoàn toàn từ thiên nhiên). The naturelness of the nut milk is brought to life in the TVC bringing the audience to the very source of the macadamia nuts, dates and walnuts demonstrating how they are grown in the pristine environment.
Key ingredients and nutritional value of TH True Nut
The following are the ingredients that go into TH True Nut.
TH True Nut Walnut Milk – water, fresh cow milk, walnut (4.0%), date palm, oat and stablisers.
TH True Macadamia Milk – water, fresh cow milk, macadamia (3.5%), date palm, oat and stablisers.
The protein content in TH True Nut milk is quite low at 0.7g to 1g per 100ml serving.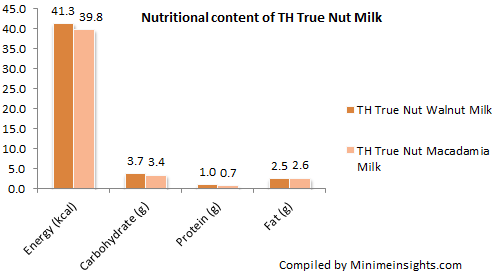 Premium milk
The TH True Nut shows how nuts (eg macadamia and walnut) can elevate the price point to a much higher level, even surpassing organic milk.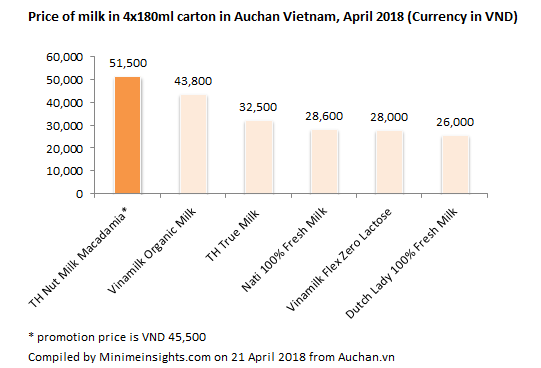 Conference on nut milk
To publicise the benefits of nut nutrition, TH organised its first 1st international conference on nut milk nutrition in Hanoi on 21 March 2018.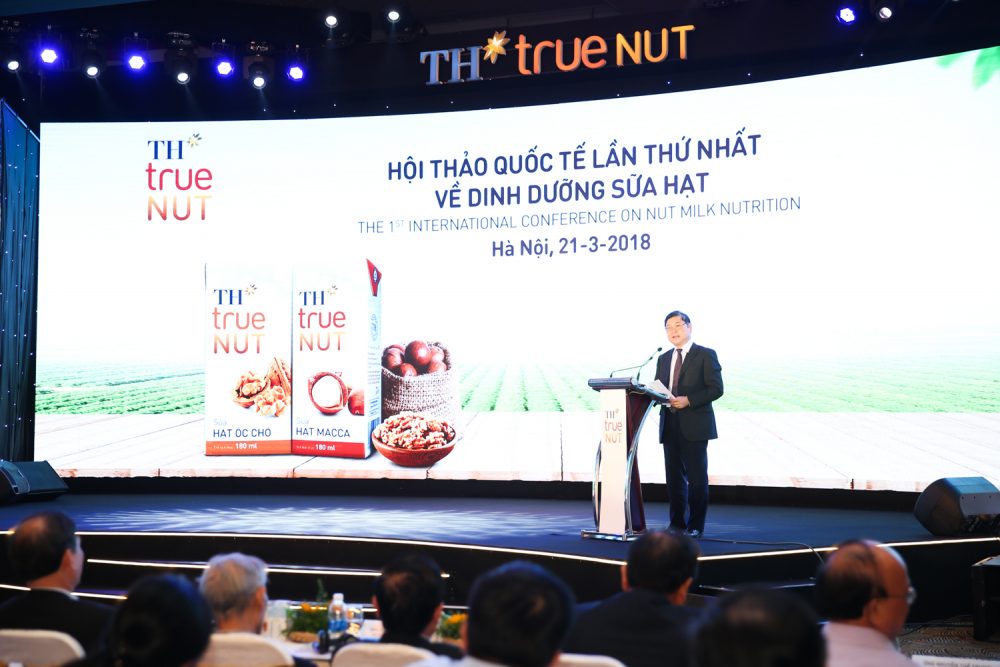 What Mini Me thinks
TH True Nut uses milk as the platform to incorporate plant-based ingredients namely walnuts and macadamia nuts. The incorporation of date as sweetener is unique and serves to demonstrates the health benefit and feasibility for future application in food and beverages in Vietnam. Already, competitor Vinamilk has applied walnut into its soy milk range in early 2018.