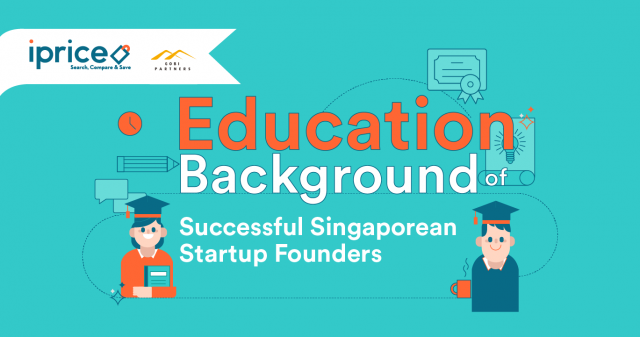 Research from iPrice Group and Gobi Partners.
Here are some interesting points:
75% of the founders took non-tech majors. The most popular ones being engineering, economics and business.
People often assume that they need to study coding or computer science to build a startup.
The universities that produced the highest number of tech startup founders are NUS (40), Harvard (9) and Stanford (7).
NUS prevails and produced more successful founders in Singapore than Harvard, Stanford and INSEAD combined.
But yet, most founders studied overseas (Bachelor's – 114 international vs 46 local)
This may be largely to due to a higher number of foreign startup founders in Singapore.
Click here for the blog link to access the complete infographics.
The latest report from Quacquarelli Symonds (QS) World University Ranking 2017/2018 caused a stir when Nanyang Technological University (NTU) was ranked 11th place, overtaking the National University of Singapore (NUS) for the first time, which was ranked 15th place.
For the Singaporean youth, deciding where they want to continue their higher education is a challenge. Several questions that come into consideration are, which university should I enrol in? Should I study in Singapore or abroad? What major should I take to ensure I can get a high paying job after graduation? and much more.
To study this, iPrice partnered with Gobi Partners to compare 90+ startups and 190+ founders to analyze their education background. They chose to only analyse founders who successfully obtained a Series A or a higher funding round as it is a good indication on the success of the startup. Here are the findings from the study.
National University of Singapore (NUS) Produced The Most Founders
From more than 190 founders analyzed, 40 of them came from NUS. Carousell founders, Siu Rui Quek, Lucas Ngoo and Marcus Tan studied there. 4 of the co-founders of 99.co, namely Darius Cheung, Ruiwen Chua, Saurabh Mandar and Yan Phun are alunmni of NUS. Other founders include Min-Liang Tan, CEO of Razer, Timothy Kua and Vinod Nair, co-founders of MoneySmart, and Isaac Timothy Tay and Jonathan Low, co-founders of honestbee.
Harvard University came in second with 9 founders. From Harvard, some of the alumni include co-founders of Grab, Anthony Tan and Tan Hooi Ling, and the husband-and-wife duo of DocDoc, Cole Sirucek and Grace Park.
In third position, we have Stanford University with 7 founders such as Arrif Ziaudeen the CEO of Chope, Forrest Li the Group CEO of Sea, and Zach Cheng of Referral Candy.
Singapore's own Nanyang Technological University (NTU) is tied with business school INSEAD for fourth place with 6 founders each.
Notable founders from NTU include Richard Koh the CEO of M-DAQ, Anthony Koh the Group CEO of MC Payments, Anuj Bheda the co-founder of 99.co, and Lawrence Wu and Frank Phuan the Directors of Sunseap.
Meanwhile, alumni from INSEAD include Roger Egan III and Vikram Rupani of Redmart, Jani Rautiainen of PropertyGuru, and Greg Mittman of MyRepublic.
Last but not least, Singapore Management University comes in at fifth place with 4 founders and they are Kuik Xiao Shi the COO of Vanitee, Chang Wen Lai the CEO of Ninja Van, Daniel Lim the Chief Brand Officer of Reebonz and Deborah Lee the Head of Operations of HipVan.
Other than the 6 universities, we also have several universities that produced 3 successful founders such as the University of Cambridge, Monash University and Carnegie Mellon University.
From the above, it is fair to say that the quality of graduates our local universities produce are as competitive as the ones from international universities. Not to mention that NUS has produced more successful startup founders in Singapore than Harvard, Stanford and INSEAD combined.
75% of the Startup Founders Come From Non-Tech Backgrounds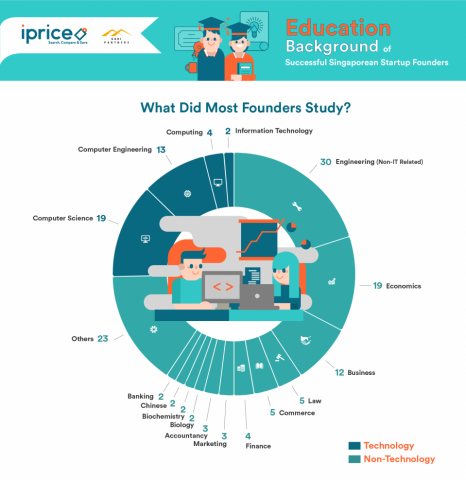 Out of 150 Bachelor holders, 112 of them took non-tech majors and 38 of them took up tech related majors.
From those 112, the popular majors are engineering (30), economics (19), and business (12).
Some of the founders that took engineering are Parikshit Paspulati the CTO of Active AI, Guangda Li the CTO of ViSenze, and Joel Neoh of Fave.
For founders who took up economics, we have Rifeng Gao the CFO of Grain, Dixon Chan the CEO of Burpple, and Walter de Oude the CEO of Singapore Life.
Among those from business school are Bjorn Lee of MindFi, Darren Thomas the CEO of Double Helix Tracking, and Andrew Roth of Perx.
The most popular majors among the 38 tech graduates, on the other hand, are computer science (19), computer engineering (13) and computing (4).
Among those who studied computer science are Ng Jing Shen the CTO of Paktor, Jamie Wang the Director of iCarsClub, and Kersie Koh the Creative Director of Clozette.
There is a common misconception that in order to build a successful tech startup, you would have to be a coder or a student of computer science. But from the findings, that isn't necessarily so.
Majority of the Founders Studied Abroad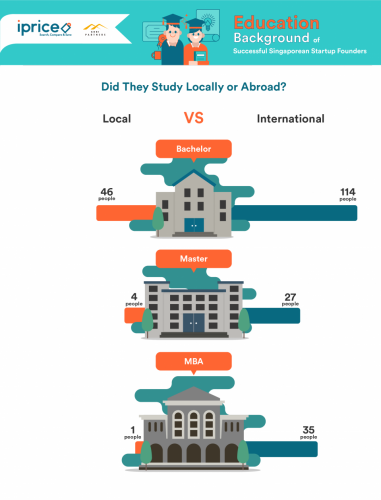 On the Bachelor level, out of 160 founders, 114 of them studied abroad. On the Master level, 27 out of 31 founders studied abroad and on the MBA level only 1 studied locally, while 35 others studied abroad.
There are also examples of those who studied for their Bachelor's locally and went overseas for their Master's. For example, Anuj Bheda the co-founder of 99.co, took his Bachelor's degree in computer engineering at NTU and continued his Master's at MIT.
*** Out of the 195 founders: 41 did not list their bachelor's field of study and 31 did not list their bachelor's place of study. 4 founders did not complete their studies and were disqualified.
This press release was supplied by iPrice.