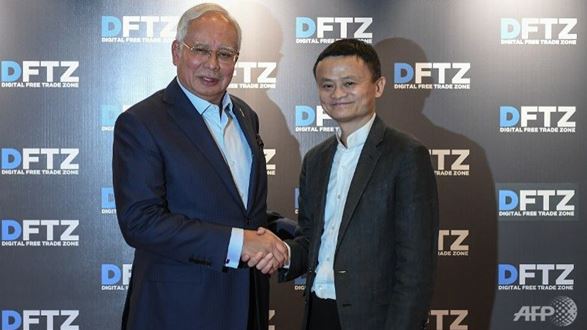 2017 so far has been great for e-commerce as the government has pledged various resources to fast track its development. This was evident as we saw the government's partnership with Jack Ma and Alibaba to set up a Digital Free Trade Zone (DFTZ), the first of its kind outside of China.
This was further bolstered as the government recently declared the digital economy as one of its eight key thrusts to the country's growth plan for the year 2020. Along with it included other notable budget allocations and initiative that is expected to benefit e-commerce in the country.
Rolling out the Digital Free Trade Zone
What was announced?
5 million (USD19.7 million) will be allocated to construct the first phase of Digital Free Trade Zone (DFTZ) in Aeropolis, Kuala Lumpur International Airport (KLIA), to create a regional gateway for e-commerce.
How will this benefit e-commerce?
The corporation between the Malaysian Digital Economy Corporation (MDEC – an agency assigned to oversee the development of e-commerce in Malaysia) with the Chinese e-commerce giant Alibaba to set up the DFTZ in Malaysia is a huge win for SMEs and e-commerce. In a post-budget comment, Datuk Yasmin Mahmood, the CEO of MDEC mentioned that the DFTZ will "Go Live" on 3 November and 1,900 export-ready SMEs will be flagged off to begin their export journey.
The budget allocation will see the initiation of physical and virtual zones aided with online and digital services to facilitate cross border e-commerce and invigorate internet based-innovation. Among it will include:
e-Fulfilment Hub that will digitise trading operations such customs clearance, foreign exchange services, financing services and logistics solutions which is expected to make bilateral trade more seamless
Satellite Services Hub that will facilitate end-to-end support and knowledge learning for companies targeting consumers on the Southeast Asian level
e-Service Platform that will digitally connect users with government and business services across the region
Once successfully implemented, the DFTZ is set to benefit SMEs and is projected to attract more than RM700 million worth of investments.
2. Additional Incentives for Venture Companies
What was announced?
A sum of RM1 billion (US240 million) will be provided by major institutional investors for investment in venture capital in main selected sectors, coordinated by the Securities Commission (SC)
Expansion of income tax exemption to include management and performance fees received by venture capital management company, effective from year of assessment 2018 to 2022;
To facilitate venture capital companies to invest in venture companies, minimum investment in venture companies be reduced from 70% to 50%, effective year of assessment 2018 to 2022
Companies or individuals investing in venture capital companies will be provided tax deduction equivalent to the amount of the investment made in the venture companies, limited to a maximum of RM20 million annually
Extension of income tax exemption incentive equivalent to the amount of investment made by an angel investor in venture companies to 31 December 2020.
How will this benefit e-commerce?
In the past six years, the top 10 e-commerce in Malaysia has raised a collective total of RM14 billion (USD3.3 billion) in funds to develop their online platform for consumers. The incentives provided by the government would encourage further investments into e-commerce startups.
Yasmin from MDEC also notes that this is a visionary move as the startup ecosystem will be job creators of the future. By the year 2025, the digital economy is expected to create more than 60,000 jobs in Malaysia
3. Stimulating Innovation through Regulatory Sandbox
What was announced?
To drive further innovation from startups in the country, the government will continue to create a conducive ecosystem to gain greater benefits from innovation. To that end, the government will expand its regulatory sandbox approach to facilitate companies test their new innovative ideas and business model with the assistance of related regulators.
What does this mean for e-commerce?
Still in its infancy in Malaysia, the regulatory sandbox remains a new initiative in Malaysia. Following United Kingdom's (UK) success, countries such as Hong Kong, Australia, Singapore together with Malaysia has tested the innovation formula to drive innovation from fintech companies.
In May 2017, BNM announced that four entrants will participate in the initiative which allows them to experiment innovative financial products or services within a well-defined, controlled and 'safe' space. The rolling out of this initiative for startups beyond the fintech industry will be highly beneficial as it will provide an avenue where their products and ideas can be tested before implementing it on a larger scale.
4. Development of Communications Infrastructure in East Malaysia
What was announced?
A sum of RM1 billion (USD 240 million) will be allocated through the Malaysian Communications and Multimedia Commission (MCMC) to improve communication infrastructures and broadband facilities in Sabah and Sarawak.
How will this benefit e-commerce?
Though the adoption of e-commerce in East Malaysia remained slow, the growth potential remains high. A recent research showed that online shoppers in East Malaysia spent 75% more time searching for products online and are 10% more likely to shop using a desktop when compared to consumers in West Malaysia. One possible rationale was because consumers found it easier to shop via desktop as it provides a more stable internet connection as compared to mobile broadband.
The government's allocation of RM1 billion to improve its telecommunications infrastructure will definitely boost the number of mobile internet users. Though this has an indirect effect on e-commerce, it has the potential to spur the number of online shoppers from East Malaysia in the near future.
5. Equipping the Young Generation with Basic Tech Capabilities
What was announced?
A total of RM250 million (USD58.9 million) will be allocated to the education sector to improve the existing Enhanced Computer Science module and Coding programmes implemented in primary and secondary school curriculums. In addition to this, a sum of RM190 million (USD44.8 million) will be allocated to upgrade 2,000 classes into a 21st Century Smart Classroom to enhance creative-based learning and innovative thinking.
How will this benefit e-commerce?
MDEC has forecasted that the digital economy needs more than one million digital workers, such as coders, application developers and software engineers, by 2025. The strategy of joint public-private-academia collaboration would be vital to encourage the youth community from just being users of digital innovation to become producers or digital innovators. Malaysia currently lacks in local tech professionals and this is a vital move to ensure Malaysia will have the needed workforce to support the futuristic economy.
About iPrice Group
iPrice Group is Southeast Asia's leading Meta-Search platform, connecting consumers with hundreds of e-commerce merchants through a great shopping experience. Since October 2014, the platform has established itself as the fastest growing in its segment across seven markets: Singapore, Malaysia, Indonesia, Vietnam, Thailand, Philippines and Hong Kong.
iPrice currently operates three business lines: price comparison for electronics and health & beauty; product discovery for fashion and home & living; and coupons across all verticals.