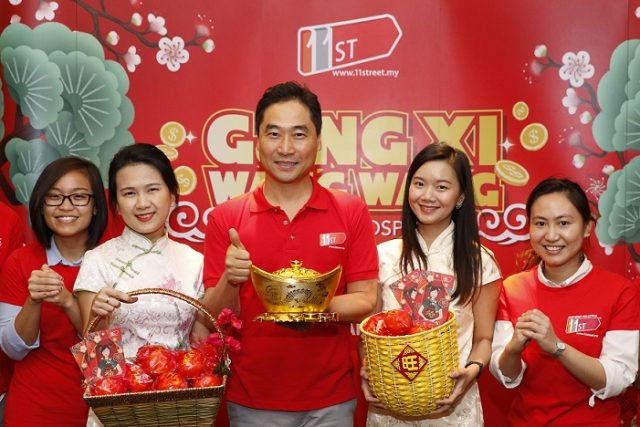 Nationwide survey revealed that a majority of the respondents prepared only 14 days ahead of Chinese New Year, which is tripled those who planned 28 days prior;
70% of respondents are more willing to spend on family and friends instead of themselves;
11street introduces Gong Xi Wang Wang campaign with RM20 million worth of Ang Pow coupon giveaways and overall discounts up to 88%
Kuala Lumpur, 23 January 2018 – As the lunar new year dawns, 11street recently conducted a nationwide survey to better understand the psyche of online shoppers. In total, 1,854 respondents took part, in which the findings revealed that Malaysians are prone to last-minute shopping, and concurred that family and friends mattered most. On that note, 11street launches its Chinese New Year campaign – Gong Xi Wang Wang – which aims to accommodate their shopping needs.
Bruce Lim, Vice President of Merchandising at 11street said: "It is no secret that we have a large and growing pool of online shoppers in Malaysia, and typically, during festive periods such as Chinese New Year, we see a peak in online sales."
From the survey, 11street also found that at least 96% of survey participants intended to shop online for the upcoming festivity, driven by better prices, discounts and promotions. Lim added: "This is only natural as Internet-savvy consumers will head online to search for deals and promotions, so to evolve our offering in tandem with consumer demands, 11street has tailored more bespoke offering for the upcoming Chinese New Year celebration."
11street's 48-hour Delivery and Click & Collect are Music to Eleventh-Hour Shoppers
Conducted between 22 December 2017 to 3 January 2018, 11street's online survey revealed that almost 60% of respondents only began Chinese New Year preparation 14 days before – a figure that tripled those who started prepping 28 days prior to the festivity. More interestingly, almost half of this majority admitted to only planning three days before the big day.
Having understood the shopping behaviour of Malaysian consumers, 11street's Gong Xi Wang Wang campaign will appeal to last-minute shoppers, with a 48-hour delivery to those in Klang Valley, and a 'Click & Collect' service to enable shoppers to eliminate wait time for shipment and collect their purchases themselves at selected physical stores nationwide.
Lim elaborated: "These two services are off the back of 11street's survey and will be featured as a part of our last minute promotion under the Gong Xi Wang Wang campaign. We hope that this convenience that we offer will continue to spur shoppers to see online marketplaces as the go-to channels when they want to shop for necessities, especially with the festive season around the corner."
Malaysians Consumers Have Big Hearts and Hold Strongly to Traditional Values
 The survey also disclosed that 70% of participants were willing to spend on their family and loved ones during Chinese New Year, with three times more spending to purchase items for gifting purposes, rather than for themselves. Among the top five activities these respondents wished to partake in with their family included dining out, visiting friends, shopping for those they cared about, watching a movie together, and travelling to a foreign country.
"It is heart-warming to know that our Malaysian consumers hold such great values, and to give them greater convenience to shopping on our platform, we have ensured that our Gong Xi Wang Wang campaign has a variety of gift hampers, e-vouchers for restaurants, even travel deals. Our survey has helped us understand the needs of these shoppers, so we will continue to procure offerings that meet their demands," Lim added.
At the same time, 77% of the respondents confessed that they would buy clothes and shoes online – a figure that was three times more than food. Meanwhile, a pool of participants acknowledged that the top three categories they would purchase online are fashion items such as Chinese traditional wear, cheongsam, and groceries including food and beverages, as well as home and living items as they prepared for the festivity.
Gong Xi Wang Wang Campaign with over RM20 million worth of Ang Pow Coupon Giveaways
In conjunction with Chinese New Year, 11street's Gong Xi Wang Wang campaign will be giving away over RM20 million worth of Ang Pow coupons applicable to more than 10 million products with overall discounts up to 88%. Other offers include 'good luck flash deals' with selected products for as low as RM0.88.
During the campaign period, 11street will also be selling PETRONAS e-vouchers at up to 30% discount off the original price value allowing Malaysians to gather with family and friends for visiting, dining and outing, on top of a plethora of gift hampers and Chinese New Year dining deals.
11street Targets 50% Increase in YoY Chinese New Year Business
 "This year, 11street's Gong Xi Wang Wang campaign is set to alleviate the stressors of the Chinese New Year preparation process, while ensuring that consumers experience a whole new level of online shopping. At the same time, we aim to hit at least a 50% increase in Gross Merchandising Value off what we achieved last year in the same period.
"We understand that with today's busy schedule, there will be limited time to make preparations, so we endeavour to be their best shopping partner and help them invest more productive time into shopping, and save the extra time in preparation for a meaningful Chinese New Year celebration with their loved ones," Lim concluded.
Participating brands include Caring Pharmacy, ELBA, Empire Hamper, Fujiaire, HETCH, Kinohimitsu, Mamy Poko, NIVEA, NONG SHIM, SONY, Super, Tesco and Total Image. During the campaign period, the highly-anticipated SONY Xperia XA2 Ultra smartphone is available for pre-order on 11street from 20 to 31 January 2018.
For more information on 11street and the Gong Xi Wang Wang campaign, please visit www.11street.my
About 11street (www.11street.my)
11street is a trustworthy and convenient online marketplace that offers a great variety of products at competitive prices. It strives to revolutionise today's consumers' online shopping experience by making it more personalised and engaging. 11street has a diverse selection of product categories which are tagged on Fashion, Electronics, Groceries, Health & Beauty, Kids & Baby, Leisure & Sports, Home & Living, and Books & Services including deal offerings like E-vouchers. 11street is also an optimised marketplace where its merchandising ecosystem, education and training programs can fully support sellers regardless of the size of their businesses. Established in Korea since 2008, 11street is now one of the top global e-commerce marketplace providers with 400,000 sellers serving over 30 million consumers worldwide. 11street also has a presence in Turkey and Thailand, known as n11 and 11street respectively. For more information, please visit http://www.11street.my.