F&N showcased its latest 100Plus Active sachets at the recently concluded MIHAS 2018 in Kuala Lumpur. The sachets can be purchased from the company's online store on 11Street and Shopee. The sachets will be made available in retail stores soon.
A simple ceremony was held at the National Sports Council in early April 2018 to introduce 100Plus Active sachets to athletes heading to Gold Coast to take part in the 2018 Commonwealth Games.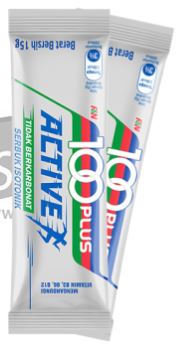 100PLUS is an official sponsor of the National Sports Council and we realized our national athletes consume 100PLUS regularly to stay hydrated. We wanted to ensure our national athletes are still able to enjoy what they like even when they are overseas be it on a training or a competition stint. This is important as our athletes will have the peace of mind as they know exactly what they are consuming," said Engku Isyamuddin Tuan Losin, Sponsorship and Activation Manager, F&N Beverages Marketing Sdn Bhd, reported sports247.my.
Each 15g pack contains 13.7g of sugar to be diluted in 230ml of water. Two sachets are needed for a typical 500ml bottled water.
This product is aimed not only at athletes but also ordinary consumers who travel abroad and afraid they might not be able to acclimatize with the local environment. It is easy to carry around and can be stored without having to put inside the checked baggage.
The potential for 100Plus Active sachet lies in the export market especially in countries where consumers are familiar with isotonic drink in powdered form.