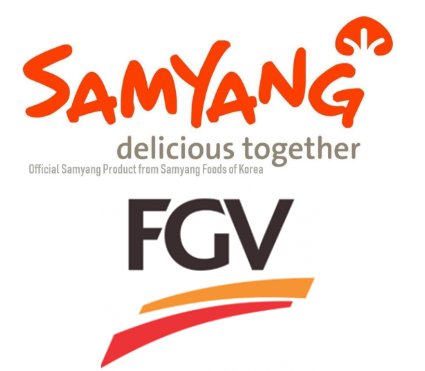 FGV Holdings Bhd entered into a memorandum of understanding with the South Korean instant noodle maker Samyang Foods Co. Ltd on 28 January 2019 to express their intention to collaborate for the establishment of Samyang Halal's production facilities in Malaysia focusing to serve Halal ramen and instant noodle products for Malaysia and global markets.
Nips halal concern in the bud once and for all
The proposed partnership leverages on Malaysia's strong halal credential as a springboard into the broader Muslim market. Samyang Foods has in the past embroiled in controversies surrounding the halal status of its popular instant noodles. By producing its instant noodles at the halal-certified production facility in Malaysia, Samyang Foods will be able to allay consumer concerns once it has the JAKIM's halal logo on the packaging.
Through its downstream unit Delima Oil Products Sdn. Bhd., FGV may get to supply palm oil, a crucial ingredient in instant noodle production, to Samyang Foods' local instant noodle and ramen production plant in Malaysia.
A familiar route
The route taken by Samyang Foods is a familiar one. At the end of 2017, Mamee Double Decker (M) Sdn Bhd teamed up with South Korea's Shinsegae Food to produce halal food products for Islamic countries.
Korean instant noodles march on unabated
South Korean instant noodles are conquering the world. In 2018, South Korea exported USD 413 million worth of ramyeons, up 8.4% year-on-year, data from by the Korea Trade Statistics Promotion Institute shows.
In Malaysia, South Korea instant noodles accounted for 16.2% of the total instant noodle import value in 2018 (HS Code: 190230), up from a share of 3.2% in 2015, a huge increase within a span of 4 years. In 2018, the import value of South Korea instant noodles reached RM 82 million, a growth of 16% from a year ago, a slow down from the 80% growth registered in 2017.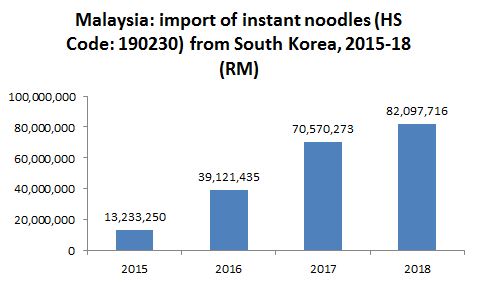 Even though growth has moderated, South Korean noodles are expected to continue to enlarge their share in the Malaysian instant noodle market in the near future. Lowering the price of South Korean noodles to a more competitive level through the localisation of production in Malaysia has the potential to fuel demand for South Korean instant noodle even further.