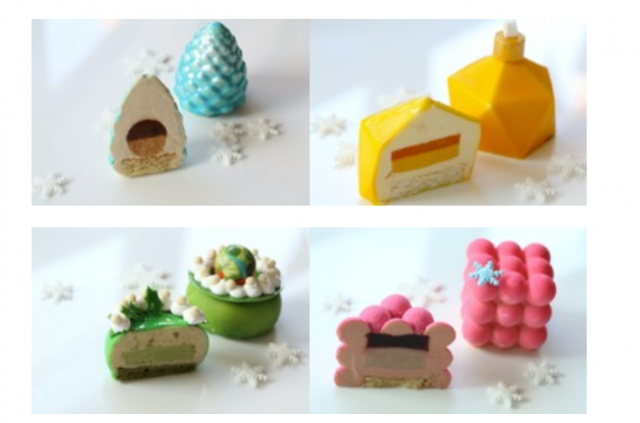 November 11, 2019, Singapore – Splash your world with colour this festive season as Janice Wong presents Neon Christmas, an exclusive range of products and flavours created to evoke the senses and create a memorable experience for all to enjoy.
As the countdown to Christmas begins, Janice's 2019 collection sees the introduction of exciting new items, as well as an imaginative twist on much-loved classics. A creative and colourful curation of sweet treats, the Neon Christmas collection offers the perfect gifts to share with loved ones this festive season. Following the success of last year, Neon Christmas will also see the return of Janice Wong's popular festive hampers.
This year welcomes the creation of four Christmas Cake Specials that showcase Janice's expressive and bold approach to art. The Almond Rum Raison, filled with ginger almond sponge, rum & raisin chocolate and almond praline mousse is modelled on a winter pinecone and splashed with neon blue. Shaped like a festive tree ornament, the bright yellow Apricot Mango Coconut is bursting with coconut dacquoise, mango creameux, apricot & Cointreux Gelee and white chocolate mousse.
The cake collection also includes the Chestnut Green Tea made with green tea sponge cake, chestnut mousse, green tea panna cotta and sea salt, as well as the fun and vibrant Morello Cherry Chocolate with cherry compote, olive oil cake, strawberry Crème Brulee and chocolate mousse. All cakes are priced at S$9.50 and available for purchase from the first week of December until 26 December 2019.
(Above: Neon Christmas Bon Bons)
Janice's famous chocolates have been reimagined for Neon Christmas with the addition of five new flavours, Popcorn & Spice, Gingerbread, Dulce De Leche, Cherry and Dark Chocolate Peppermint. All chocolates have a colourful neon splash and are available for purchase in boxes of nine (S$38), 16 (S$65) and 25 (S$98) from the first week of December until 31 December 2019. Exclusively for Neon Christmas, boxes come with a festive sleeve designed by Janice and her team.
Available in three different options, Janice Wong's festive hampers make a return for Neon Christmas. Each bursting with festive joy, the hampers come in three different sizes priced at S$150, S$250 and S$350. Available for purchase instore from the first week of December, hampers can be topped up with a bottle of wine or Champagne for that added Christmas cheer. Festive gift boxes are also available for individual purchase at S$18 and can be filled with individual items from Janice Wong's classic and Christmas selections such as the range of new Chocolate Coated Nuts and Fruit Jellies available in festive pouches (S$16).
APPENDIX I: HOLIDAY HAMPERS
Festive Hamper – Small S$150
1 x Cinnamon Christmas Cookies
1 x Biscotti
1 x 80g Chocolate Bar (76%)
1 x Crème Brulèe Tea
1 x 60g Chocolate Paint Jar (pink)
1 x Crayon Box of 8
Festive Hamper – Medium S$250
1 x Chocolate Box of 16
1 x Cinnamon Christmas Cookies
1 x Biscotti
1 x 40g Ruby Chocolate Bar
1 x 80g Chocolate Bar (76%)
1 x Crème Brulèe Tea
1 x 60g Chocolate Paint Jar (pink)
1 x 60g Chocolate Paint Jar (white)
1 x Crayon Box of 8
1 x Nut Pack
Festive Hamper – Large S$350
1 x Chocolate Box of 25
1 x Cinnamon Christmas Cookies
1 x Red Velvet
1 x Biscotti
1 x 40g Ruby Chocolate Bar
1 x 40g Pecan Chocolate Bar
1 x 40g Popping Candy Chocolate Bar
1 x Rose Marzipan Tea
1 x Crème Brulèe Tea
1 x 60g Chocolate Paint Jar (pink)
1 x 60g Chocolate Paint Jar (blue)
1 x 60g Chocolate Paint Jar (white)
1 x Crayon Box of 8
2 x Nut Pack