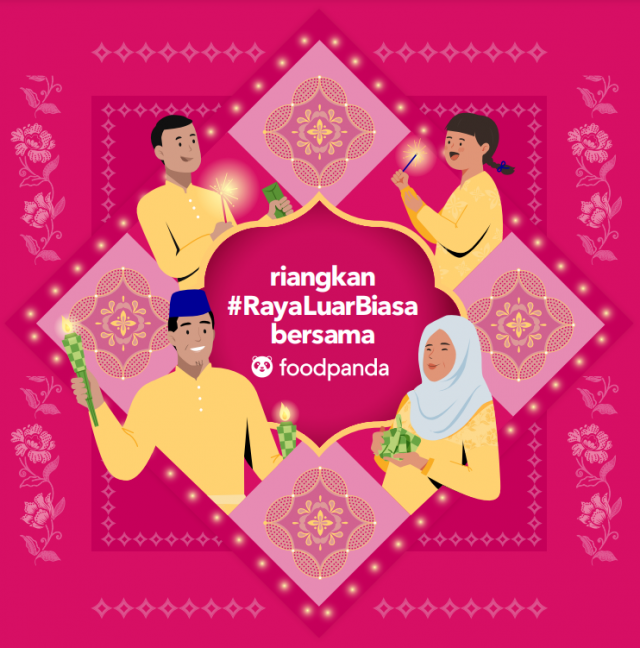 More Discounts and Promotions to be Enjoyed This Syawal
Malaysia, May 12,  2021 – With Hari Raya Aidilfitri just around the corner, the idea of gifting your loved ones with special Raya treats does certainly cross one's mind and what better way to do it than with foodpanda? Users can now purchase special Ramadan Hampers and get your hands on special Hari Raya packets for free. Not forgetting, we have Kurma as well and it is all available on pandamart. To top that, there are other special promotions too!
Speaking about foodpanda's special Ramadan and Hari Raya initiatives, Sayantan Das, Managing Director, foodpanda, said, "Due to the ongoing Movement Control Order (MCO), Hari Raya festivities would definitely be different this year and we at foodpanda, strive to serve our customers better. With these special offers and promotions, we hope to be able to share more joy with Malaysians and spread the Syawal spirit."
Listed below are some of the special offerings and promotions that Malaysians would be able to enjoy on foodpanda, foodpanda shops and pandamart, all accessible within the same app:
pandamart Ramadan Hampers

Pressed for time to purchase hampers for friends and family? Look no further. pandamart raya hampers will be available on April 23 onwards throughout the Klang Valley, and April 30th onwards for other states. Special Hari Raya packets would also be available with purchases made for any Ramadan hampers, while stock lasts.

pandamart Kurma Items

We know you love your Kurma dates, especially during the holy month of Ramadan. Purchase a variety of these dates ranging from milk to herbs and spices as well as dried kurma, off any pandamart throughout Ramadan and Hari Raya from April 15 to May 23.
To order from pandamart 
Pizza Hut

Get your hands on Pizza Hut's "special box" for Raya exclusively on foodpanda from 23 April to 5 May. Also get a taste of their special flavour, Kari Raya that would be available for a limited time only.

Shell Select

If you are visiting any Shell Select store from 12 April to 12 May, be sure to enjoy 15% off for a minimum order value of RM20 capped at RM6 with the special promo, SHELLRAMADHAN
This special offer is open to all customers with a limit of 100 redemptions per day.

Village Grocer

In the lookout for last minute gifts this festive period? Purchase special Village Grocer Hampers, Gift Packs and Kurma Packs at selected outlets – Village Grocer Avenue K, Village Grocer MyTOWN Shopping, Village Grocer Central i-City, Village Grocer Paradigm Mall (Johor Bahru), Village Grocer Southkey (Johor Bahru) and Village Grocer Tropicana Avenue. 
Pasaraya OTK

It comes as no surprise that we all look forward to those yummy Raya cookies during this festive season. Get yours now! Available from April 15 to May 23 at selected Pasaraya OTK outlets – Pasaraya OTK Medan Idaman Gombak, Pasaraya OTK Sentul and Pasaraya OTK Puchong.
The excitement does not just stop there. Ride in the festivities with on-going vouchers that allow users to enjoy greater savings when they order through foodpanda.
These vouchers include:
JOMBERBUKA
Enjoy up to 50% OFF capped at RM10 from selected restaurants with a minimum order of RM20 with the JOMBERBUKA voucher code. Available to all new and existing customers.
Discount and minimum spend varies according to the restaurant. T&Cs apply.
End date: 16 May (or while stocks last)
PANDABARU
Calling all new foodpanda users! You're in for a treat with 40% OFF your first order capped at RM10 with voucher code PANDABARU 
End date: 30 Jun (or while stocks last)
TAPINTOMART
Get a special RM8 off every RM30 spent with the voucher code TAPINTOMART for both new and existing customers.
End date: 18 May (daily limit applies)
TRYPANDAMART
For those of you that are new to foodpanda and looking to try it out, get a special RM15 off for a minimum order value of RM20 with the voucher code TRYPANDAMART
End date: 31 May (daily limit applies)
TAPINTOSHOPS
Get your orders in on foodpanda shops and enjoy 30% off for a minimum order value of RM30 capped at RM9 with the voucher code TAPINTOSHOPS
End date: 7 May to 1 June (daily limit applies)
Capped at 5 times usage per customer
CUBASHOPS
Eager to try out foodpanda shops? We've got you covered. Get RM12 off for a minimum order value of RM25 with the voucher code CUBASHOPS
End date: 1 May to 1 June (daily limit applies)
foodpanda shops is the online grocery delivery service by foodpanda that enables users to order numerous products from a variety of stores on a single platform. Products offered here ranges from your daily essentials to pharmaceuticals and even electronics. On the other hand, pandamart is a dark store or generally known to many as a large warehouse, used to store products and items specifically catered for online shopping. These products are sourced from over 100 local and international brands and would be delivered within 20 minutes.