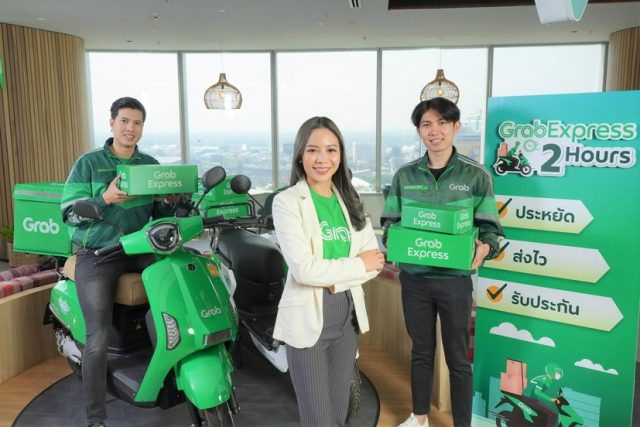 Thursday 02 March 2023 – Grab, a leading superapp in Southeast Asia, has launched a new service in Thailand, "GrabExpress 2 Hours," an 2-hour express parcel delivery with the starting fee at only THB 36. The service comes with three highlights, "Instant delivery, Affordable price and Insurance protection" to provide an alternative for users, especially targeting among the social sellers whose adoption of on-demand parcel delivery service has increased significantly over the past two years. The service is in line with the growing online shopping trend and the continuous growth of the e-commerce market.
Maythinee Anavachkul, Director of Mobility, Express & Operations, Grab Thailand, said, "GrabExpress is another popular service among Grab users today as it meets the needs of modern consumers who want to send over documents or parcels quickly within a day. The service helps save users time and uplift the convenience through a door-to-door service, provided by Grab driver-partners. In addition to the group of users who request for a GrabExpress service to send their everyday items such as documents, food, or clothings, another group with significant increase in the service usage are the social sellers who ship the parcels and have them delivered to their customers almost instantly without having to wait for another couple days. The usage rate among this group has increased significantly, which corresponds to the exponential growth of e-commerce businesses during the COVID-19 pandemic, and are expected to continue growing by 18%* this year."
In response to this rising trend, Grab, this year, developed and launched a new service called "GrabExpress 2 hours" to provide an express pick-up and delivery service of documents or parcels within only 2 hours. The service comes with three key highlights: Instant delivery with Grab driver-partners picking up the parcel within an hour and having it delivered to the recipient within 2 hours. Affordable price, starting at only THB 36, and insurance protection in case of loss or damage of up to THB 10,000. An additional coverage of up to THB 30,000 can also be purchased at only THB 2."
"During this new service launch, Grab is also offering special promotions with discounts of up to 40% for new users when applying the 2HR code. Current users can also receive up to 15% discounts when applying the 2HOURS code. The promotion is available from March 9 – April 9, 2023," concluded Maythinee.