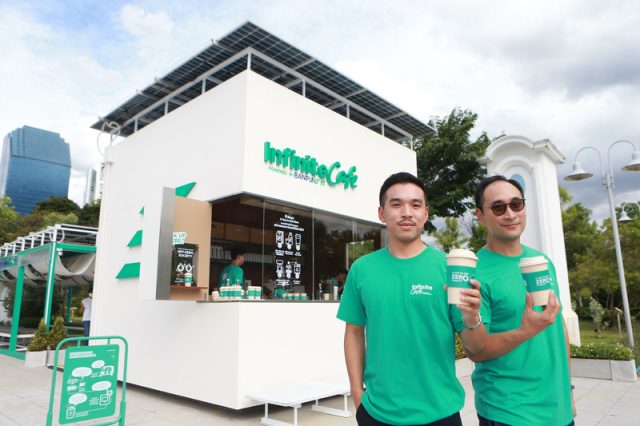 Date : 18 July 2023 – Banpu NEXT, in collaboration with 'Roots', a Thai specialty coffee brand, invites everyone to experience a sustainable coffee-drinking journey with the launch of the 'Infinite Cafe Powered by Banpu NEXT', Thailand's first 100% clean energy pop-up cafe at Benjakitti Park, Bangkok. The pop-up cafe is equipped with an off-grid electricity generation system with solar rooftop and batteries for storing energy from sunlight, allowing the cafe to operate independently throughout the day. A digital platform for energy and real-time CO2 emissions reduction monitoring and a smart waste management help keep operations environmentally conscious while MuvMi electric tuk-tuks provide convenient and clean transportation for the cafe visitors. In addition, all beverages offered at the cafe contribute to reducing CO2 emissions. Sustainable cafe lovers are welcome to get closer to clean energy and to drive to a Net-Zero society with a cup of coffee today!
Mr. Sinon Vongkusolkit, Chief Executive Officer of Banpu NEXT Co., Ltd., said: "Banpu NEXT, a subsidiary of Banpu Public Company Limited, and a leading smart energy solutions provider in Asia-Pacific, is dedicated to becoming a Net-Zero energy provider for all enterprises. We believe that clean energy generation can be simply implemented on a day-to-day basis. Thailand's coffee consumption nowadays has increased by approximately 300 cups per person annually*, thus coffee shops are among the target venues where we wish to integrate clean energy usage experiences into everyone's lives. A cup of coffee emits an average carbon footprint of 0.3 kilograms**. Therefore, by using clean energy in the coffee shop to brew and serve beverages to customers, we can further reduce overall carbon emissions. In this regard, we have collaborated with Roots, a Thai coffee brand committed to sustainability, to launch the Infinite Cafe Powered by Banpu NEXT campaign as Thailand's first 100% clean energy pop-up cafe that pays attention to Net-Zero from upstream to downstream. This includes sustainable coffee bean production, cafe construction, the use of environmentally friendly materials, and implemented smart energy solutions in this pop-up cafe."
"The design of the Infinite Cafe Powered by Banpu NEXT was inspired by the 'Smart Magic Box' under the 'Unbox Your Infinite' concept, which is Banpu NEXT's brand identity. Each box represents various smart energy solutions that are seamlessly connected, resulting in a warm and modern cubic-shaped pop-up cafe that comes with 'A Cup to Net-Zero' concept. Importantly, the word 'Infinite' reflects our aspirations to create a common utilization of limitless clean energy. This pop-up cafe can also serve as a business showcase benefitting from clean energy that is ready to become a smart business that can continue developing without end," added Mr. Sinon.
Mr. Varatt Vichit-Vadakan, Roots founder and owner, said: "Roots and Banpu NEXT share similar business perspectives that emphasize sustainability contributions in all aspects. Roots runs its business with the Cup to Farm concept, which aims to foster the growth of all stakeholders involved. The collaborative launch of the Infinite Cafe Powered by Banpu NEXT brings forth a new coffee drinking experience, as every cup contributes to society's betterment while also helping businesses grow alongside the Net-Zero society movement. Roots is responsible for procuring sustainable coffee beans, creating beverage recipes, and operating this pop-up cafe. We have consulted with experts from Banpu NEXT to craft a special gimmick for every beverage, which is the calculation of CO2 emissions reduction per cup. For example, the signature drink 'Sugarcane Cold Brew with Oat & Honey Foam' achieves the highest CO2 emissions reduction of up to approximately 750 grams. Through this, customers can easily contribute towards a future Net-Zero society with just one cup of coffee."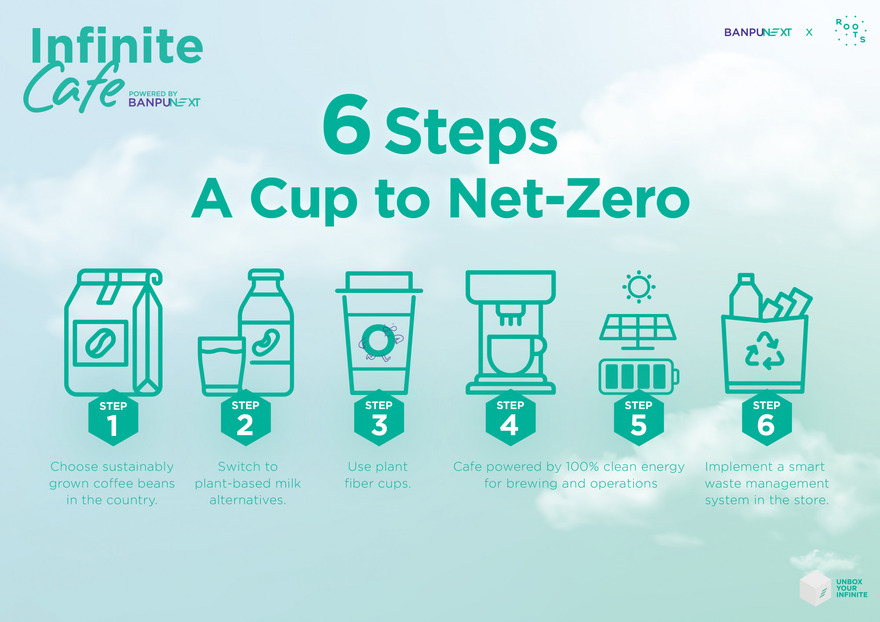 "We anticipate that over 2 months of operation, our pop-up cafe will contribute to reducing CO2 emissions by up to 5,000 kilograms. In addition, when referring to the statistics that a Thai person consumes 300 cups of coffee annually, if Thai people drink coffee at our pop-up cafe, they can help reduce CO2 emissions by up to 200 kilograms per person***. In short, this pop-up cafe is a smart business showcase that can serve as an example for any firm that wishes to drive towards a Net-Zero society while simultaneously enhancing energy efficiency, reducing costs, and creating opportunities for long-term business growth and achieving their sustainability goals," concluded Mr. Sinon.
The Infinite Cafe Powered by Banpu NEXT is now open for visitors from 18 July 2023 – 24 September 2023 at Benjakitti Park, daily from 7:00 hrs. to 13:00 hrs. Special opening promotions and points collecting for reward redemptions are available for customers****. For more information, please contact call center at 02-095-6599 and www.facebook.com/banpunext.
*Source: SME THAILAND CLUB
**Source: Review Paper: Life cycle assessment synthesis of the carbon footprint of Arabica coffee
***Calculated from the comprehensive assessment of factors including coffee bean production, beverage ingredients, packaging, beverage preparation and cafe operation that utilize clean energy solutions, and smart waste management.
****promotion period: 18 July 2023 – 24 September 2023 / For promotional conditions, please visit the Infinite Cafe Powered by Banpu NEXT